Human

Appearance
Wild hair, despite the spiky look though, it's actually quite soft. She has a stone pendant with a green jade on it, given to her by Ancient Bears. And, of course, she wears rags instead of civilized clothing. A piece of large armour protects her left shoulder, and her Mark.
Name
Gael Nuts Briar
Age
17
Gender
Female
Mark Location
Left Shoulder
Abilities
Enhanced Senses
: Over the years, Gael has developed improved sensations in all 5 senses. Nothing is par to animals or the supernatural though.
Human Chimp
: She has the capability to climbing trees and making her way through the forest with quick agile grace. She is also able to scale her way up mountains or any climbable surface.
Natural Born Rider
: Gael is able to ride any kind of animal, creature without much difficulty.
Earthed Embrace
: Gael is welcomed by all creatures of the Earth, and able to befriend those deemed wild, brutal or elusive with ease after years of trying.
Art of War
: The docile and pacifist Gael can transform into a dangerous fighter when provoked. Despite her stature, her capabilities are somewhat beyond normal human limits. Her capability to wield incredible heavy objects with less difficulty than normal people as weapons is quite a statement already. Any object within reach can be turned into a weapon by the wild girl as well.
Weapon
Basically anything she can get her hands on. But she does somewhat adore some weapons:
Sramfosera
: Two primitive looking pickaxes made by an orc from the incredibly hard, sharp horns and bones of a Minotaur.
Ekin
: A pair of incredibly well crafted blades made by the Ancient Bears, presented to Gael, which she treasures a lot and hardly uses.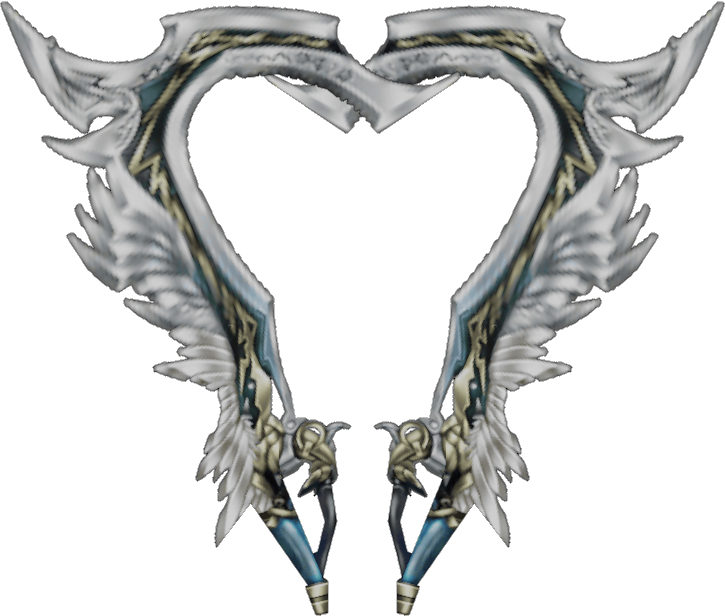 Style
Wild & Nuts
- Gael's way of fighting is… pure instinct. Like an animal bent on survival, her drive for victory is quite astounding and admirable. For a person who has never wielded a proper blade in battle, she has an unorthodox yet solid stance, great strength, natural reflexes and better reaction time. But what's incredible in how she seems to have boundless energy despite her wild, but effective manoeuvres. Trying to counteract her moves is useless, as Gael does not fight with a proper style, nor does she have a basic set of moves like the well-trained people do. This is what makes her attacks so effective.
Personality
Gael is a very pacifistic individual and has a great respect for any living thing. Her kind and innocent nature has also earned herself acceptance from many of the elusive creatures in Elendia. Gael can be said to be quite uncivilized, although she is a fast learner and quite knowledgeable, especially in the ways of the Ancient Bears. She is also rather protective and will not tolerate bullies or people who harm innocents, at which she will lash out at the offender in anger. She can also be rather curious about things that she hasn't known of before. Gael enjoys friendship and treasures her bonds very preciously, however, making friends with people is harder, since she is shy and people, unlike animals, are unable to sense her feelings. Living far away from civilization has made her quite blunt when she is speaking, and she is oblivious to people's feelings of anger and corruption, as she has yet to learn how to communicate properly with them.
Bio
Gael Briar had always been curious and a lover of nature, not a good combination. From a young age, she would always be out and about, trying to learn more about the world around her. She was more in tune with the farm animals than with humans. A toddler, she participated in the graze with cows, only to realize that grass was horrible to chew on. She dug up dirt and tried to swallow it, only to find it disgusting. Yet, she still continued like this, finding joy in being with animals. Ever since Gael was born, the farmland they lived on was visited often by creatures of the nearby forest, connected with multiple other forests into a large green sea which was part of the Terra Mountain Range.
At 4, corruption of people had caused the rise of bandits, who killed for profit, and bandits raided through their remote farmland. Gael, agile even as a toddler, dashed for the forest and weaved through the trees as if she had always lived there. Creatures of the forest aided her, as unwelcomed guests ravaged through their home. Out of the two most knowledgeable of creatures, the Ancient Bears and Centaurs, the Ancient Bears sought to raise her up, while the Centaurs were more reserved and wanted nothing to do with her. The Bears were as civilized as they were kind, these intelligent beings saw a potential in the young girl, some think she is Ekin, their Goddess of Justice, personified. Ancient Bear shamans foretold that she had a great future. Gael was raised up healthy and strong, brought up in Ancient Bear cultures. They came to nickname her 'Nuts', after seeing her one time trying to stuff walnuts into her mouth in an attempt to mimic a feeding squirrel. It was a name decided on the walnuts, as well as her crazy, daring nature.
Gael made friends with many other creatures of the forest, even the Centaurs that once found her repulsive came to befriend her. Orcs, one of the more smaller tribes found their way to the forest, however, the Orcs were unwelcomed by the creatures of the forest and were forced to leave. Gael, instead, appealed for them to stay and it was granted. This group of Orcs were astonished by a young girl willing to assist them despite their less than admired reputation, soon befriended her and came to adore her. To this day, those Orcs live in harmony in that forest and they call themselves the Jungle Orc Tribe, distinguishing themselves from their more brutal brethren.
Eventually, a larger Orc tribe, a tribe already tainted by corruption, arrived and began to attack the forest. Without much choice, the entire population shifted their location deeper into the jungle, they lost many valuable friends during the attack. Gael herself, lost a great Orc friend by the name of Ungrask, who made her the Sramfosera after killing a corrupted Minotaur with his bare-hands. It was this moment, when Gael's rude awakening took place. There was rage, sadness and a will to get rid of corruption from the world forever.
------------------
---------
------------------
Dragon

Appearance
Younger Version: Less rocky exterior, no mane, and shorter ear-horns as well as nubs where the spikes near the wings are. And of course, mini-sized~
Name
Gaea
Age
Human:
20
Dragon:
200
Gender
Male
Tribe
Earth Dragon Tribe
Element/Power
Terra-forming
: A trait that is completely common in the Earth Dragon Tribe. Any youngling should be able to terra-form as soon as it can begin to stand without stumbling. The strength of terra-forming grows with age, the older the dragon, the greater the things it can do. However, mastery of terra-forming only comes with practice and knowledge. If terra-forming is mastered properly with enough knowledge of the earth, even metal or gems can be shaped by will.
Forest Frenzy
: Manipulation of plants is also a completely common trait shared by the Earth Dragon Tribe. However, for this, any baby dragon is capable of manipulating the grass right after their birth. As with terra-forming, the strength of the manipulation will increase as the dragon grows. Unlike terra-forming, manipulation of plants is like another sense for the dragons, by thought alone, they can do it. However, practice is required to be able to control multiple plants with great efficiency.
Blast Growth
: Wherever an Earth Tribe Dragon goes, its aura will induce growth of nearby plants by an incredible amount for as long as the dragon in within vicinity. It shrinks back to its original status once the dragon leaves. This will cease to work in places without plant.
Earth's Call
: The entire pacifistic Earth Dragon Tribe are the only dragons who are unable to produce flames or projectiles from their mouths as a form of attack. Instead, their 'true' breath has the ability to bring life to any fallen plant or creature. It is said that even humans were able to be brought back, only within a certain time after their death. This rare breath was only as strong as the dragon who managed to utilize it, a weaker dragon would only be able to bring back a plant to life, while a stronger one could bring an animal back. Legend speaks of a dragon who once brought back a human to life… at the cost of its own life. A breath that cannot be called forth as easily as the rest of the flames, even the greatest dragons were said to be unable to bring it out at will.
Personality
Gaea can be called benevolent. Despite his (originally)giant size, towering over many of the other dragons older than he was, he was gentle and caring towards others, especially the younglings. Despite that fact, he can also become the greatest threat one has come across. Those who take lives without a second thought will feel his wrath full force, without mercy. A gentle giant that no doubt will protect those that require protection. Gaea has a create distaste for corruption and is willing to use his powers to mete it out of existence. He is also quite knowledgeable and will be rather pleased to share this knowledge with others. Teaching and nurturing are also a few of his strong points. Gaea is also a team player, willing to cooperate with his allies, even if they are strangers to each other. His weaker points of personality, however, is that he is always deep in thought and that causes a rather slow-paced attitude. He doesn't enjoy rushing things and prefers to go slow and steady. This makes everything seem unimportant to him, when in reality, he does find it important.
Bio
The moment Gaea was born, flowers began to bloom everywhere. To the elders, this was a great sign. The sign of a strong youngling with a great life. And strong he was. Gaea usually never failed to meet expectations, except for those few occasions. He was strong, strongest among his age, stronger than a few who were older than he was. The elders were afraid that Gaea would let the power taint his mind and make him susceptible to the jaws of corruption, but Gaea was modest of his strength, always seeking to refine his skills to a higher degree rather than be satisfied with what he had.
And this strength soon proved its usefulness when one of the strongest and oldest dragons fell to the corruption and went on a rampage. Without a second thought, Gaea volunteered to fight the dragon in order to protect the Tribe. His adversary bigger than he was, Gaea proved that his constant pursuit of strength had not failed him or his Tribe, defeating the dragon in a close battle.
That was the beginning of the corruption in their domain. Slowly, even the pacifistic Earth Dragons succumbed to the corruption and soon, there was so many corrupted dragons that even Gaea did not have a chance against them. The few remaining Elders decided on one choice… and that was for Gaea to traverse into the human domain and find a way to stop the corruption.
Gaea barely managed to make his way to the gateways, having being chased and attacked by a small majestic(well… why not invent my own for dragons? There's a pride of lions after all) of corrupted Earth Dragons. The surge of energy required to enter the gateway and emerge out of the other end striped Gaea of the strength that was the reason he was here the first place. Without his strength… Gaea was nothing, he wouldn't even be able to find help this way.