Name:
Zu Nea-ashi
Gender:
Female
Element:
Fire
Personality:
Having a deep voice, Zu is easily mistaken for a male deity, and while she is a she, Zu is quite the masculine character. A short and heavy temper, not one to be messed with or taken lightly for surely her wrath that is incurred will bring misfortune and death. A chaotic creature, she brings drought and bad luck to villages when she is most surely displeased, wreaking havoc on all when having her usual raging anger quests. Despite so, when Zu has a more easy going and calmer temperament as humans who dare appear before her are more wary and respectful, she has several wise words and knowledge that is found in the typical olden folks, fables and tales you've surely heard of, of the guiding of warriors.
Zu, though, doesn't have many of those calmer days, as she finds much sin and wrongs in humankind. It is surely asking for death to be venturing in her lands and home, and to appear before her with disrespect and ill intention. A stubborn dragon who does not stand to having her authority being questioned, usually throwing out to listening to reasonable reason when blinded with anger, being sensitive to many words. It is of childish behavior, she understands, but is unable to control herself, becoming quite the obnoxious and fearful dragon of her reputation. She only approves of those she acknowledges and while she prefers to be left alone to live out the rest of her long life, humans themselves who are surely idiots keep on angering her, and so, she cannot rest.
History:
Zu is what you could consider to be a pig-headed teenager who was born with a stick up her behind, if you were to compare her to an actual human. Having been born wise and mature, she was raised by some breeders and appreciators, those of whom worshiped the the dragons, with much kindness and love. She begun to see the world differently when those same people were killed by a group of bandits and thieving humans, several who tried to sell her on the market. She had escaped, of course, but not without pains and scars. Zu has grown bitter towards the humans, after observing for a long while of how sinful and hateful they are, and so, she brings them her wrath and bitterness that she's developed from the painful experiences she's faced. Now, she's living in the high mountains, in her own cave to find peace. But since it's surrounded by villages and civilizations with the occasional human who ventures too far, and having forced her to show the other humans that she must be left
alone
.
A temple has been built at the base of her mountain, where most humans who are more wary of her dragon spirit, have given offerings and either pray for safety to travel through or otherwise, and it is this respect that she gives to those humans that give respect to her. Perhaps it is out of pity or softness for her egg-hatchers, as she does not disturb those humans, but she still wishes to be left alone.
Appearance:
Despite her otherwise unpleasant personality, Zu is quite a beautifully scaled dragon, one that a human would be extremely proud to take or to "control" as their own. Red scarlet manes that changes into the color of white during winter and spring seasons, with pure white scales of the occasional gold coloring, especially around her eyes that have a bright, angry red. Her claws are black, and has horns as dark as it.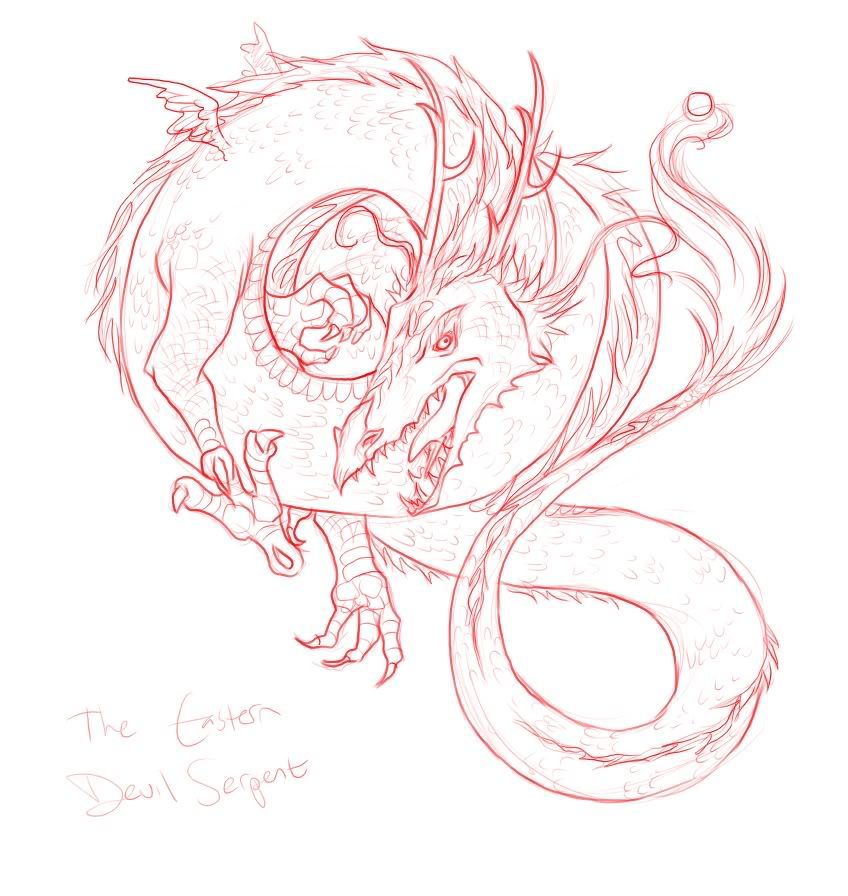 Other:
Anyone's up for grabs, I guess. I made Zu a very hard to bond with dragon, so uh, er.. o w o
I suppose that Zu'll became Alec's, 'less someone else comes along~ o
x
o
DISCLAIMER: Before I am accused of "art theft", I do not, will not, and can not own the following images presented. They're copyrighted and are owned by their respective and original artists, not me. I did not get written consent from said original artists, and should they find this, and wish for me to take this down, I shall. They are not mine, and I will respect their wishes. If you are the original artist, please notify me immediately if you wish for it to be taken down. It is of my apologies.