Khalid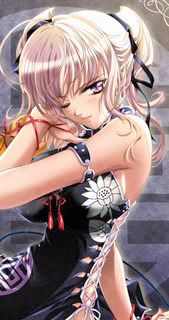 Name
Khalid Moses.
You Can Call Her
Khal.
To Describe Her To A Blind Man
Khal stands at 5'9", fairly tall for a 17-year-old. Her hair is a pale blonde that appears pink in some lights. Her eyes are a pale blue-ish silver, outlined with dark lashes and a fairly feminine and startlingly beautiful face. Her expression is usually a savage smile, her eyes are usually twinkling with mischeif. Her body is lithe, and she can sneak around most quietly, though she can't blend in to the background, what with her outstandish apperance.
Personality
Khal is rather optimistic. She handles everything that comes her way with a casual excitement. She's never fazed by anything, taking the most startling reveals and betrayals in stride. Her calm demeanor is underlined by a steady stream of energy that never seems to run out. She's constantly moving, never sitting down for very long. Schoolwork was hard for her, because she cannot be held in place by boredom. A natural-born dragon rider, Khal is always up for a challenge.
In dangerous situations, though, is where her rough side comes out. Her honest streak -she hates to lie and sugar-coat things- will sometimes be mistaken as crude and mean. She's usually the one that provokes the fight, that pokes the bear- just out of curiosity, to see what'll happen. Khal is a big fan of living in the moment and won't think about the consequences- something her dragon usually reprimads her for. She's one who'll talk about you, but not behind your back- she'll say it to your face. She hates rumors and liars and believes that the reason they make up stories is because they can't face the truth- something incorperated into her disgust with weak people and people who are outright rude. She has a habit of stretching the rules as far as they can, and testing her limits to the max. Somewhat careless, but she can love passionately. A fairly good listener with a big heart.
Favorite Weapon
Khal's favorite weapon is the bow and arrow. She has impeccible aim and her ability to remain calm in the most tedious of situations doesn't hurt, either. She has strong upper arm strength, which makes up for her fail with running and jumping. Her muscles are corded, and a bow feels
right
in her hands. She can also use it riding upon her dragon. She has a tendancy to coat the tips in fuel and care for her bow and her dragon more than herself.
Dragon
Dragon Name
Issam [Meaning "Safeguard"]
Personality
Issam is a no-nonsense dragon. The Nightfury is rather impatient, with a need to get things done
now.
Yet his wise remarks and clever comebacks grant him some similarities with his rider. He won't turn down a thrill, and won't back down from a challenge. It is his pride that will be his downfall, for he takes great pleasure in being the strongest of dragons. Yet it isn't like he doesn't have a claim to the title. Issam is not quite as wise as the other dragons, but he does try. The Nightfury will follow a mission to it's end and will always remember those who show mercy and those who do not. He doesn't believe in punishing all for what one person/animal did, so he's not a big believer in what he is being trained to do. But he is loyal through and through to his rider, and refuses to let her down. He has an iron will and a taste for challenges.
Dragon's Fav. Move
Issam's favorite fighting move would have to be brute overpowerment. His massive size and strength allow him to simply attack, shoving all his weight and breathing loads of fire on his opponent. Never-ceasing. Although this takes a lot of energy, blind attacks are often hard for the enemy to interpret, hensforth not allowing them to guess what he will do next. Although he is skilled with cordination, attack-and-defense, he prefers a testimonial of strength and endurance.
History of Dragon and Rider
ADDING.