The Past
In the beginning, Youkai and Humans lived together. But those times slowly came to an end. Miko (Shine Maidens) had cast a seal that sent all Youkai into a parallel world. This world exists on ours, yet we an't see them, nor can they see us. However our worlds coexist and crossing the lines between is possible. This would never happen sadly as the Miko never released the seal and to the grave, they never released the Youkai. In there own universe, Yokai had created their own prosperous world.
The seven continents still exist as usual and so do the countries, but magic and futuristic technology are dominant. Travel is much more efficient as teleportation exists and the Tubial Transport System, a network of tubes that hyper speed you anywhere you want. Underwater cities also exist, garbage disposal is done by feeding the molecular demons who eat waste and their waste is merely any specific type of molecule. Oh that means drinkable water never runs out! Except it comes out a demon's rear end. Anyways the world was called Yokaivania. A land where peace has been achieved...sort of..
---
---
Peace is obvious throughout this world. However if we zoom in on a small island connecting the countries of Korea, Japan, and China through three huge bridges. Peaceful isn't what you can expect. This island is know as the Jewel of Asia. The reason being is the whole area is dedicated to catering to the pleasures of the world.
Sure peace and tranquility is nice. But you need the loud music, busy streets, bars, karaoke, casinos and best of all the no curfew rule. Everything is pretty much running all night long. Cept, most of the noise dies down in the residential areas because sleep is needed after.
Anyways down to business is that this little island is run by two gangs. The White Dragons and the Black Widows. The Dragons are a Korean gang, while the The Widows are Japanese. Both are competitors for the best hotels, spas, and especially night clubs on this island. Of course what's more of a twist is that The Dragons are pretty much an all men gang, while the Widows are all female. Street brawls and assassinations in the past years have gone down, but recently when the leader of the Dragon's is killed...tension builds. Each side is ready to head to an all out battle and some of the most powerful Youkai in all history are part of these gangs.
However before declarations of war are even sent out. The tension deflates at the Heir to the Dragon's birthday. A huge party is going to be held at the biggest hotel on the island and everyone is pretty much invited, including the infamous Black Widows. At the party though, the Dragon Heir runs into the Black Widow Successor.....knowingly the Black Widow successor pretends to be a normal girl who is looking for a good time and the two eventually purchase a room to do their thing. Meanwhile other romances are taking place downstairs in the ballroom. With the gang's falling deepen forbidden love, what is going to happen??
---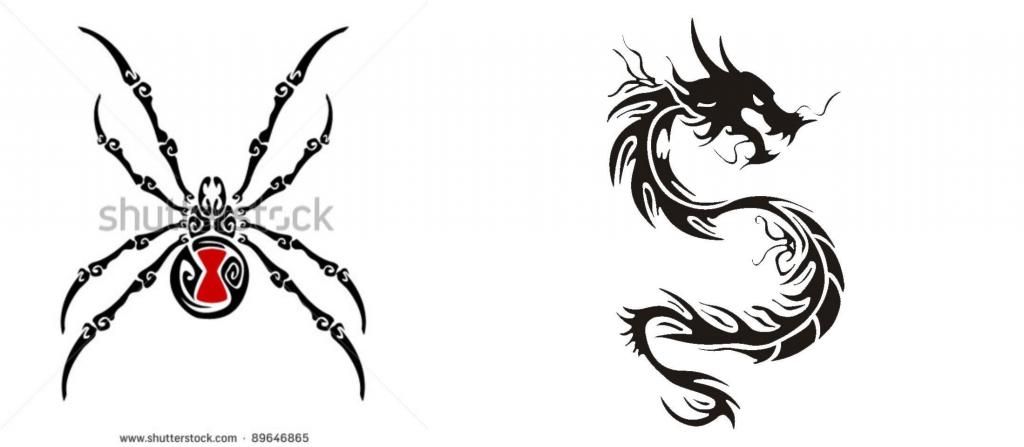 ---
Roles: You have been invited to be~
The White Dragons:
The Heir [Reserved]: He met the Black Widow Successor and fell in love with her personality and beauty. At first he thought it was a one night stand...but now he wants to keep seeing her.
Heir's Bestfriend: Steady and Reliable as he is, this best friend has been with the Heir since they were little kids. No one knows him better than him. The night of the party he meets the Assassin and is enchanted.
The Troublemaker: Twin to the best friend. You never know when these two switch places. He is the life of the gang and enjoys causing trouble. At the big party he meets the Successor's best friend, wanting to be friends....maybe more?
The Sniper: The most normal, but the most scary. He's a killer and absolutely despises the other gang, especially the Assassin. Till tonight though, the Manager of the rival gang perked his interest. He has no idea she's a Black Widow since she lied.
The Big Boss: The oldest member and the most powerful. He's a loose canon and sleeps pretty much with anything. Until tonight, he couldn't get the Quiet One of the Black Widows to sleep with him. He's fascinated.
The Black Widows:
The Successor (Taken): Childhood friends with the Heir. She remembers his promise to marry her, but he can't remember anything about his childhood. She gave up on finding him and decided to mess around at the Heir's party, sleeping with him. She thought it was just to be comforted but now she wants to be his lover.
Successor's Sister: Despises the White Dragons for killing off her kind. She is quite the tomboy and not interested in love. The Troublemaker who she met made her laugh so she sees him as a friend, for now.
The Assassin: In her line of work, seduce and kill. She's been with the Successor since babies and only listens to the Successor and her close friends. She met the Heir's Best friend and actually had a good time. She wants to see him again.
The Manager: An exemplary liar, she manages all financial business and all the information the gang needs. She has her usual nerd look that makes her look like a guy, but when the occasion calls for it she turns into a beautiful being. At the party the Sniper made her feel special and she wants to get to know him.
The Quiet Newbie: Not really a newbie. She is one of the most powerful Youkai ever lived, but her memory was lost years ago. The Successor took her in and now she lives normally. The Big Boss annoyed her, but he knows something about her past life and she wants to know。He also has a sickness and she sees he only acts this way to find someone who will care for him.
Code: Select all

[center][size=400][font=Font here!][Color=Color Here!][u]Full Name Here[/u][/color][/font][/size]
[b]Role[/b]
[img]Image Here[/img] (Real-Life; Asian since we are in Asia)
[b]Basic Appearance[/b]
(Brief description)
[b]Quote[/b]

[hr][/hr][hr][/hr]
[b]Name:[/b]
[b]Age:[/b]
[b]Gender:[/b]
[b]Weapon(s):[/b] (If multiple, only around two or three please!)
[b]Powers[/] (Limit is two-three, the Big Boss and Quiet Newbie may have around five-six)

[hr][/hr][hr][/hr]

[img]Image Here[/img]

[hr][/hr][hr][/hr]
[b]Quote[/b]
[b]Personality:[/b]
[b]Likes:[/b]
[b]Dislikes:[/b]
[b]Talents:[/b]
[b]Flaws:[/b]
[b]Hobbies:[/b] (During any free time)

[hr][/hr][hr][/hr]

[img]Image Here[/img]

[hr][/hr][hr][/hr]
[b]Quote[/b]
[b]Bio:[/b]
[b]Other:[/b]
[b]Relationships/Thoughts towards Other Characters:[/b]

1. reservations this time :)

2. Don't join unless you will be able to post once or twice a day!

3. Make original characters!

4. No godmoding

5. Keep the rating as PG-13 kiddos

6. If you have read the rules put Chocomint somewhere in your application!
Taking place in...
There are no characters in this universe yet!
0 posts here • Page 1 of 1
0 posts here • Page 1 of 1
Arcs are bundles of posts that you can organize on your own. They're useful for telling a story that might span long periods of time or space.
There are no arcs in this roleplay.
There are no quests in this roleplay.
Here's the current leaderboard.
There are no groups in this roleplay!
Welcome home, Promethean. Here, you can manage your universe.
Arcs are bundles of posts from any location, allowing you to easily capture sub-plots which might be spread out across multiple locations.
You can create Quests with various rewards, encouraging your players to engage with specific plot lines.
Settings are the backdrop for the characters in your universe, giving meaning and context to their existence. By creating a number of well-written locations, you can organize your universe into areas and regions.
Navigation
While not required, locations can be organized onto a map. More information soon!
There are no groups in this roleplay!
There are no characters in this universe yet!
By creating Collectibles, you can reward your players with unique items that accentuate their character sheets.
Once an Item has been created, it can be spawned in the IC using /spawn Item Name (case-sensitive, as usual) — this can be followed with /take Item Name to retrieve the item into the current character's inventory.
Give your Universe life by adding a Mob, which are auto-replenishing NPCs your players can interact with. Useful for some quick hack-and-slash fun!
Mobs can be automated spawns, like rats and bats, or full-on NPCs complete with conversation menus. Use them to enhance your player experience!
Current Mobs
No mobs have been created yet.
Locations where Mobs and Items might appear.
You can schedule events for your players to create notifications and schedule times for everyone to plan around.
Add and remove other people from your Universe.
The Forge
Use your INK to craft new artifacts in Dragons and Spiders. Once created, Items cannot be changed, but they can be bought and sold in the marketplace.
Notable Items
No items have been created yet!
The Market
Buy, sell, and even craft your own items in this universe.
Market Data

Market conditions are unknown. Use caution when trading.

Quick Buy (Items Most Recently Listed for Sale)
There are no characters in this universe yet!
None
Discussions
Topics

Replies
Views

Last post
Most recent OOC posts in Dragons and Spiders
Alrighty, I was stalking this a bit earlier, but wasn't sure. I definitely think I'll take a role though.

If I can, I'd like to reserve the Troublemaker.

Found a good faceclaim me thinks. No Min Woo, maybe. *Has never done Asian faceclaims ever.* Eheh, thanks c:

Ack, something came up, and I won't be able to take the role. Sorry >_<
Okay I am game. I'll reserve the Quiet Newbie. Is there anything I should know about her that's important as far as her past goes? Also, what kind of powers do Youkai have? Also, if you have problems getting male chars, I can play one as long as it's not the Big Boss okay? Hopefully I'll find a good Face claim that's Asian.

Edit: I found a face claim. Is it okay I say it here now? I am face claiming Fukada Kyoko. She's a Japanese actress.
Sure :). Have them up soon!
May I reserve the white dragon Assassin please?
Also you've got 48 hours for a reservation!
That's pretty much the plot~ reserved
Modern Roemo and Juliet? I'm game. I'll want the heir to the white dragons. :) he'll be up in a few days
Or Chinese actresses or Japanese actresses etc. xD
Just search up female Korean actresses :) Well unless you are still will to take a role that is.
I'm not quite sure which roles are taken and which aren't but, depending on that, could I play The Manager or the Successor's Best Friend?

Never mind, sorry. >.< I realized I don't really know of any Asian people for a FC.
This is the auto-generated OOC topic for the roleplay "
Dragons and Spiders
"
You may edit this first post as you see fit.