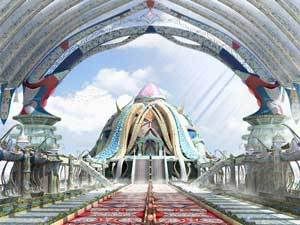 Morpheus, the keeper of dreams has gone missing, and without him the dreams of human boys and girls have started dissapearing. Making the land of dreams slowly dissapear, without Morpheus the dream gate has started to fall apart, letting the creatures of nightmare land inside the land of dreams. Without Morpheus, the gate will fall apart, making it so that the land of dreams would be gone forever.
But there is another way, to find the hier of dreams, a relative of Morpheus, to fix the gate. The only problem is, the only relatives of his are in hiding. And when the land of dreams need them, they dissapear across the border into the nightmare realm. Now its up to a group of Dreamers to find the heir. To do sp, they must travel deep withen the nightmare realm, where they will be put through many tests and trials. Will you be one of them?
Creatures of the nightmare realm:
Sqawkers: Birdlike creatures that feed off of fear, most Sqawkers have the abbility over fire, being able to breath fire from thier massive beaks.
Wailms: small furry creatures that seem innocent enough, but dont let them bite you, trust me, the only thing more uncomfortable than being bitten by a Wailm is death.
Reapers: Dark creatures that prey on human lives, they weild scythes and chop off your head.
Were-wolves: Creatures of legend, the truth behind them is they are hairy beasts with the appearance of wolves, they feed off of other nightmare creatures and enjoy the taste of flesh. There is only one thing that can truly kill a were-wolf, and that nightshade (a poison flower)
Vampires: Vampires, like werewolf, are creatures that feed off of other nightmare creatures, only, they take blood instead. Vampires are not what you would think they are, they arnt moody teenagers that chase after young girls while sparkling, they are beasts with razor sharp teeth, purely white eyes, and scrunched pug-like faces, normally covered in blood.
Pixies: tricky little creatures, be careful, if thier dust touches you it will put you in a comatose like state, rendering you useless and nearly dead.
Lost children: Children that died in thier sleep and woke up in the dream land, they became crazed and brutal, thier teeth becoming sharpened. They often group together, and if any female crosses thier path they take them and torture them, often thinking of it as a game, the lost children take only females because they resemble thier mother.
Ghouls: Evil spirits of the nightmare realm, they cant do much unless they have poltergeist powers, otherwise they are harmless, if you dont count the fact that they often suck out your soul.
residants of the Dream land:
Queen Iza: the ruling queen of Dream land
King Izo: The ruling king of Dream land
Morpheus: The dissapeared dream keeper/guardian of the dream gate. he rules over dreams of humans.
Dreamers: residents of dream land, all of them are characters in childrens dreams.
Animals: Animals that children dream of
Roles:
dreamer 1: Redwren223
Dreamer 2: Reserved
Dreamer 3:Reserved
Dreamer 4:Reserved
(there ca be more spots if more people show inerest in thi roleplay)
Hier:
Nightmare creature:
Nightmare creatre:
Rules:
Be mature
Fighting is alloud
no-godmodding
Cursing to a minimum
Taking place in...
0 posts here • Page 1 of 1
0 posts here • Page 1 of 1
Arcs are bundles of posts that you can organize on your own. They're useful for telling a story that might span long periods of time or space.
There are no arcs in this roleplay.
There are no quests in this roleplay.
Here's the current leaderboard.
There are no groups in this roleplay!
Welcome home, Promethean. Here, you can manage your universe.
Arcs are bundles of posts from any location, allowing you to easily capture sub-plots which might be spread out across multiple locations.
You can create Quests with various rewards, encouraging your players to engage with specific plot lines.
Settings are the backdrop for the characters in your universe, giving meaning and context to their existence. By creating a number of well-written locations, you can organize your universe into areas and regions.
Navigation
While not required, locations can be organized onto a map. More information soon!
There are no groups in this roleplay!
By creating Collectibles, you can reward your players with unique items that accentuate their character sheets.
Once an Item has been created, it can be spawned in the IC using /spawn Item Name (case-sensitive, as usual) — this can be followed with /take Item Name to retrieve the item into the current character's inventory.
Give your Universe life by adding a Mob, which are auto-replenishing NPCs your players can interact with. Useful for some quick hack-and-slash fun!
Mobs can be automated spawns, like rats and bats, or full-on NPCs complete with conversation menus. Use them to enhance your player experience!
Current Mobs
No mobs have been created yet.
Locations where Mobs and Items might appear.
You can schedule events for your players to create notifications and schedule times for everyone to plan around.
Add and remove other people from your Universe.
The Forge
Use your INK to craft new artifacts in Dream keepers: the nightmare realm. Once created, Items cannot be changed, but they can be bought and sold in the marketplace.
Notable Items
No items have been created yet!
The Market
Buy, sell, and even craft your own items in this universe.
Market Data

Market conditions are unknown. Use caution when trading.

Quick Buy (Items Most Recently Listed for Sale)
Newest
Friendly and nothing different.
We will find him. I can feel it in my bones.
The samurai he always wanted to be...
None
Discussions
Topics

Replies
Views

Last post
Most recent OOC posts in Dream keepers: the nightmare realm