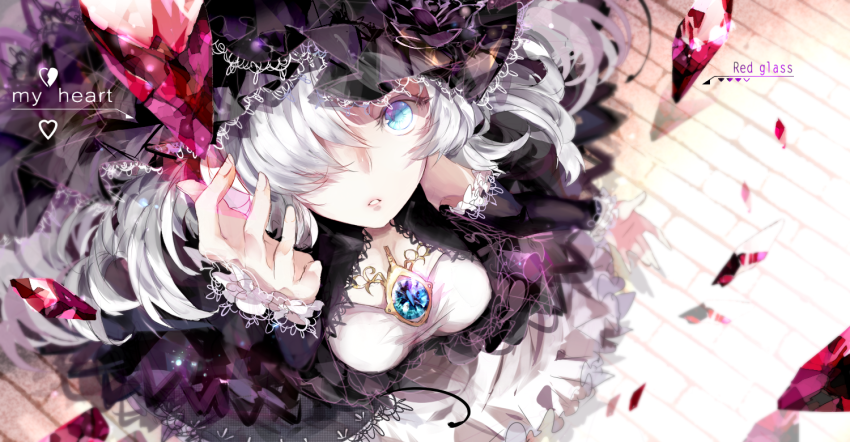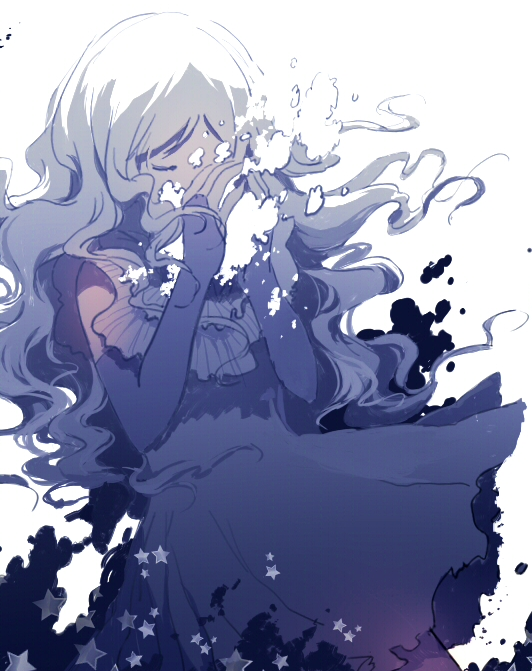 ⌈

Name

⌋


Penelope Spectra



⌈

Nickname(s)

⌋


Star, Lady Spectra, Ghostly Poppet, Grim



⌈

Age

⌋


2 Days and counting!



⌈

Gender

⌋


Female



⌈

Sexuality

⌋


Sapiosexual



⌈

Appearance

⌋


The first thing one would notice when attempting to discern her height would be a disturbing lack of legs. To be more specific, her legs appear to taper off shortly there after her knees, her body seemingly hanging in the empty space where presumably her shins and feet should be. She appears undisturbed by this odd shift, however—and greets all with a cheery smile. Her pale skin is set off by soft, blue eyes which always seem to be alit with amusement. Her white hair cascades down her back, long, curly, and mostly untamed.

When she deigns to wear something that reveals her torso, it can immediately be noted that she also does not appear to have a definitive joining point between the two major sections of her body. Her ribs peek out eerily and faint light emanates from the gap between where her rib cage would end and just under where her belly button should be. Her manner of outfits seem to change according to her mood, after all, the dreamscape fluctuates, as does her appearance.

Theme Song: Melody of Aqua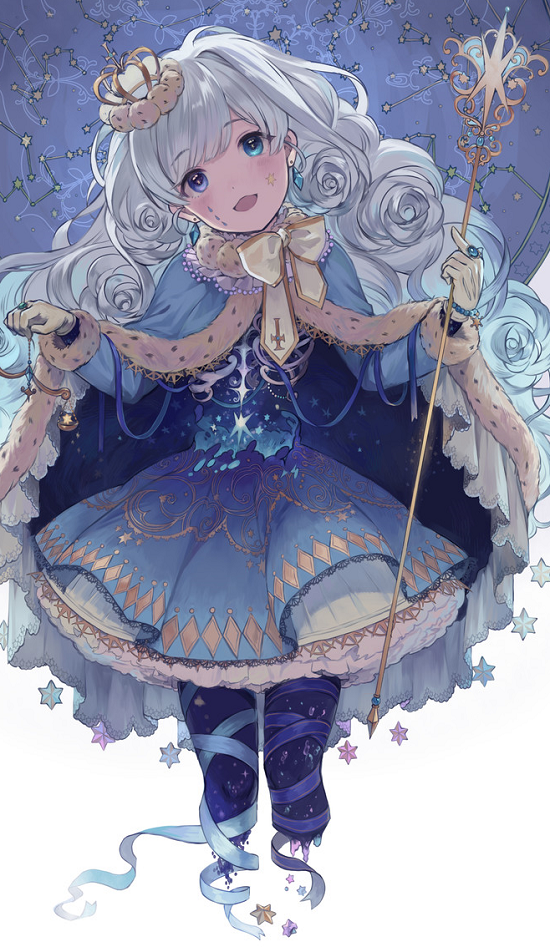 Equipped with an easy smile and a seemingly open disposition, she easily charms others with her positive attitude. She is always ready with a soothing voice and an outreached hand to help anyone that may have fallen or does not feel included. She is chipper and polite, and does not miss a beat if someone tries to throw her off. She has a way for dodging conflict, whether it be through her words or by purely ignoring it. She doesn't like to be around things that displease her and her knee-jerk reaction is to shove that under the rug. If that doesn't work, she usually works to eliminate it as quickly as possible, and that can come with some unpleasant results. She likes things around for her enjoyment and if something is detracting from that, she would rather it not exist at all.

Her energy can come across as that of a child's and couple that with her insatiable curiosity and penchant for mischief, and this can land her in awkward and unsettling positions. She may not always seem to register the full implications of everything that she does as oft are the times she can act somewhat selfishly. This does not mean that she does not have a mind for responsibility but if she can get away with avoidance, then that is the path she will take.

She has a nose for lies and can be good at putting together patterns, even if her interest does not seem to be all the way there. She has a way of asking a lot of questions or peering into things but the order that she does it in can be jumbled. It can be hard to figure out her motives till the very end of the puzzle that she has created—accidentally or on purpose. Her whimsical disposition, however, does not always mesh well with others. It does stir trouble with others in the court and unfortunately, there is no avoiding that end of things. She does her best to remain upbeat, she does not like the opinions of others to weigh down her mind terribly.

She can be stubborn at the worst of times but she will insist that she has excellent intuition. She won't back down if she is convinced what she is doing is proper or right (for better or for worse). She is a walking contradiction at the best of times—seemingly invested yet bored of the progress. Impatient yet curious as to what is happening. She, like most of the residents, represents the ever-changing nature of the dream world. She has high adaptability and is not effected by change nor marred by surprises. She loves to roll with the punches and is excellent at flying by the seat of her pants.

Underneath all that good will, though rarely it is seen, is a mark of cruelty. Her kindness seems to work less as a way to bridge gaps and more as a distance mechanism. It can be hard to spot, but she has a bit of disdain for things that don't belong and if someone is unfortunate enough to earn her ill will... well, she has a way of making things disappear. There is a reason for her presence in the Palace and it is better not to underestimate her or one might soon regret that choice.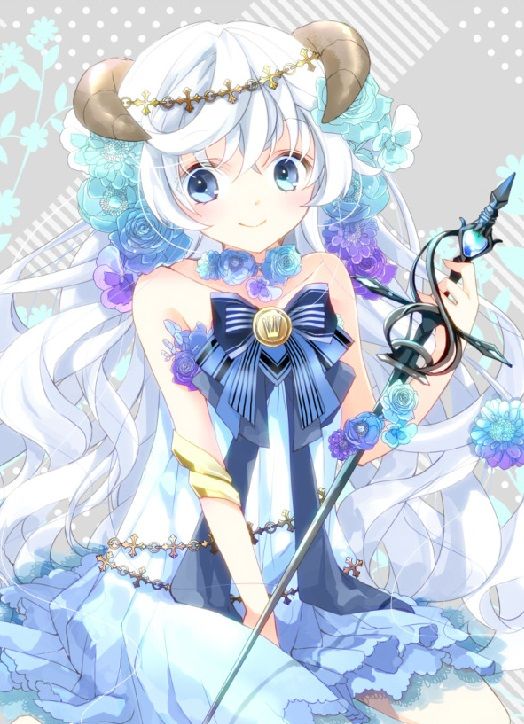 Soul Spheres: Wisp, Music

She did not earn her nicknames in vain and anyone that may get tangled up in her antics may soon learn the truth behind them. Her rapier is more for show than it is for actual combat. She can move the blade at surprising speed, using the whistling effect to create enchanted music. Her notes carry with them "possession", which allows her to enchant object to do her bidding. This can come in the form of levitation, movement, whatever it may be that she desires, she can create the song to make it happen. In essence, she translates her wishes into musical verse. Much like a puppeteer, this ability can be turned onto people, forcing them into endless dance until she releases them from the throes of her song. This form of her magic is used as her main "offense", as she will defend herself by manipulating other objects around her and use them to attack for her. (Theories behind how she does it continue to run through the Palace, though speculations land on the fact that her blade is spectral, much like her body)

Speaking of bodies, she can take hers apart. More specifically, she can unbind the magical chains that keep it together. She could remove her hand, perhaps her legs, or separate her torso from her lower half to wonder around. This does not appear to pain her and her detachment of body parts is not so much gory as it is aesthetically disturbing. When her flesh is reconnected, faint light emits from the joints until it settles in place. She can phase parts of her body in and out of tangibility and if she concentrates, she can pass through walls or objects. She has a tough time with the latter though and can struggle if stressed too much.

She can make her body compact, into the form of a Will-O-Wisp. This small light can guide its companions and she cannot be physically targeted or hurt. But on the flipside, she cannot attack or communicate with words when she is in her tiny form. Her wisp emits a faint lullaby that may cause hallucinations to the unwary if they wander too near her. In her regular form, she seems to glide... or maybe she walks. It is always a bit unclear when one sees her, considering her legs taper off into nothingness. Maybe it is worth the ask if flying comes with the package, though she has never displayed it outside of wisp form.





Nimble and graceful, she can appeal to most in social situations. She has wonderful wit and a starry-eyed disposition that can lend itself to optimism in the face of the impossible and support where there does not seem to be any. She is not deterred from her goals, even if everything in her path is suggesting she will fail because she believes in herself. Her spectral body can be useful for gaining access to places perhaps others could not go as she can forego physical implications. In this regard, she is very versatile, as her abilities have many different (and weird) uses.

She can laugh in the face of nightmares--she is not easily scared, therefore, will not shy away from more nightmarish realms within the Dreamscape. She is willing to take risks, to go with whatever cards are dealt her, and can make the best out of anything. She is creative and good at solving puzzles--mostly because she thinks completely out of the box. Her ideas may not always make sense, but they certainly get the job done.


Despite her aptitude in the uncanny, her abilities are not really marked and ready for combat scenarios. In fact, conflict makes her very uneasy and she will go out of her way to avoid it. She becomes frazzled when in the midst of battle and often will be unable to communicate if forced into a situation that she does not like. She also does not have as much magical energy as other residents, leaving her winded and weaker when she uses her abilities. She tries to keep this a secret and mask it under her disposition, which can lead her at a disadvantage. She becomes exhausted after casual use and needs breaks, else one might notice her body is falling apart and not be her own volition.

Her cruelty can interfere with her morality, well, what little of it she has--and she may lean towards the more negative option if given the choice simply because she might not think any better than that. She can be impulsive and even a bit brash and may not know when to back down. Her penchant for keeping her own problems to herself can lead her to decline the help of others even if she so freely offers to help them herself. She likes to take care of herself but that can come at a cost that sometimes is too big for her to pay. She battles nightmarish urges spurned from her soul sphere.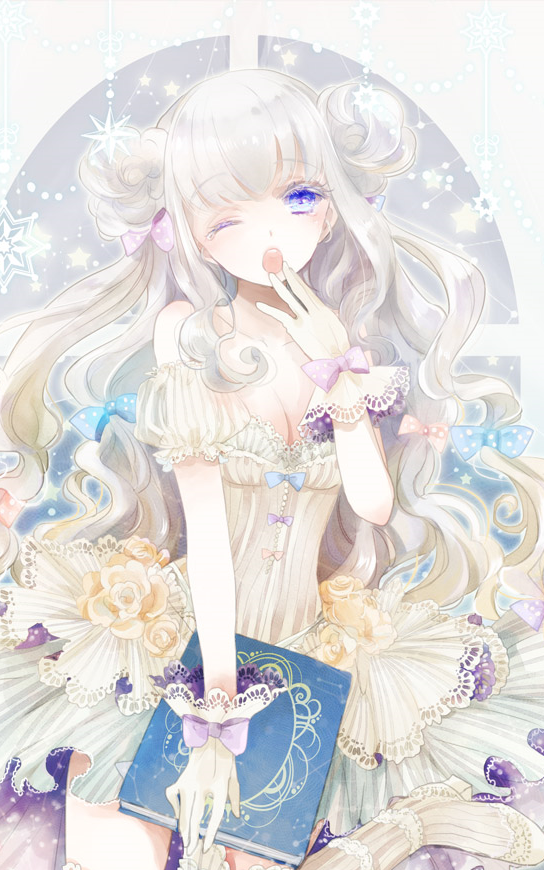 [COMING SOON!]