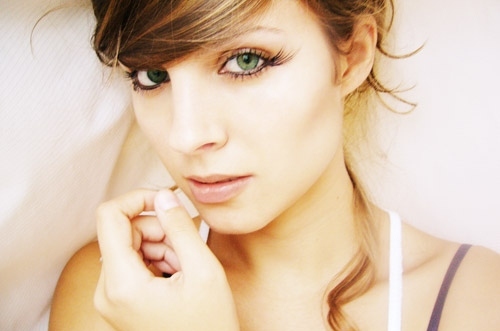 Lily Murphy
Age:
19
Gender:
Female
Appearance:
Lily's most noticeable feature is her eyes, they are a stunning pale green that used to always make people feel at ease. Her hair is chestnut brown, and lucky for her, has a natural wave to it. Lily has an average build and is noticeably shorter than average.Her skin tone is rather pale, not sickly so, but it seems that all she has to do is imagine the sun and she'll go red.
Her fashion sense is plain, it leans to the girly side but she'd never wear anything too 'out there.' She tends to stick to cute dresses or jeans and cardigans.
Why you are here:
Lily grew up in a single parent household, her father had taken off with an older woman a few months after Lily's younger sister Paige was born. Lily was 5. Since then Lily never had much as her mother struggled just paying the bills on time, as a child she never once saw her mother's pain though. Her mother loved Paige and her dearly though, and as a child that made everything better.
"Mum loved me and Paige more than life itself, back then I couldn't even being to comprehend how much she loved us."
On her first day of school Lily made friend with three other girls, Mara, Nicola and Renee and soon they were best friends doing everything together. From then on, throughout their schooling the four of them were inseparable, nothing could brake them apart. As Lily grew older she became more aware of her mother's issues being a single parent trying to put food on the table and look after two girls.The easy, obliviousness of her child quickly disappeared as she took up a part time job and started looking after the house and her sister more. Though the older her and her friends got the closer they grew, by the time of Lily's eighteenth birthday they almost had a pack mentality. Lily wouldn't have even decided what to have for dinner without consulting them.
"They never stayed out too late or got into much trouble. Those four were good kids."
It was two days after Lily's birthday when Mara's grandmother died. The group decided they would go to the funeral together as they had all stayed at her grandmother's house a few times over summer and they wanted to support their friend.
"Most of all I remember the silence, I suppose we all just didn't know what to say. I mean, what can you say to make her death okay? The only thing we could hear throughout the car was Renee's sniffling, she was a big softie. Mara was sitting on my right, her gaze firmly locked out the window, she had been the only one of us not to shed a tear the entire day. I admired her strength. I would have been sobbing like a baby if it had been my grandmother."
On the way home the girls got into a car accident, the only one to survive was Lily, who amazingly only received very minor injuries. When she awoke in the hospital though, she couldn't see a thing, she was blind. The doctors did all kinds of tests but they couldn't find a medical reason for her blindness, they had deduced that it was a phycological reaction to the event and was probably temporary.
For the next four months Lily seemed to grieve appropriately, naturally she cried almost every night, but eventually she seemed to come to an acceptance with the course of events. However her blindness did not go away, a phycologist had decided that the blindness was Lily unconsciously rejecting her new reality without her best friends. Lily herself believed she had come to terms with her friend's deaths and so she chose to believe her blindness stemmed from medical reasons.
"She wasn't lying to us, that wouldn't serve any purpose, she was lying to herself. She went through the motions of grieving, without allowing herself to grieve in her own way, in her own time. She lied to herself enough that it became her reality."
Over the next year Lily while not overly sad or depressed about her friend's deaths, she made no effort to move on with her life or to adapt to her new blindness. Unable to watch her daughter fade away anymore Lily's mother eventually persuaded her to go to the Institution.
What creates your paradise:
"I long to be a child still, without worry or pain."
Lily's paradise is a dream-like world, where everything seems straight from a child imagination. It is strange and random where anything can exist. Bus routes that go nowhere, friendly monsters and owls afraid of the dark are routine sites.
It is a place void of adult worries and stresses, nothing makes sense and that's okay. The place is filled with wonder and excitement, built with child-like innocence innocence to the pains of the world. It a place with loss, hurt and pain. Where all forms of hurt can be healed by a mother's kiss.
The most important aspect of Lily's paradise is that it is a place where Mara, Renee and Nicola can live on forever, frozen they way they were the day before they all died. Also, Lily regains her sight in her dream.