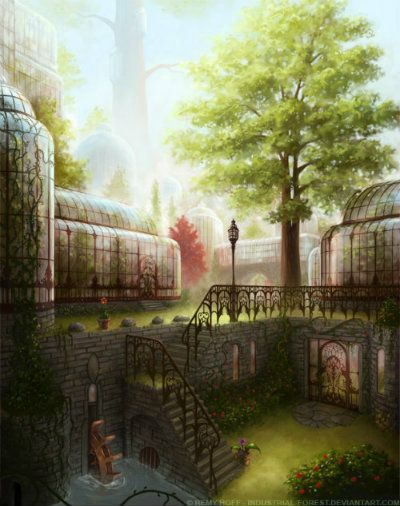 In a world of machines, the desolate world of Planeta Tierra is dying, a single Garden of Eden exists. In this lone garden that has taken over failed machinery, thrives a large city. Within this City of Eden, there is no such thing has pollution, as there is no electricity, and many have theorized that there is an unseen barrier surrounding the garden, as no outside pollution seems to reach inside and kill the fauna. This led to the people of the land to bring in goods that needed to make from the other cities outside the Garden of Eden. It was by chance and possibly a bit of luck that this Eden was found by the people who had survived the catastrophic and destructive fall of the world.
Underneath the Garden of Eden lies the underground city, Gehenna, where there are structures designed as shelters to protect its inhabitants from the dangers of the surface world. There is also a subterranean tunnel connects to mines and factories where machines functioned properly; a train shuttled workers to and from the factories and Gehenna. Gehenna has existed for hundreds of years according to its historians, ever since the world outside fell to terrible wars, leading to famine, poverty and much death. But even the records do not state when or who founded Gehenna, nor any knowledge of how it was built.
Both Gehenna and Eden become mysteries to those who have known of no other cities, and have lived here, their entire lives.
The people who live in the City of Eden, even without working machinery, have adapted to a new way of living without solely relying on their machines. Using primitive tools, they cleared away the fauna from the buildings, reclaiming them from the nature in this Garden of Eden. They then retrofitted these buildings to serve as homes, along with a school and other necessary establishments, such as gardens and farms to keep Eden, for the most part, self-sustaining. Along with using primitive methods for making meals and cleaning, such as fetching water from a nearby river (there being 4 rivers, that did not exit the Garden's barrier.), and using fire to stay warm and for cooking.
Eventually the people formed a real government that would rule not only inside the City of Eden, but all that was outside as well. This, however, upset many who lived outside Eden, for only those considered wealthy and of higher class are authorized to living within the Garden on the world's surface, while those who were not, were to live in Gehenna. For living on the surface outside of the Garden of Eden meant one to suffer death by the scavenger creatures, which are portrayed as crazed human cannibals who abandoned their humanity when the world fell into the dying lands they are now. But no one has ever seen these scavengers, or so the rumors and stories are told, unless you ask those who work in the factories, who claim these human cannibals' corpses are found occasionally within the mines.
The world outside that is said to once hold such vibrant scenery is now riddled with decay, giving off a seemingly rustic atmosphere at a glance. In this war-ravaged land, debris of varying sizes lay scattered across the wastes, as if the land were now a Giant's playground that had long since abandoned its toys in the sandbox. It was also said that there had been cities once that covered the never-ending Wastelands, but if there had been, there now was no clear evidence of that, besides the occasional piece of intact land, or the skeletal remains of a building. What those in Gehenna and Eden don't know is this Wasteland holds a number of small settlements of other descendants, survivors from a Great War, even though it is little more than a barren land, nearly devoid of healthy water, food, plant and animal life. However, miners from Gehenna often come upon corpses of not only people but various mutated looking creatures, which they assume once were the animals of the world.
For 30 some years, both Eden and those working outside of Eden prospered under a dictatorship government. President Leonard Heyward, the second official dictator, made sure everyone was looked after; medical treatment, clean water, food, and clothing. Any and all necessary goods and provisions were taken care of and looked after under the rule of Leonard Heyward, but after he fell terribly ill his younger brother, Lazarus Heyward, took over leadership. Slowly Lazarus began to ignore those outside the City of Eden, for in his mind, only those who he felt deserved to live in paradise should live the good life. Some of those who lived in the underground housing soon fell into poverty, and took up whatever they could as weapons, to force their way in to Eden and take that which they deserved, others simply refused to work and shut down their machines, until it would be agreed they be given fair treatment.
Lazarus, who led the military since the government was established, ordered his men to force the people back to work, and if they did not comply: Kill them. Lazarus reformed this world, those he deemed fit, stayed in Eden, and those who were not were sent to work and forced out of Eden. Now with President Leonard Heyward ill and in a coma, and the peaceful life these people once knew crumbling down around them, dying just as the world is, people wondered if there was any hope left. The Garden of Eden was a hope when it was first found, yet now... It spelled a dark fate for many, for this Garden of Eden held many secrets, its deepest secret being; where did this Garden of Eden come from and why is there a protective dome barrier where no machinery will work within its walls?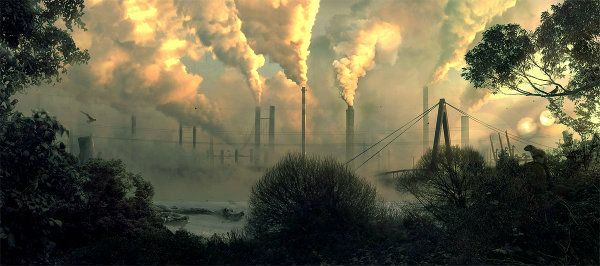 -♠-♥-♣-♦-♣-♥-♠-♥-♣-♦-♣-♥-♠-♥-♣-♦-♣-♥-♠-♥-♣-♦-♣-♥-♠-♥-♣-♦-♣-♥-♠-♥-♣-♦-♣-♥-♠-♥-♣-♦-♣-♥-♠-♥-♣-♦-♣-♥-♠-♥-♣-♦-♣-♥-♠-♥-♣-♦-

Character names I leave up to the roleplayer to decide, along with other basics, I just set up the roles that you are to choose. If anyone has seen Opale's roleplays, they will understand xD
Also the roles are based on Edgar Allan Poe's poems, the poems they are based of are italicized at the end of each role.
Character Slots:
Lazarus, The King of Eden: - Taken by Len-DragonConzy
: Now the leader of the City of Eden as well as complete control of the Underground City. His military patrols the Underground City and it's factories to ensure that the people continue to work in peace, and put down any dissenters. As a political tool, he sends two platoons of soldiers out without knowledge of each other, and gives them orders to shoot anyone they see on sight. One platoon is defeated and killed, and Lazarus blames it on the scavengers outside. When he was younger, since his father refused to allow him to marry or have an heir, when Lazarus fell in love with Annabel, he was sent into the army.
(The City in the Sea)
The Raven: - Taken by The Afterman
: A man who inherited the work of the technology and the restoration project "El Dorado" from the scientists' original head, known as "Mother". He works with both The Enigma and The Sleeper, but keeps them apart at all costs. He grew up with Lenore, and has loved her ever since he knew her. This love, though, has gone unnoticed and nonreciprocating, and he has long since given up on it even though a dim hope lies deep within his heart. A quiet and thoughtful man, he now feels that he exists solely to keep the city and the AIs running.
(The Raven)
Lady Lenore: - Taken by Lenyx
: Leonard Heyward's daughter, she is looked to as the last hope of salvation by the people who live outside the City of Eden. Those in Eden only love Lenore for her wealth, but is hated by the amount of pride she has for herself and her family. Her father saw her as an angel, due to her kindness and love for others even those for those who looked down on and belittled her. As a child she would fall to illness frequently and if it were not for The Haunted's care during these times, Lenore would not have lived to see past her tenth year.
(Lenore)
The Hero: - Taken by Flexar
: Living and working in the mines of Gehenna has made this man in to a strong, well-built warrior. Considered to be the mightiest of men, he also leads a group of people who are preparing to fight Lazarus and force him out of power. Working with the Master Eldarado, they plan to put Lady Lenore in the seat of power once Lazarus is overthrown. He knows how to fix and use any machinery to the point where he is the only man people turn to when a machine breaks down or ceases to function.
(The Coliseum)
The Enigma: - Open
: An immobile AI that controls all the goings on in Eden. He is a bio-machine, and, as such, has a brain which allows him to express emotion better than his sister. He is by far much more knowledgeable than her, but doesn't want to be trapped within the machine that controls Eden. He actively contacts his The Sleeper through dreams and asks her to release him. He takes the form of a child, the same as The Sleeper, but he, unlike her, has flesh and blood, and was originally made out of a human body and mind.
(An Enigma)
The Beautiful Annabel Lee: - Taken by BumbleDrop
: Is a maiden who lives in the City of Eden, where she works under Lazarus as a maid and adviser. They grew up with each other, being closer then any of the kids around them. They coveted each other throughout their younger teen years and many of the elders thought that they would end up marrying each other. As the government started to form, Lazarus was pressured into going into the army by his envious step-father. He was never the same after that and it seemed that their love was forbidden. She died inside and is now just an empty body, yet they both still yearn for the love that was once there.
(Annabel Lee)
The Haunted: - Taken by xfaithyx123
: Once a revered physician, but by falling into Lazarus's trap of poisoning Leonard Heyward, and was caught. Thus he became an exiled man because it was he who essentially killed Eden's favoured Dictator. It was during his short time in the Wastelands he happened upon The Silent and was able to see his point of view that Eden must fall. After the death of Leonard, he has experienced frequent visions of Leonard's "ghost", sometimes telling him things, sometimes merely asking why he was killed, or seemingly doing so to get some kind of revenge on The Haunted for killing him.
(The Haunted Palace)
The Sleeper: - Open
: A child, the AI who runs Gehenna, the entire underground portion of Eden City. She is a full machine covered by a human skin, in contrast with her brother, the more advanced bio-machine. She was created separately from The Enigma, and wants to find him. She was the first to be uncovered by "Mother" and the less complicated of the two. As such, she is mobile and can use her body to travel. She shows no emotions, but feels them, though it is somewhat limited. She can communicate with The Enigma through dreams.
(The Sleeper)
The Silent: - Taken by Dante Angelico
: A man who chose a life of solitude away from society along with many others who refused to conform to living underground and under dictatorship. But even among them he chose to be a lone wolf, a creature who lives in the shadows. However, he misses his wife and child, who refused to live outside a solid form of civilization. He survived in the Wastelands on his own by hunting the creatures of this new desolate world outside of Eden and the underground city. But after some time he begins to despise and blame the City of Eden as the reason his wife abandoned him to this life alone. Finally his anger gets the best of him and he sneaks in to Gehenna by way of mines that connected to the underground section of the factories. Thus starts his search for his wife and son and a way to destroy the City of Eden from the inside out.
(Silence)
Master Eldorado: - Yaken by Centi85
: Is an old scholar who travelled with the original people that founded Eden. There he finds the old books pertaining to how the city originally was. He is strong in his belief that it can be restored back and searches for someone that can do just that. He lives in Eden where he continues to study and teach about the history. He lives alone, sacrificing his own love life to see the city shine like it once had. He taught Leonard and Lenore hoping that they would be the ones to do just that. Now he works with the Lenore, Annabel, and others to try and get rid of Lazarus. He holds onto a book that is forbidden to anyone. He keeps it hidden in a small library that he keeps hidden away from everyone. No one, not even the people who was with him at the time Eden was found, knows about it.
(Eldarado)
"Prince" Israfel: - Taken by Nami L'Chi
: The Evening star's brother. A colourful man living in Eden city, who has no reservations for who he chases after, should he take a fancy for them. He cares a great deal for his looks and beauty, but he also cares for those he loves, whether he has left them for someone else or not. He is naturally as beautiful as his sister, and has, by comparison, a much better personality. He is the music behind The Evening Star's performances.
(Israfel)
The Evening Star: - Taken by LonelyFlower45
: A Woman living in the City of Eden who entertains others with dancing. Many men and woman admired her for not only her talent but also her enchanting beauty. She is a vain and self-asserting vixen of a woman. Men and woman alike whisper behind her back saying she is cold as ice, which is true. She feels no love or warmth for others, with only shreds of compassion for her own brother.
(Evening Star)
Character Skeleton
Code: Select all

[left][font=Choose Font][size=200]FULL NAME HERE[/size]
[img]DIRECT LINK TO PICTURE HERE[/img][/left]

[b]Theme Song: [/b][url=LINK TO SONG HERE]SONG TITLE AND ARTIST HERE[/url]

[b]GENERAL INFORMATION[/b]
[u]Role: [/u] (Raven/Hero/Eldarado/Evening Star/Isarafel/etc)
[u]Nickname(s)/Alias(es): [/u]
[u]Gender: [/u]
[u]Age: [/u]
[u]Love Interest: [/u] If you have one...


[b]APPEARANCE[/b]
[u]Height: [/u]
[u]Weight: [/u]
[u]Build: [/u]
[u]Eye Color: [/u]
[u]Hair Color: [/u]
[u]Scars/Tattoos/Piercings: [/u]
[u]Description: [/u]Give a general overview of your character's appearance, at least two paragraphs.

[u]Preferred Clothing: [/u]

[b]MENTALITY[/b]
[u]Oddities: [/u]Does your character have any odd habits to them, like fiddling with their hair when nervous, chewing on their nails . . . sleepwalking?
[u]Skills: [/u]Anything your character might be remarkably good at, like cooking or singing. . . .
[u]Fears/Phobias: [/u]
[u]Likes: [/u]
[u]Dislikes: [/u]
[u]Hobbies: [/u]
[u]Personality: [/u]One paragraph.

[b]COMBAT[/b]
[u]Preferred Weapon: [/u]As there are monsters/fighting in the world and in the Wasteland, it isn't out of the question for a character to carry a weapon on them, this is not needed though.

[u]Abilities: Enigma and Sleeper ONLY[/u] This is basically what varying things your character can do with as an AI, such as hacking, it allows for a character to perform various differing tasks.

[u]Fighting Style: [/u]List how it is that they act in combat, what are their strengths? Are they physically strong? Agile? Clever? Do they fight at close range, or do they employ their powers more so than anything else? In line with their strengths, make sure that you list their weaknesses as well, no matter how strong someone might be in battle, they all still have weaknesses~

[b]HISTORY[/b]
[u]Relationship Status: [/u]
[u]Family: [/u]
[u]Personal History/Background: [/u]Two paragraphs at least.

[b]OTHER: [/b]Anything that does not fit anywhere else, stick it here.[/font]
For posting length, I'd like to set a minimum word count per post, I don't want a bunch of small posts, I'd like to have some depth, however I also do understand writer's block/brain fail. So please write at least 250-400 words per post as a minimum, also I'd like this to be a literate roleplay, so I'd like proper grammar and spelling, but I'm not expecting perfection... Just do your best xD
No god-modding or meta-gaming. OH and no killing other people's characters off. I'm sure most people will understand this.
Post as often as you'd like, with exception of no double posting. I'd love for people to post at least once a day, but sometimes that's not always possible, especially when you are a part of other roleplays. I also understand that life comes first, and not everyone has hours on end to spend online, but if you find that you are gonna be unable to post for a few days, please tell me and the others via the OOC so we can work a way for your character to be out of the limelight until you are able to return. IF you are gone for longer than seven days without any notification, (I may assume you have slipped into a coma!) your character will be put up for grabs by another active player to play them into having them fall out of the limelight, until you return.
Romance is encouraged, but NOT SMUT. This roleplay is 'adult' as I can see some situations arising in the roleplay that are above a G rating. Remember keep situations PG-13 and make sure you follow the site rules—wrap up kissing scenes in two posts, and keep that kind of stuff seperated by five posts in total. If it a scene starts taking a turn for the uhm *cough* graphical, FADE TO BLACK and go take care of your hormones elsewhere.
As for violence, it is allowed along with gore, this roleplay is gonna have some fights and action bits, so blood will be spilled! Uhm but again don't go overboard, this is not going to be like the SAW movies.
Reserve characters via OOC, and if you can't commit to the roleplay, don't submit a character.
If you have a question, ask me :3
Do not post until it is stated that it is time to begin, I will write the introduction post and once it has been posted, then it is free game!
Taking place in...
14 posts here • Page 1 of 1
14 posts here • Page 1 of 1
Arcs are bundles of posts that you can organize on your own. They're useful for telling a story that might span long periods of time or space.
There are no arcs in this roleplay.
There are no quests in this roleplay.
Welcome home, Promethean. Here, you can manage your universe.
Arcs are bundles of posts from any location, allowing you to easily capture sub-plots which might be spread out across multiple locations.
You can create Quests with various rewards, encouraging your players to engage with specific plot lines.
Settings are the backdrop for the characters in your universe, giving meaning and context to their existence. By creating a number of well-written locations, you can organize your universe into areas and regions.
Navigation
While not required, locations can be organized onto a map. More information soon!
There are no groups in this roleplay!
By creating Collectibles, you can reward your players with unique items that accentuate their character sheets.
Give your Universe life by adding a Mob, which are auto-replenishing NPCs your players can interact with. Useful for some quick hack-and-slash fun!
Locations where Mobs and Items might appear.
You can schedule events for your players to create notifications and schedule times for everyone to plan around.
Add and remove other people from your Universe.
The Forge
Use your INK to craft new artifacts in Dreams Within Eden. Once created, Items cannot be changed, but they can be bought and sold in the marketplace.
Notable Items
No items have been created yet!
The Market
Buy, sell, and even craft your own items in this universe.
Market Data

Market conditions are unknown. Use caution when trading.

Quick Buy (Items Most Recently Listed for Sale)
None
Discussions
Most recent OOC posts in Dreams Within Eden