Cad Murray Synclair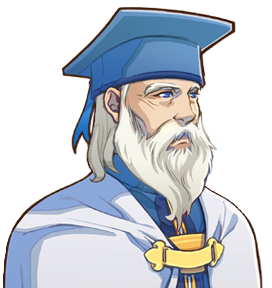 Theme Song:
[url=LINK TO SONG HERE]SONG TITLE AND ARTIST HERE[/url]
GENERAL INFORMATION
Role:
Eldorado
Nickname(s)/Alias(es):
Caddy (affectionately by those close), Sir/Mr. Synclair (fellow scholars, as well as students, etc) – Prefers just Synclair
Gender:
Male
Age:
62
Love Interest:
The infinite amount of knowledge capable of being extracted from archives of written and oral documentation
APPEARANCE
Height:
5'10"
Weight:
153
Build:
Tall, Slim
Eye Color:
Light blue
Hair Color:
Once a silk-like almond brown, now turned a pure snowy white
Scars/Tattoos/Piercings:
None
Description:
Synclair stands with an enlightened, well-learned stance. Never one to sulk in the shadows or sully his robes with wrinkles, the man maintains an elegant, professional posture with an erect back and squared shoulders. Though he doesn't necessarily possess a fighter's physique, he is slim and wears muscle where it matters; the constant lifting of heavy objects during experimentation and a healthy diet ensuring he stay as physically fit as he can achieve with such a passive lifestyle.
Well groomed, the man's gently aged face is framed by a cascade of pure white, which flows down into a luscious mustache and beard, contributing to his overall appearance of the cliché scholar. Belying his looks, Synclair's eyes still hold the shimmering, curious gaze of a child. Colored a soft hue of blue to match the endless beauty of the sky, the man's eyes reveal as much as one could want to know about him. Forever young and inquisitive, and not at all a man who has anything to hide, despite time's toll, there can always be some sort of glimmer to be found within his eyes.
Overall, Synclair exudes a radiant air of knowledge and confidence, as well as the care-free, accepting and open demeanor the child he is at heart. Always with a jaunty gait the man strides, and rarely will one find him without a warm, welcoming smile creasing his bearded lips.
Preferred Clothing:
Synclair dresses to match his lifestyle. Clad in a thick set of soft blue robes outlined a darker shade of blue with a gold trim just on the edges, his attire is fairly straightforward and plain; modest dress for a modest man. Never a man to conform to "in-style" fashion choices, Synclair prefers practicality over popularity. Topped off with a matching hat which resembles very much what a graduate would wear, as well as a sort of cape draped over both shoulders and secured via a stretch of gold band, he looks very much like how any learned man would be portrayed. Strangely enough, even when tinkering with his experiments, Synclair can almost always maintain a clean physical appearance.
MENTALITY
Oddities:
While the Synclair is a literal treasure-trove of facts, both useful and merely 'good-to-knows', the man's overwhelming knowledge can prove to be a great downfall. Often he will over-think a situation and stymie himself, his cluttered mind overlooking the simple solutions in exchange for the elaborate reasoning he's come to expect. In addition to spending too much time contemplating what isn't necessary, in any less than hospitable situations, be it a paper cut which could potentially become infected with a horrific virus, or a stubbed toe which swelled and that could be either just a natural response or grotesque virus, Synclair, knowing well the abilities and repercussions of most weapons, toxins and other mishaps, will often scare himself into a sort of petrified state. Obviously this can be entirely debilitating, and often results in the worst case-scenario if the situation requires immediate treatment. Synclair also has a tendency to faint in stressful situations.
Most importantly, Synclair is not unlike other people. He can get bored, and like a child, enjoys reenacting documented tests when strange results were recorded, or forming his own hypotheses, leading to experimentation. The spawn of said inquiries can range from miniature explosions which leave the man covered in a hardy layering of soot, or a new-found discovery pertaining to how one can cook eggs, or even the medical implementations of a berry. Suffice to say, results may vary, and the man always carries a small field-journal within which he records everything
Skills:
Synclair is particularly good at maintaining information. Be it through means of a fast-study technique, or allowing himself to immerse entirely into a topic and soak, rarely does anything escape the steel-fact-trap that is his mind.
Fears/Phobias:
Synclair has a very debilitating fear of injury or sickness.
Likes:
+ Reading, Writing, Learning and Teaching
+ Silence
+ Nature
+ Some forms of soft, calming music
+ Restoring/translating old texts
+ Experimenting
+ Harmless Pranks/Friendly jokes
Dislikes:
- Vandals and overall disrespectful people
- Untidiness
-War/Violence of any kind
Hobbies:
If Synclair is dedicated 110% to his studies, then he is also just as devoted to his teachings and counseling of others. When the man isn't reading, experimenting or writing, he is sharing his knowledge with anyone who would listen. For reasons both to teach and to give guidance, the man would gladly sit with someone to enlighten them, or to help them negotiate whatever troubles they may be facing. If Synclair cannot find a soul to share his time with, he does enjoy going for silent walks, observing nature (what's left of it), and taking samples of random objects for diagnosis of possible undiscovered potential.
Synclair also enjoys stroking his beard simply because he can. You would too if you had one.
Personality:
Synclair is a cheerful man with a gregarious demeanor. Greeting everyone with a pleasantly warm smile and hardy handshake, the man welcomes encouragingly whoever would seek out his guidance. While he is old, he is a child at heart, and enjoys talking with others and teaching them, and would gladly put aside his books for a moment in order to aid a friend, as well as indulge in a bit of harmless tom-foolery. A faithful companion, the man can see the light at the end of almost every tunnel, the sadness in the happiest smile, and pain and agony behind the coldest eyes. Having no children or family of his own, Synclair enjoys the company of anyone willing to spend time with him, particularly the refreshing, imaginative minds of the youth. The man revels in the vast, unhindered thought process of the young, and is an easy conversationalist in the discussion of new ideas, opinions, or simple small-talk.
COMBAT
Preferred Weapon:
Although Synclair has never shot any kind of firearm, he carries with him a simple revolver of unique and exquisite craftsmanship. Made with a polished steel barrel, cylindrical chamber, receiver, hammer and trigger guard, and with the grip being an intricately carved ivory, it appears as if practicality would have it sit in a display case, rather than in a leather holster beneath the robes of a scholar.
Fighting Style:
Throughout his studies, Synclair has secured knowledge on many subjects, including the various types of warfare and the tactics which are employed. Capable of assessing situations quickly and, most importantly, accurately, the man will often reference other times when these scenarios were enacted, and how they were effectively combated. Of course, despite this close to infinite knowledge, the man has had no real experience with which he can compare to the texts he's read. Most of what he knows, while factual in most senses, is also old and vastly hypothetical, rarely accounting for the unknown variables which thrive in stressful situations.
HISTORY
Relationship Status:
Single
Family:
Synclair has never yet mentioned his family, though no one has ever asked.
Personal History/Background:
For a man who has devoted his life to studying the past in order to gain knowledge and progress into the future, he rarely speaks of his own experiences beyond what most people would already know. This isn't to say that he has anything to hide, but rather he doesn't have anything particularly interesting to share. If one should ask, he would indeed be more than happy to enlighten any inquisitor, but the story would be far less adventurous and miraculous than most would expect.
Synclair grew up a simple and modesty lifestyle. Always a lover of knowledge, while the other children were out doing what children do, Synclair was inside reading and studying. Soaking up everything he learned like a sponge, he advanced quickly beyond his colleagues. His rise to where he is now was just as uneventful, though far more satisfying than most others, taking place primarily within texts, tinkering and experiments, and eventually leading him into the co-op and discovery of this wondrous new, yet old, inhabitable city.
Upon further investigation, the man soon stumbled upon a book containing a vast collection of knowledge to be tapped, pertaining entirely to Eden. Thoroughly intrigued and engrossed in the riches that once were, the man has now devoted his life to passing on and preserving his knowledge. Serving several purposes, being a teacher allows Synclair to enlighten the minds of the future generation, keep his own mind sharp, and grant him access to the brilliance of the prodigy he's yet to stumble upon that he could ultimately bestow his projects and work. While he is certain he could at least start in his endeavors to restore Eden, by no means could he achieve such a feat in this life time, especially with the recent developments in government instability.
OTHER: