Full name:
Anderson Fulton
Gender:
Male
Age:
18
---
---
Personality:
Anderson is determined, serious and ambitious. His fought his way to the top many times and nothing makes him feel more alive than being set a difficult challenge. He's proud and calculating, often coming across as aloof and rather unfriendly. Due to his past Anderson has become very disciplined and focused, again always throwing himself headlong into tasks and coming out on top. He's extremely competitive and to his detriment often finds himself leaving his morals along the wayside to allow him a victory.
This being said, he isn't naturally ruthless. He can be quite charming and clever, taking a serious interest in other people and has become known as a good listener. He is often the one his friends turn to for advice. However he is difficult to get to know as his personality is rather slippery going from one extreme to another. One minute he appears quite calm in demeanor, polite and sociable and the next he seems close to madness, rushing into various plans to achieve his goals.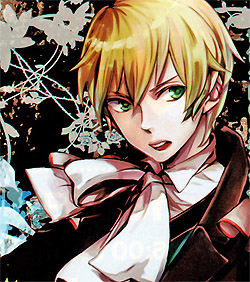 When put in a difficult situation, Anderson appears to disregard logic and reason and simply attack it headlong. It's only after he has actually achieved his goal that you can look back and note how each move he made was calculated and thoroughly thought through.
Anderson has always been a bright spark, finding knowledge both worth aspiring to and in its own way an addiction. Books are a huge passion of his and anything to do with how things work are always noted and firmly lodged within his mind. Wisdom unfortunately his detriment. Anderson has a lot of knowledge, but having the wisdom to apply it is another story. He's very knowledgeable about tomatoes being a fruit, however needs to work quite a bit harder to realise it doesn't go in the fruit salad as the saying goes.
When not engrossed in a task or addiction, Anderson is an extremely moral person. He has the typical upper class Victorian etiquette, chivalry and would ace a test in Erickson's moral dilemma's. However he is rather two faced. Give him a goal that interests him and his character will go out the window. He is in summary a hedonistic man, when morals don't get in the way of his pleasure he carefully follows them.
---
---
Appearance:
Anderson might be considered attractive if not for the fierceness in his large green eyes. His eyes are far too serious and determined sometimes making him quite off-putting. This aside he has nicely framed blonde hair which technically isn't kempt, but falls neatly anyway. He's not particularly built up, but neither is he slight or weak. Perhaps the best description would be a wiry strength which while quite formidable isn't really apparent. Anderson is taller than most people, however from his rather young looking features one can easily spot him as a youngster despite this.
Other:
He was found in a long white sleeved shirt with a blue cravat that has been significantly loosened. He has typical black dress pants and shiny upper class black shoes. The whole outfit is obviously missing a navy jacket, which was left in the home.
Short history:
Anderson is in the Victorian upper class- and he makes it fairly obvious with his posh accent and evident education. Being from a rich family he's had the best possible education and like a true nerd: enjoyed every minute of it. He had a large group of friends but wasn't particularly close with his family as they were more a means to get what he wanted and never really emotionally invested in him. He was taken to Drake's manner after investigating a rather interesting noise out the back of his house. Again his lack of wisdom let him down as he was sure it wasn't something normal but failed to act in precaution by alerting the family.