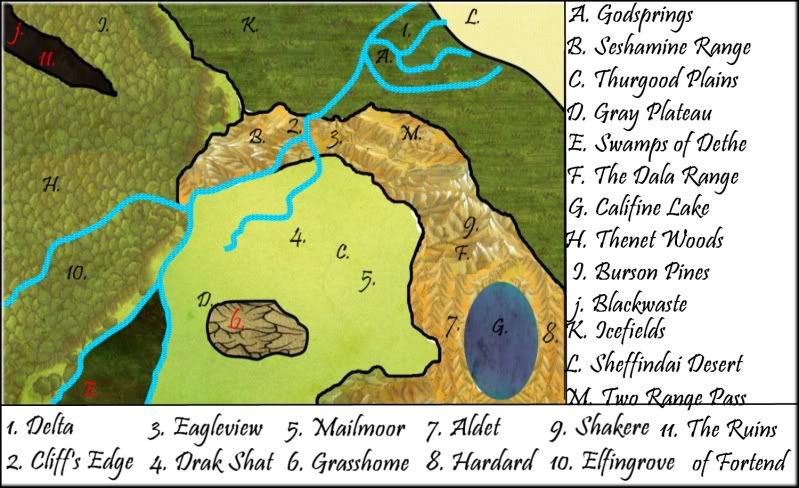 To navigate through this place, press CTRL + F, and then type in the number-letter code for the section you want to go to.
Locations – A1
Gods – A2
Races – A3
Classes – A4
Story – A5
Characters and Character Creation – A6
A1 – Locations
Godsprings and Delta
– the god of life, Shakkel, struck the cliffs that mark the edge of the northern Icefields with the hammer that forged the world, unleashing four streams of water called the Godsprings. The water from these four springs is of a holy origin, and has properties that can heal and rejuvenate. The Godsprings are watched over by the Clerics of Shakkel, to whom he gave both the Godsprings and the city of Delta that rests between them. It is in Delta that all clerics study the histories, practice healing and aiding magic, and converse with their gods. Delta is home to the largest Temple of the Gods yet to be built. A dome of translucent silver light covers the city of Delta, protecting it ceoma ll that would harm it. The water which comes through that dome is clean and free of all threat, and anything that passes through the shields finds themselves purged of all evil that once contaminated it. This dome also serves as a shield against beings of evil nature; it is said that a black mage attempting to pass through the shield without the protection of Shakkel will be stripped of his soul. This has never been tested, with good reason.
The Seshamine Range, Cliff's Edge, and Eagleview
– the Seshamine Range is the oldest, and most dangerous, mountain range in Tane. Inhabited by ferocious creatures that exist nowhere else but among its aged peaks, only the most experienced travelers risk a journey through these mountains. Most try for Two-Range Pass, a small gap between the tips of the Seshamine and Dala mountain ranges. It is said that, once, these two ranges were on in the same, forming a sort of arc around the Thurgood Plains, but that Furogh; the Earth-Shaper; struck down one o the many mountains to form a pass between them, that the plainsmen could make contact with the humans of the Godsprings and strengthen their people. Cliff's Edge and Eagleview are cities built at the edges of the Seshamine Range; one on one side of the mountains, the other opposite it. Cliff's Edge wasa city of the horsemen from the Thurgood Plains, and Eagleview the city of men venturing out of Godsprings. When the two people met in Two-Range Pass, the cities became mixed. Cliff's Edge is a center of trade between the horsemen and the people of Godsprings. Eagleview is a center of trade between the elves in Elfingrove and throughout Thenet and Bulson Woods, and the people of the Godsprings. Eagleview is also the home of a graceful Temple of the Gods, and to the greatest Tower of High Magic in all of Tane.
Thurgood Plains, Drak Shat, and Malimoor
– the Thurgood Plains are the home of the great horse-tribes. Once a barbaric, tribal race, though they still travel in family clans during the summer while they raise their herds, they have developed a system of cities that house the people during the winter. These cities are called Drak Shat and Malimoor. Malimoor is the more recent city, and so of a more sturdy construction; built of stones imported from the dwarves in the Dala Range. Drak Shat, their first city, is built almost entirely of wood and thatch; now, when buildings burn, they are replaced with stone, so there are a few dwarf-work houses there as well. Drak Shat is their main trading camp; this is where they drive their herds for the three-week summer trading fair every year. As such, it is populated throughout the year; some plainsmen who have left their nomadic ways to become merchants or craftsmen maintain a permanent residence. Malimoor, on the other hand, is abandoned during the summer. The businesses there open only when the merchants and craftsmen arrive a few weeks ahead of the others. These are people who were selected at the end of the previous winter to end their herding early and take up the mantle of shopkeepers for the next year. New shopkeepers are chosen every year. Malimoor would not have been built at all, but for the fact that another city was necessary to support the growing population of plainsmen and to give a house to those who could not make it to Drak Shat because of early snows.
The Gray Plateau, the Swamps of Dethe, and Grasshome
– the Gray Plateau was once the home of a grand city, spanning almost seventy miles in all directions. This city was the only home and the birthplace of the kinderlings, or, as they are known to elves,
barilas
; little elves. However, a century in the past, it became the focal point fot eh armies of Zerval; god of light; and Helkara; goddess of the dark; struck it down to prevent her enemies from making a collective attack on her children. The kinderlings fled, and have become a separated, wandering race, finding hoes among all the races. They have never returned to their home on the Plateau. There is nothing left that can live there; it a plateau of perpetually burning ash. Only a few of the hardiest men and women, and all of them children of Helkara, have managed to resettle there, in the little city of Grasshome which has sprouted in the wake of Helkara's wrath. They survive there by trading the endless supply of ash for food and water from the plainsmen, who can then sell the ash to mages and clerics for use in their spells, as the unholy ash is an extremely potent component. To keep her children alive, Helkara has promised to continuously replenish the ash. About twenty miles away from Grasshome, on the other side of the Assifin River, lie the swamps of the Dethe. The Dethe being reclusive and almost at toal mystery to the rest of the races of the world, not much is known about the Swamps. No mapper who has ever gone more than ten miles into the Swamps has ever returned. Countless mappers and adventurers have simply disappeared after daring the seemingly featureless forest of monsters and Dethe. No one has ever seen a full-blooded Dethe; only the half-bloods that they sent out from their lands to 'watch' the other races. Because little is known about the apparently neutral Dethe, every disappearance or death that occurs in the area where one has taken up inhabitance is blamed on them. It is said that the Dethe can suck out a man's soul, if they get too close. No one has ever seen it done, but many still maintain that it is true.
The Dala Range, Hardard, Shakere, Aldet, and Califine Lake
– the Dala Range is the largest, and safest, mountain range in Tane. It is ancient and riddled with the thousands of caves; natural and not; which give homes to the dwarves. Because these fearseome fighters and powerful smiths live here, any monsters which might have once made their homes here had long since fled to the safety of the Seshamine Range. Still, this range is harder to cross during the winter than the Seshamine; there are very few passes, because its residents use caves, and those few fill to the brim with snow during the cold seasons. The only sanctuaries that a mountain traveler can reach are the cities of Hardard and Aldet, both on opposite sides of the Califine Lake at the direct center of the Dala Range. They are small mining towns built in surface caves not used by the dwarves. They are kept supplied all through the summer, and as soon as it gets cold, ten months worth of supplies are stocked up in deeper caves to ensure that anyone who comes to these cities for refuge will be able to survive. There are no permanent residents of these cave-towns. They are only inhabited by stranded adventurers. The only other city in the Dala Range is Shakere, the city of the dwarves. Seven miles below the surface, it is virtually unreachable by any who are not dwarven. It is a sprawling complex; a perfect example of the beauty of dwarven craftsmanship. Tall, thick, twisting spires carved out of the very rock are the houses where the dwarves live. The spires are hollowed out, with slabs of stone left between each set of rooms. These rooms are accessible by the twisting stone walkways which spiral up the sides of the pillars, and dwarves can cross from one pillar to another using arching bridges which were left un-carved. As dwarves are not people to stay in the home, they are more likely to be found in the workshops or working and sparring in the caverns; each dwarven family needs only one level in these pillars, because all they do in them is sleep. These pillars run in a spiral around the central area, a slight depression in the floor of the massive cave the dwarves' carving created. This area is where the wares produced in the workshops are sold. It is also where public meetings and celebrations are held. This area, in itself, is almost a mile across. There is a clear, sluggish river running through the center of the depression; bridged by dwarven hands; that is a drain for the Califine Lake. This lake, forty miles wide and one-hundred and twenty miles long, is the largest in Tane, and is considered sacred by the dwarven and dragon folk. It is also several miles deep, and inhabited by shadow water beasts, some of which have never been seen. It is filled by rain and snowmelt, which is constant in these frigid mountains, and by underground springs. It drains through dozens of underground rivers, like the one running through Shakere, which keeps its level more or less constant.
Thenet Woods and the Elfingrove
– Thenet Wood is a vast temperate forest, covering hundreds of miles in all directions, lying to the west of the Thurgood Plains and the Seshamine and Dala Ranges. Thenet Wood is made up mostly of deciduous trees, like oaks and maples. In the far northwest it transforms into the expansive evergreen realm of Burson Pines. It, along with Burson Pines, is the home of elfinkind. In its lower reaches, directly beside the Elfinflow, is Elfingrove; the river-side home of the elven race. The elves make their homes within the vast trunks of the Tree of Life. There is only one Tree of Life in Tane; the reason that it wasn't named as a species. To the idle observer it would appear that the elves make their home in a massive grove of strange, star-leafed trees; thus the common name of Elfingrove. The truth of it, however, is that the entire grove is made up of one tree; the central trunk serves as a meeting-place for the elves, but they do not live there. Thick branches spread out from this central trunk, the lower of which arched downwards and then burrowed into the earth. These branches put out roots of their own, eventually becoming their own trunks. The Tree of Life, as commoners call the great trunk at the center, spreads for twenty square miles. To kill it, one would have to burn the entire grove, thus destroying the whole organism. And even then, the millions of seeds that it has put out to sleep over its long life would germinate, and at least one of them would survive to become a new Tree of Life. Each massive trunk on he Tree of Life is entirely hollow, allowing a beautifl home for the elves. In turn, the magic of the elves' eternal life nourishes the tree. Though the elves can live without the tree, the tree can not live without the elves; an imbalance relationship, but the elves have no intention of betraying their home. The elves have another word for both Elfingrove and the Tree of Life. Elfingrove, they call
Shalk-shafa
, Home of the Joined Ones. The Tree of Life they have named Misara, as she is their goddess. For the rest of the world, she is the Goddess of Rebirth; responsible for passing the dead on to another life. Though travelers are permitted to pass
through
the grove, none who are not elfinkind have ever been accepted inside
Shalk-shafa
.
The Burson Pines, the Blackwaste, and the Ruins of Fortend
– the Burson Pines is a vast wood, almost as large as Thenet wood, but mad up entirely of evergreens. It, too, houses an elfin race. Burson Pines is home to the drow. They prefer the constant shadow and the quiet of a world where the leaves neither shake nor fall. As it is, they tend to live in hollowed-out hills that they call
Mitoko
; or 'my-place'. They are easy to defend, and very difficult to find, as the entrances are in the ceilings and are covered in natural turf. Once, they inhabited the entirety of burson Pines, with a single city that commonfolk called Fortend, and that the drow had no name for. They simply called it the drow word for city;
Fortdiend
; which was translated into the common name. However, in the same event that made the Gray Plateau, the city of Fortend and a strip of forest sixty miles across and almost three hundred miles long was destroyed by Helkara as punishment to her children for consorting with the children of Zerval. This destroyed area became known as the Blackwaste. It never grew back, and Fortend was abandoned. The drow have never built another city. Few dare to venture into the Blackwaste, for it is inhabited by the wandering souls and corpses of the drow who did not escape their goddess' wrath.
The Icefields and the Sheffindai Desert
– the Icefields in the north no longer have any ice. The glaciers which gave them their name; and their random scattering of rounded boulders; have long since receded. Now, they are a vast and fertile land which provides most of the farming in Tane. Mostly flat and almost entirely featureless, except for the boulders and the patchwork colors of the different crops, they are a boring land. And because they are so well inhabited, there are not many monsters there to contend with. The most common enemy here are highwaymen and an occasional wyvern; the few who dare come down out of the mountains hundreds of miles to the north and hunt the livestock. There are no true cities; instead, the flatlands are scattered with small towns where farmers can trade their goods and where adventurers can rest and restock before moving on to more dangerous country. The Sheffindai desert, inhabited by a nomadic, and generally dangerous, people called the Leyathin, is an entirely different story. Extending as far as the eye can see, and further, to the east of the Dala Range, it s a desert of sand and little else. There is almost no water, and the few soaks and oasis that do exist are the subjects of constant war between the Leyathin tribes. Despite the danger of entering a volatile war-zone such as this, many adventurers are too drawn by the many rare monsters; such as giant snakes, scorpions, lizards, and sand-dragons; and by the rumors of vast treasure buried somewhere beneath the sands to pass it up. No one has ever proven the tales of treasure. More adventurers die than survive.
The River Shakkel, Tarsha's Canyon, and the Elfinflow, Samul, Assifin, and Talek Rivers
– the River Shakkel is the vast, swift ribbon of water that is created by the joining of the four Godsprings. It stripes across most of Tane, running into the Seshamine Range, where it has burrowed out the deep gorge of Tarsha's Canyon which slices the Range in two. From this canyon, it runs into the Elfinflow and the Samul, Assifin, and Talek Rivers. Tarsha's Canyon found its name in an old children's story; no one knows if the legend is true. Tarsha was a beautiful woman; half plainsman, half elf; who learned the plans of the army of Zerval from her husband, a general there. When Helkara heard that Tarsha knew the plans, she sent an agent in the form of an enticing young man to learn them. Rather than be tempted into giving her husband away, Tarsha fled to the nearby canyon and hurled herself off its edge. It has been said that Helkara's shriek of rage was heard even beyond Tane. In the end, Helkara discovered the plans anyways, and the war was ended in the destruction which created the Gray Plateau and the Blackwaste. Tarsha's futile death became a tale to teach loyalty, discipline, and honor to the children of plainsmen and elves alike, though both races claim that Tarsha appeared more like their kind.
A2 – Gods
Shakkel – the God of Life and Death, and all the non-humanoid races
Furogh – the Eart-Shaper, and the god of dwarves and orcish folk
Zerval – the God of the Light, and of humans and kinderling, and one of the Warring Twins
Helkara – the Goddess of the Dark, and of the drow, Dethe and kinderling, and the second of the Warring Twins
Misara – the Goddess of Rebirth, and of the elves, drow, and Dethe.
A3 – Races
Humans – a good but easily corrupted race following Zerval. They generally range around 5-6 feet in height, and tend to be very strong physically. They are a sturdy, adaptable race; the reason that there are so many different cultures of humans. A new culture seems to develop in every separate climate. They can be almost anything, though they generally prefer swords over bows and magic.
Elves – a neutral, but generally good, race following only the goddess of Misara. Generally ranging around 6-7 feet in height, and very delicate, though lovely, in appearance. They are a slim, quick, but brittle race that requires some type of forest to survive. They have an innate talent for magic; especially spells dealing with nature; and lean towards becoming clerics or mages. They much prefer long-distance battles and ambushes with bows or slings over fighting face-to-face with a sword or a club.
Drow – a neutral race following both the goddess Misara and the goddess Helkara. Ranging from 6-7 feet tall, like their elvish cousins, they resemble something between elf and human in their strength and build. They, like humans, are incredibly versatile; though they prefer double daggers to sword and blunt weapons, and magic to any weapon at all. They are a reclusive people, nervous about mingling with the other races, lest they once more face the wrath of their goddess Helkara. Most drow will attack any non-drow that wanders into their home forest. The entire race has a special fondness for the collection of literature.
Dwarves – one of the most ancient races, following the god who shaped the earth, Furogh. Ranging from 4-4.5 feet tall, 5 at the highest, they are a stocky and powerful race that runs with a rolling, galloping gate. They dislike being away from their mountains, and thoroughly enjoy creating things. Though they prefer stone, they will work with almost any material. They prefer hand-to-hand combat with axes or hammers, but will use a heavy crossbow or ingenious dwarven invention of they must. Dwarven clerics and mages are incredibly rare.
Kinderling – a neutral race following both of the feuding twin-deities, Helkara and Zerval. They are not like other Halflings from outside of Tane. They are not always happy and carefree; though there are rare specimens that act this way. Most of them, in fact, are nervous and sometimes even malicious. They steal because they have to, having been literally blown out of their home on the Gray Plateau and scattered to the winds a hundred years ago. They have since held a grudge against all the races that follow only Zerval, and have become stoic, if sneaky, people. However, once one becomes close to a kinderling, one can find the cheerful Halfing that lives inside all of them. Only when they know the people they are talking to will they be their natural, sprightly selves. They are more commonly thieves than anything else, but startling intelligence and inner strength make it possible for them to be magics, clerics, or fighters as well.
A4 – Classes
Mage – mages use magics which are generally not involved in nature or healing. They are a secretive people. No one outside the Circle of Magic knows what goes on in the Tower of High Magic. Mages can wear any color they like. Alignment can be identified by the talismans they carry; each mage carries the talisman of the god who they worship. Mages can not wear metal armor, as it interferes with their casting.
Cleric – clerics use magics involving nature and healing, and usually not the sort of damaging spells used by mages. They are an open and generous people. The citizens of Tane turn to the clerics at Godsprings for help in times of trouble, and it is up to this priesthood to provide that aid. Clerics can not use bladed weapons, only blunt.
Fighter – fighters are the ones who run into battle and destroy the enemy, hopefully before those silly mages have the chance to wiggle their fingers and cast their spells. They can use any weapon they want, but prefer larger, and often sharper, weapons. They know no magic until they reach a much higher level of practice. MUCH higher..
Thief – thieves are the sneaks, spies, item-collectors, and trap-finders of a party. They are, in part, responsible for keeping the party alive as they wander. They are highly valuable for collecting information. They must be relatively small in stature, and can not carry much that is heavy or noisy; thus, light armor and small weapons.
Custom or Advanced Classes – not all of these classes will be accepted. A custom class would be a merging of two classes, like thief and fighter, or cleric and mage, or cleric and fighter. An advanced class would be something like a Paladin, or a Necromancer, or an Assassin. These are highly specialized classes, and should only be requested if you have a history in gaming, and a very clear idea of what is involved in that sort of class.
A5 – Story
The peace is fragile in Delta, the river-city of waterfalls and crystal, where the clerics dwell. Someone, or something, is taking lives, and even the combined talents of the Clerical Council and the Conclave of Magus can not locate the perpetrator. The death toll is rising, and citizens throughout the lands of Delta have begun to panic. Some have gone so far as to seal themselves within their homes, cutting themselves off completely from civilization. If this continues, the Council and the Conclave both know that Delta's very society will begin to shut down. That is something that they, and the rest of Tane, can not afford.
Enter the heroes – a motley band of adventurers who have, indeed, never met. Purely by coincidence, or perhaps by the will of the Gods, they have journeyed at the same time to shelter within the once-safe streets of Delta. They gather now at the call of the great mage Errus, who has summoned them from their rest on the streets to offer them a new job – a new journey. You must hunt the killer down.
The job is not as easy as it sounds.
Rules
1. No god-modding or power-play. Please die occasionally, or get hurt at least. That's what we have healers for.
2. Don't be ridiculous. This is a serious roleplay. Use god names, be creative with characters' personalities and appearances. Anyone read Dragonlance? Yeah. Those were good characters. (Raistlin fangirl --> Everscale)
3. Keep it PG-17 with romance and swearing. Gonna do something crazy? Please fade to black.
4. Stay within the world. If you're going to have a crazy development in your character, you must check it with Everscale first.
5. One character per person, until further notice. (Note: Yes, Everscale is breaking this rule. For plot reasons only. Because she knows the plot.)
6. Keep track of your items in your Equipment section of your profile. Make sure to update it often.
7. Follow the character skeleton.
8. If you're going to use another race's language, make sure to put the translation in parentheses next to it. Generators are permitted. Do not expect everyone's use of language to match up - we're not all using the same system. You are also allowed to make it up as you go, if you see fit.
9. If you read the rules you will know that you have to name your favorite race at the bottom of your profile.
10. This is a fully literate RP. 500 words per post, full sentences, correct punctuation and grammar and capitalization, stay in one tense.
11. Post at least once a day, unless you have notified Everscale that you will be doing otherwise for a time.
12. There will be no reservation of characters. Quality is what matters – if I like your character they will be accepted, regardless of open spaces. I will allow the group to grow to up to 10 characters.
13. Do not just get up and walk away from this RP. If you're going to leave the RP, let me know. Tell me if you will be gone for more than a couple of days. Post at least every other day, when possible.
14. Make sure that there are two posts between your posts.
15. If you have read all the way, you will know that you are to disregard the former requirement and add a roleplaying sample of at least 500 words to the end of your profile.



A6 – Characters and Character Creation

taken ~Valence Damacus - Mage~ taken

taken ~Jonnovan Cerali - Ranger~ taken

taken ~Freah Lioncourt - Ranger~ taken

taken ~Cazik Norven - Monk~ taken

taken ~Everen Skygrace - Cleric~ taken

taken ~Terrah Roth - Warrior~ taken
[b]Character Skeleton
In the description section.
Name:
Race:
Class:
Age:
Alignment:
Level: (start with 0, I will announce level-ups)
Appearance: (please include a picture and a description of at least 100 words, OR a description of at least 300 words)
In the personality section.
Personality: (at least 200 words long)
Diety:
Likes:
Dislikes:
Life Goals:
Fears:
Quirks:

In the equipment section.
Weapons: (normal weapons to begin with, no magic.)
Armor: (normal armor to begin with, no magic.)
Gear: (anything else that you carry, assume that rations are provided)
Animals: (if you have a horse, mule, dog, or cat, which you should not have to start with)
Magic Items: (you should not have these to start with)
Spells: (for mages and clerics, you start with five zero-level spells, I will announce when you can level up. Each time, you will gain a certain number of new spells, which you can take from any of the levels at or below your current level. If you have an idea for a spell you would like to create, you may suggest it to Everscale.)
Clerical spell list 
http://www.dandwiki.com/wiki/SRD:Cleric_Spell_List
Druid Spell list (also for clerics)
http://www.dandwiki.com/wiki/SRD:Druid_Spell_List
Mage spell list 
http://www.dandwiki.com/wiki/Sorcerer/W ... plement%29
In the history section.
History: (where were you born, who was your family, what rank were you, how did you become what you are today? At least 400 words.)
Taking place in...
22 posts here • Page 1 of 1
22 posts here • Page 1 of 1
Arcs are bundles of posts that you can organize on your own. They're useful for telling a story that might span long periods of time or space.
There are no arcs in this roleplay.
There are no quests in this roleplay.
Here's the current leaderboard.
There are no groups in this roleplay!
Welcome home, Promethean. Here, you can manage your universe.
Arcs are bundles of posts from any location, allowing you to easily capture sub-plots which might be spread out across multiple locations.
You can create Quests with various rewards, encouraging your players to engage with specific plot lines.
Settings are the backdrop for the characters in your universe, giving meaning and context to their existence. By creating a number of well-written locations, you can organize your universe into areas and regions.
Navigation
While not required, locations can be organized onto a map. More information soon!
There are no groups in this roleplay!
By creating Collectibles, you can reward your players with unique items that accentuate their character sheets.
Once an Item has been created, it can be spawned in the IC using /spawn Item Name (case-sensitive, as usual) — this can be followed with /take Item Name to retrieve the item into the current character's inventory.
Give your Universe life by adding a Mob, which are auto-replenishing NPCs your players can interact with. Useful for some quick hack-and-slash fun!
Mobs can be automated spawns, like rats and bats, or full-on NPCs complete with conversation menus. Use them to enhance your player experience!
Current Mobs
No mobs have been created yet.
Locations where Mobs and Items might appear.
You can schedule events for your players to create notifications and schedule times for everyone to plan around.
Add and remove other people from your Universe.
Orphanage
By marking a character as abandoned, you can offer them to your players as pre-made character sheets.
"Well. Civility is all well and good, but sometimes, you need a sharp knife to get a head. Get it?"
"Nothing is hopeless, not while there's life."
The Forge
Use your INK to craft new artifacts in Dungeons and Dragons: Kiss My Eyes. Once created, Items cannot be changed, but they can be bought and sold in the marketplace.
Notable Items
No items have been created yet!
The Market
Buy, sell, and even craft your own items in this universe.
Market Data

Market conditions are unknown. Use caution when trading.

Quick Buy (Items Most Recently Listed for Sale)
None
Discussions
Most recent OOC posts in Dungeons and Dragons: Kiss My Eyes