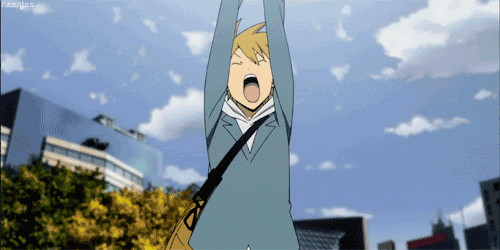 Age: 21Sexuality: Male
Height: 170 cmWeight: 60 kg
---
Personality: Humor-driven "Ladies Man"Talents: Picking up girlsLikes: Sushi and girls.Dislikes: People he doesn't like. Skills: Being KidaFlaws: Naive personality and a passion of going in head-first.
---
History:Masaomi founded the Yellow Scarves when he was in middle school, intending it to be a playful sort of team. As the Yellow Scarves grew, they became one of the notorious 'color gangs' that went around the city, occasionally fighting each other. However, as the gangs grew older, one of their rival gangs, Blue Square, began to get serious, stretching the boundaries of a typical gang of middle schoolers and becoming quite violent. The Yellow Scarves naively expected a fair battle, but Blue Square allegedly played dirty and only picked fights that they could win, devastating the Yellow Scarves. It was during the Yellow Scarves/Blue Square war that Masaomi met Saki Mikajima, a girl who recommended him to an informant, Izaya Orihara to help him fight his wars. Masaomi was, quite reasonably, put off by Izaya's personality and found it difficult to trust him, but Izaya's advice was sound, giving the Yellow Scarves intel on Blue Square hangouts and teaching them how to fight. The success Izaya brought to the Yellow Scarves led Masaomi to unintentionally become dependant on him for help, and Izaya continued to provide information until Blue Square was cornered and about to be finished off.
Thanks to Izaya, Masaomi and Saki saw each other and talked a lot, eventually deciding that they were, in fact, dating. Unfortunately, Saki was kidnapped and tortured by Blue Square in an attempt to lure out Masaomi, and end the Yellow Scarves. Masaomi sought Izaya for help, but Izaya would not answer his phone, and Masaomi was left helpless and unable to save her. Fortunately, Kyohei Kadota and a group of Blue Squares who were disgruntled by the gang's lack of honour betrayed their gang and saved Saki, although she had to be hospitalized for a year.

Masaomi left the Yellow Scarves after the war, and vowed never to go to "the dark side" again. However according to Izaya, the incident made Saki his "god," with her becoming the embodiment of his dark past that he could never escape from.

It was through chats with him that Mikado Ryuugamine decided to come to Ikebukuro, lured in by the sense of excitement and fun that his friend Masaomi described (Masaomi left out the harsher details of his life in the big city, including his gang experience, as he believed it better that Mikado never find out about them). Hearing about how bored he was with his small town life, Masaomi encouraged Mikado to join him and enroll in Raira Academy.Other: He hates eating sushi with only males.Thoughts and relationships to other characters: To be edited later on...