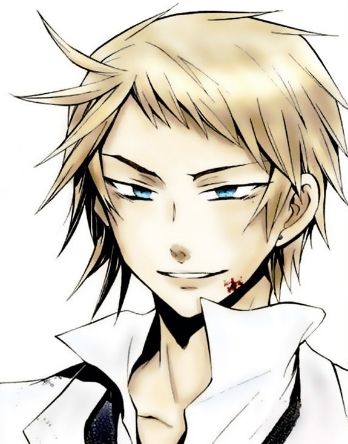 ---
---
Finn Mercer

Age:
Seventeen
"One year away from freedom."

Role: Blue Squares Gang Member

"And proud of it."

Gender: Male

"I-is it really that hard to tell?!"

Height: 5'10"

"Not too tall, not too short, eh?"

Weight: 170 lbs.

"I'm fairly skinny!" *mumble* "Least I'm not a twig like most of these other kids..."

Oddities:

Refuses to listen to the radio

Twirls his hair a lot

Tends to pop his knuckles a lot

Gets startled very easily

School: Raira Academy

Nationality: 1/2 Canadian, 1/2 English

Sexuality: Heterosexual.

"Very."

Romantic Interest:

"Hmm, that informant girl is really cute. So is Miss Evans, plus I get brownie points in her class because English is my native tongue. But you know, she is a teacher."

Job: Works part-time at a hotel

"It's not what I want to do forever, but you know, it gives me spending money."

Allies: Blue Squares

Enemies: Yellow Scarves, whoever else gets in his way


---
---
---
---


Personality:
Temperamental|Hot-headed|Honest|Friendly

Finn is very headstrong, often getting into fights over small matters, is quite stubborn when it comes to arguments, and is seen as one of the best brawlers of the Blue Squares Gang. Despite his facade of the tough guy, Finn is really kind of a softie at heart, and a romantic, with a deep seeded fear of rejection. He's the kind of guy who cries at the end of a sad movie, then beats the crap out of the guy who makes fun of him. He also has a great appreciation for music, and always sticks up for his friends no matter what.


---
---


Likes:

Pop culture & Cult movies

Orange-flavored or scented anything

Indie, Alternative, and Classic rock.

Yogurt

Fighting

Jokes & Humor

Dislikes:

Pop & Mainstream music

Guns

Drugs

Swimming & Getting wet

Fears:

Drowning

Spiders

Talents:

Fighting/Brawling

Playing Violin

Video Games

Dancing (Although he'd never admit it)

Flaws:

Can be quick to judge

Has a slight temper

Eats very unhealthy

Has a foul mouth

Can be brutally honest and rude.

"That one's gotten me into more fights then I can count."


---
---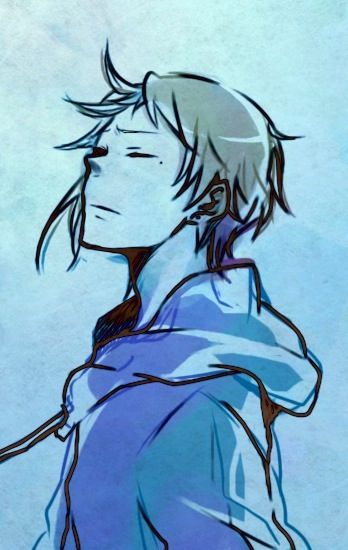 ---
---
Bio:
Family:
Roy Mercer|Father
Kirsten Mercer|Mother
Natasha Mercer|Younger Sister
James Mercer|Younger Brother|Deceased|Cancer
---
---
Theme Song:
Modern Jesus - Portugal. The Man
Come on in
Take a seat next to me
You know we got
We got what you need

We may be liars
Preachin' to choirs
But we can
We can sell your dreams

You don't need sympathy
They got a pill for everything
Just take that dark cloud
Ring it out to wash it now

Don't pray for us
We don't need no modern jesus
To roll with us
The only rule we need is never givin' up
The only faith we have is faith in us

We're the one's who start little fires
Yet they burn out
But when they're on the rise
It can't help but shine

And when the wave approaches
Take our ashes to the ocean
Who cares if hell awaits
We're having drinks and heaven's cakes

Don't pray for us
We don't need no modern jesus
To roll with us
The only rule we need is never givin' up
The only faith we have is faith in us

We know that we're helpless
At least we always assume
But we don't need to prove nothin' to you

Let's keep it cool
You don't need to feel blue
Cause we wont sell you nothin'
You can't use

Don't pray for us
We don't need no modern jesus
To roll with us
The only rule we need is never givin' up
The only faith we have is faith in us
Australia - The Shins
Born to... Born to multiply?
Born to gaze into night skies?
All you want's one more Saturday
Well look here until then,
They're gonna buy your life's time.
So keep your wick in the air and your feet in the fetters
'Till the day...
You come in doing cartwheels
We all crawl out by ourselves.
And your shape on the dance floor
Will have me thinking such filth and gouge my eyes

You'd be damned to be one of us girl
Faced with a dodo's conundrum
I felt like I could just fly
But nothing happened every time I try

Wooo, ooooh!

A dual-tone on the wall
A selfless fool who hoped he'd save us all
never dreamt of such sterile hands
You keep 'em folded in your lap,
Raise them up to beg for scraps
You know he's holding you down
With the tips of his fingers just the same

Well you'll be pulled from the ocean
But just a minute too late
Or changed by a potion
You'll find a handsome young mate for you to love

You'll be damned to pining through the windowpanes,
You know you'll trade your life for any ordinary Joe
'Well do it now or grow old
Your nightmares only need a year or two to unfold

Been alone since you were twenty-one
You haven't laughed since January
You try and make of this as so much fun
But we know it to be quite contrary

La la la la la la la

Dare to be one of us girl
Faced with the android's conundrum
I felt like I should just cry
But nothing happens every time I take one on the chin
Yeah, Himmler in your coat you don't know how long I've been
Watching the lantern dim, starved of oxygen
So give me your hand and let's jump out the window
If You Were There, Beware - Arctic Monkeys
If you were there, beware
The serpent soul pinchers
Three hundred and fifty no thank yous and nobody flinches
Go on girl go on, give us something gruesome
We require your grief, the thugs help the thieves
As they're trying to rob the words from her gob and
Take the source of the innocents

If you were there, beware
The serpent soul pinchers
Can't you sense she was never meant
To fill column inches
And you've had enough, what you're trying to dig up
Isn't there to be dug, the thieves help the thugs
As they're trying beat the good grace of a sweetheart

Out to the point she'll comply

Why leave her on her own
If I'd have known then I wouldn't have said it
I wouldn't have said it if I would have known
Why leave her on her own
If I predicted tears then I wouldn't have said it
I wouldn't have said it if I would have known

There's a circle of witches, ambitiously vicious they are
Our attempts to remind them of reason won't get us that far
I don't know what it is that they want
I don't know what it is that they want
But I haven't got it to give
She hasn't got it to give