http://www.roleplaygateway.com/battle-chi-roleplayers-wanted-t95502.html
^^^
This is what you're gonna need if you have NO IDEA what this RP is about. PLEEEEEASE Read this!!
This will just be the place where you can post characters. I will leave them to your own device but at least follow their backstories and personalities.
---
---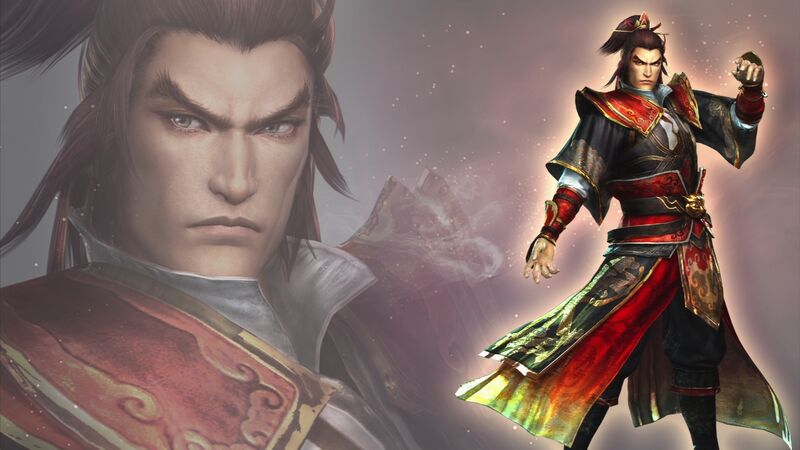 Sun Quan is Sun Jian's second son and his elder brother's successor. He is famed for his love of wine and his bushy beard. His father was pleased by his birth and proclaimed that he would be the one to lead the family's future, a line which became true when he inherited the right to lead at age nineteen and later became the first living emperor of Wu. Although he lost several campaigns during his reign, Sun Quan sought to rule the south with patience and careful consideration, which had mixed results during the Three Kingdoms era. Romance of the Three Kingdoms degrades him to be an arrogant and short-tempered leader whose love for wine clouded his judgment. Sun Shangxiang is his younger sister, and Lianshi is one of his historical wives.
Sun Quan is a proud and venerable ruler who dearly treasures his lineage. Contrary to his hot-headed brother, he is a patient, collected, and diligent individual. He is the strictest of the three leaders within his family, as he cannot forgive betrayals or excessive disobedience as easily as his family members. To protect his family's future, he strives to only take calculated risks and bides his time for his home's wars. Though known for his no-nonsense attitude, he softens with his generals and treats them with sincere respect. He also turns into quite the party man whilst drinking at banquets, though it's not known if he can hold his liquor very well, as Zhou Tai could outdrink him. In the Asian script, he talks in a formal archaic tone.
Liu Bei (Reserved by claw)
Liu Bei is portrayed in a similar manner as his novel counterpart. He is a virtuous and benevolent man who wants to restore peace in the land. He is normally polite and modest to anyone he meets. Empathetic with the common folk, he easily gains the people's trust and support. This particular trait makes him a feared adversary to his enemy Cao Cao.
Though he has earned the respect of many subjects, Liu Bei often doubts his own abilities as a ruler and warrior. He is prone to angst and doubt if there are too many deaths on either side of the field. He sometimes lacks emotional restraint as he will lose his temperament and sound judgment if his younger brothers are routed or killed. He thinks highly of his brothers and always addresses them by their style names in the Japanese script. During the Warriors Orochi series, he befriends Nobunaga, Ieyasu, and Taigong Wang.
Calm and rational, Zhou Yu is a wise expert of strategy who is capable of seeing through most of his enemies' ploys. He was a darker and slightly more arrogant character in his first appearance, but has softened in following titles. He treats his allies with modest professionalism and genuine respect. His devotion to his homeland is unquestionable, and his talents are praised with renown. His perceptive nature is unsettling even to Zhuge Liang as seen in Dynasty Warriors 8 when the Wu strategist detected an ulterior motive behind the Wu-Shu alliance.
Since they are often childhood friends, Zhou Yu acts as the voice of reason for the hot-headed Sun Ce. They share a strong bond and both comrades can rely on the other in times of need. In previous titles, he refers to his friend by his style name in Japanese, though this was not the case in Dynasty Warriors 6. His mature and serious persona contrasts with Xiaoqiao's naive and cheerful one. While he is also a loving husband, his words of caution are not always appreciated by his wife. Even so, he thinks of her dearly and will not hesitate to come to her rescue.
Zhuge Liang is a placid and calculating man who is always thinking one step ahead. He often states that every turn in battle is a part of his effortless planning. Like the novel, he speaks with a polite and proper manner at all times, albeit terrifyingly so when he completely stumps his enemies. Though his intentions are sometimes questioned, he is indeed loyal to Liu Bei as he admires his lord's humble and noble qualities.
Perhaps a bit too confident of his abilities, he only half acknowledges his rivals from Wei and Wu, Sima Yi, Zhou Yu, and even his own colleague Pang Tong. While they are intent on befuddling him and proving their mental superiority, Zhuge Liang will haughtily denounce their efforts.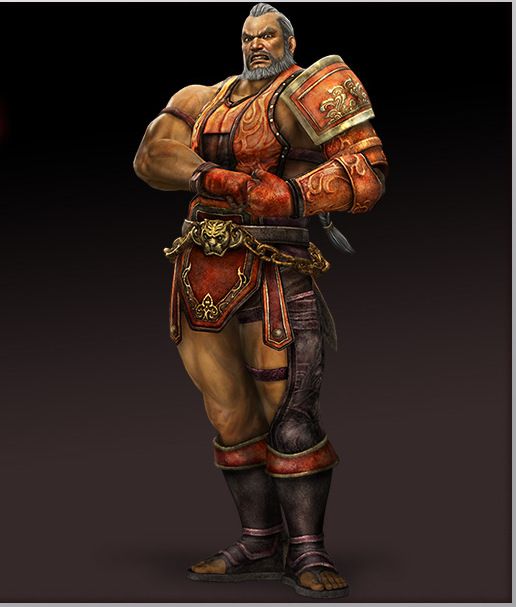 Huang Gai is a muscular veteran who never loses faith in his countrymen. With stamina that belies his age, he is a bold and confident general for Wu. A devoted vassal, he is considered to be an irreplaceable member of the Wu army. Like Huang Zhong, he is known to make quips regarding younger warriors, but he also encourages them to always act for the greater cause. Aside from Sun Ce, he gives tips to Zhou Tai on what it means to be a loyal servant. Fond of explosions, he often mentions "booms" or "blasts" in his conversations.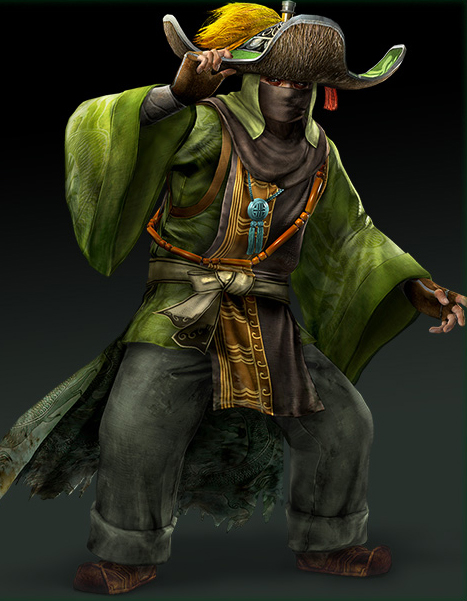 Nihilistic, vain, and sometimes smarmy, Pang Tong is someone who spares sweet talk and stays focused on the heart of the matter. While he seeks practical solutions that grants the best results, his blunt statements may sometimes make him unpopular with others. Even so, his heart is in the right place and he is a bit playful; with each little insult that he may let slip, Pang Tong mends it with well-meaning advice. While he may not always show it, he is just as loyal to his liege as any other member within Liu Bei's army. In the Asian script, he speaks in a particularly sleazy and loose tone with an archaic dialect.

He is good friends with Zhuge Liang and is one of the few in Shu who can talk as his intellectual equal. He sympathizes with Wei Yan and encourages his companion to stay true to his beliefs.
Sun Shangxiang is an upbeat and independent woman who is considered to be a tomboy by many players. She is loving and loyal to her family, slightly respecting her brother Sun Ce over Sun Quan. Always eager to lend a helping hand, she frequently wants to show her worth in battle, which usually worries her father and brothers. However, they're proud that she shares her family's dignity and enthusiasm. She's addressed as "Princess" by Wu's vassals, only being called by name by her family and Liu Bei.

Her optimistic and headstrong nature contrasts the relatively gentle Liu Bei. She addresses him as "Lord Liu Bei" in the English script and "Lord Xuande" in the Asian script. In her eyes, her husband is incredibly heroic and she often looks forward to seeing him in action. When he doubts his strength to protect her, she often responds that his kindness is his true saving grace. She often remains loyal to Shu despite any grievances she may have when they face Wu.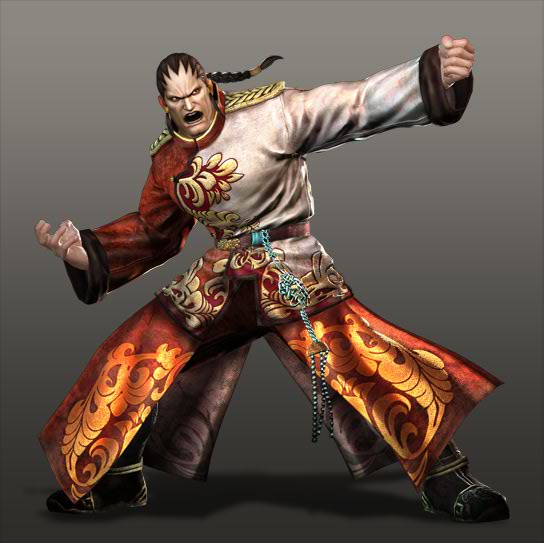 Ding Feng looks and speaks with the voice of a terrifying giant, often scaring people who he meets with his tall, frightening appearance. In actuality, he appreciates peaceful landscapes and is a natural poet. He speaks kindly of allies and doesn't actively seek to make enemies. Loving his scenic lands and the trust he has gained in Wu's army, Ding Feng participates in war to protect them.
Despite his experience as a veteran of Wu, Han Dang is very concerned about people knowing who he is due to his intense fear of being forgotten. He shows great determination in battle and eagerly undertakes difficult missions in order to cultivate a reputation as a skilled and dutiful warrior. However, he always seems to worry that he isn't trying hard enough to be recognized, and this insecurity makes him jealous of officers who stand out more than he does on the battlefield.
Taishi Ci is an upright warrior with strong character. Striving to live a warrior's life, he searches for ways to improve himself. He feels obligated to return any kindness given to him and will work hard to repay their feelings in kind.

He came to admire Sun Ce's character and, though they first meet as enemies, he treats the lord as his friend.
Lu Su (onyomi: Ro Shuku) is an advisor for the Kingdom of Wu during the Three Kingdoms era of China. He took control of the military after the death of Zhou Yu. During the Battle of Chibi, Lu Su served as a close advisor to Zhou Yu and a liaison with Liu Bei's forces. Upon Zhou Yu's death, Lu Su was put in charge of Sun Quan's army and was Head Advisor until his own death.
He was conceptualized to be a "charming adult strategist" not seen before in the series. Though he is strong and intelligent, they wanted to make it seem as though he is also a normal man enduring the era's troubled times. His design was made with the hopes of seeming reliable and chivalrous.[/center]
1: I know its hard not to God mod with something like this but... please do your best?
2: No Romance! This is War!
3: I won't settle for one liners. Be descriptive!
4: If the Leaders die, the RP is over, period.
5: I'm looking for committed players. People who are willing to post for month if need be.
6: Take your character and run with it! Be MEAN!! GET ANGRY!!! Feelings are for the weak!!!!
Taking place in...
0 posts here • Page 1 of 1
0 posts here • Page 1 of 1
Arcs are bundles of posts that you can organize on your own. They're useful for telling a story that might span long periods of time or space.
There are no arcs in this roleplay.
There are no quests in this roleplay.
Here's the current leaderboard.
There are no groups in this roleplay!
Welcome home, Promethean. Here, you can manage your universe.
Arcs are bundles of posts from any location, allowing you to easily capture sub-plots which might be spread out across multiple locations.
You can create Quests with various rewards, encouraging your players to engage with specific plot lines.
Settings are the backdrop for the characters in your universe, giving meaning and context to their existence. By creating a number of well-written locations, you can organize your universe into areas and regions.
Navigation
While not required, locations can be organized onto a map. More information soon!
There are no groups in this roleplay!
By creating Collectibles, you can reward your players with unique items that accentuate their character sheets.
Once an Item has been created, it can be spawned in the IC using /spawn Item Name (case-sensitive, as usual) — this can be followed with /take Item Name to retrieve the item into the current character's inventory.
Give your Universe life by adding a Mob, which are auto-replenishing NPCs your players can interact with. Useful for some quick hack-and-slash fun!
Mobs can be automated spawns, like rats and bats, or full-on NPCs complete with conversation menus. Use them to enhance your player experience!
Current Mobs
No mobs have been created yet.
Locations where Mobs and Items might appear.
You can schedule events for your players to create notifications and schedule times for everyone to plan around.
Add and remove other people from your Universe.
The Forge
Use your INK to craft new artifacts in DW: Battle of ChiBi. Once created, Items cannot be changed, but they can be bought and sold in the marketplace.
Notable Items
No items have been created yet!
The Market
Buy, sell, and even craft your own items in this universe.
Market Data

Market conditions are unknown. Use caution when trading.

Quick Buy (Items Most Recently Listed for Sale)
None
Discussions
Topics

Replies
Views

Last post
Most recent OOC posts in DW: Battle of ChiBi
Surely claw. You have the spot in the RP as Liu Bei. I'll just need you to create a character sheet. If cannot that's fine, I'll make one for you.
If at all possible I would like to reserve the place of Liu Bei.
This is the auto-generated OOC topic for the roleplay "
DW: Battle of ChiBi
"
You may edit this first post as you see fit.