What is Soul Eater?
Soul Eater is a simple evil vs good story line. It mixes up fantasy with real life locations (though the Academy is fake). On the side of good, we have the great Death god, Shinigami-sama and the teachers of the Death Weapon Meister Academy(DWMA) along with its students: Demon weapon's and Meisters(who wield the demon weapons). On the side of evil, there are plenty of possible Antagonists! We have monsters, that are related to vampire like beings to even immortal misanthropes. Also on the side of evil, the true protagonists are the Witch's, dark-weapons, and Kishin's. Dark-weapons are much unlike their relatives the demon-weapons yet very much alike in form.
((If you wish to know more in depth information about Soul Eater please read up on the Soul Eater wiki or feel free to brows
here.
))
Story:
Kishin-eggs are starting to appear left and right, all over the globe! Despite the many branches DWMA holds, its starting to prove too much of a hassle and many Meister's and weapons have lost their lives in this sudden struggle against the raising spike in Kishin-egg levels. There are rumors around saying that the sudden appearance of so many eggs is due to a Witch's magic, but ever since the start of the infestation the Witch's have only become that much scarcer, resulting in a deeper decline of new Death Scythes.
Things are starting to look dark. Villages and city's are under constant watch but no light is shun onto how these eggs keep suddenly appearing. Even with Meister and weapons paired up and scattered over the globe, to protect the innocent, no one is safe. Lives are being cut down by the hundreds each day. Shinigami-sama is calling out to all weapon's and possible Meister's to his academy in hopes to gather recruits before things get too dark. In hopes to build an army before a true Kishin is born from these eggs.
Will you become the world's savior? Be you weapon or Meister, you've made your way to the only, truly, safe place on earth. Death city, Nevada.
Today marks the first day of a new year at Shibusen. Make sure your wearing your Meister/Weapon badges. Don't forget, that you're looking for a partner, a partner whom you can depend your life on.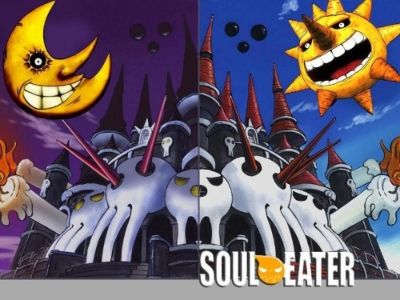 Roles:
Meister1: ((Requires: Perception ability)) - Taken by Tsukiakari
Meister2: ((Requires: Dual wavelength- Wielder of two weapons & will be paired with weapon2)) - Taken by Firewind
Meister3: ((Requires: Grigori soul)) - Taken by freemixer25
Weapon1: ((Elemental powered- granted)) - Taken Asher MstrImmortalis
Weapon2: ((Requires: Double weapons I.e. Two characters for this one slot)) -Taken by Inugami
Weapon3: ((Requires: Heavy weapon type)) - Taken Thundergod1020
Our stories main antagonist- Taken
Character Skeleton: Meister
((Provide a picture here of your character))
Student star level: ★ _ _ _ (do not change this)
Char Name:Age:
(Min 15-max25)
Wavelength type:Sex:I Prefer:
guys, girls
Personality:
(can be in sentences or bullet-ed)
BIO:
(minimum 5-7 sentences, at least a paragraph)
Likes:
~
~
~
Dislikes:
~
~
~
Character Skeleton: Weapon
((Provide a picture here of your character))
Student star level: ★ _ _ _(do not change this)
Char Name:Weapon Type:
(give a brief description or link a picture)
Wavelength type:Age:
(min 10-max20)
Sex:I Prefer:
guys, girls
Personality:
(can be in sentences or bullet-ed)
BIO:
(minimum 5-7 sentences, at least a paragraph)
Likes:
~
~
~
Dislikes:
~
~
~
1. Don't God-mode
If you can't take a hit, take a hike.
You aren't all powerful. Every one has limitations and weakness'.
Do not take control of other characters, that includes NPC's.
No addition of major secondary characters. (Such exception of NPC's created by creator).
Creations of minor NPC's allowed, if these NPC's are from OC's (yours) past, I.E. direct Family. (If you wish to involve relatives, please speak to me, Inugami first)
2. Know your stuff
If you have no idea what Soul Eater is, at least read up on a bit of the Manga or watch some of the anime, there's wiki as well.
If your a long range weapon, I.e. a bow or gun type, you can't use your own wavelength to shoot. It doesn't work like that.
You want to invent a wavelength talk about it in detail with me before you submit a character with it.
Soul resonance is like a love relationship, it doesn't work off the bat.
Every character will become part of EAT. Meaning no one will be left to become a neutral party, every one will strive to become this stories heroes.
Every character will be One star students. Meaning every one just joined Shibusen. Your stars(level) will increase as the story progress'.
3. Compose your self
Third-person.
Post minimum: a paragraph (4-5 sentences).
I'm no grammar Nazi but its still important to do your best.
There will be no toleration of flaming.
There will be no toleration of net speaking, to one exception that your character actually speaks Leet as a language.
You can spice up the Skeletons, but you must at least still provide the same information
4. Stay true and strong
Character development = <3 It's important and keeps a story flowing steadily.
If you make your character one way don't go the other way. Stay true to your character.
What you know and what your character knows should be two different things. Don't get them mixed up.
Not every one has to have a sap story. Be creative.
Taking place in...
U.S.A, Nevada desert, Death City; Death Weapon Meister Academy
Arcs are bundles of posts that you can organize on your own. They're useful for telling a story that might span long periods of time or space.
There are no arcs in this roleplay.
There are no quests in this roleplay.
Here's the current leaderboard.
There are no groups in this roleplay!
Welcome home, Promethean. Here, you can manage your universe.
Arcs are bundles of posts from any location, allowing you to easily capture sub-plots which might be spread out across multiple locations.
You can create Quests with various rewards, encouraging your players to engage with specific plot lines.
Settings are the backdrop for the characters in your universe, giving meaning and context to their existence. By creating a number of well-written locations, you can organize your universe into areas and regions.
Navigation
While not required, locations can be organized onto a map. More information soon!
There are no groups in this roleplay!
By creating Collectibles, you can reward your players with unique items that accentuate their character sheets.
Once an Item has been created, it can be spawned in the IC using /spawn Item Name (case-sensitive, as usual) — this can be followed with /take Item Name to retrieve the item into the current character's inventory.
Give your Universe life by adding a Mob, which are auto-replenishing NPCs your players can interact with. Useful for some quick hack-and-slash fun!
Mobs can be automated spawns, like rats and bats, or full-on NPCs complete with conversation menus. Use them to enhance your player experience!
Current Mobs
No mobs have been created yet.
Locations where Mobs and Items might appear.
You can schedule events for your players to create notifications and schedule times for everyone to plan around.
Add and remove other people from your Universe.
The Forge
Use your INK to craft new artifacts in Dwma: A new moon is coming. Once created, Items cannot be changed, but they can be bought and sold in the marketplace.
Notable Items
No items have been created yet!
The Market
Buy, sell, and even craft your own items in this universe.
Market Data

Market conditions are unknown. Use caution when trading.

Quick Buy (Items Most Recently Listed for Sale)
U.S.A, Nevada desert, Death City; Death Weapon Meister Academy
Discussions
Most recent OOC posts in Dwma: A new moon is coming