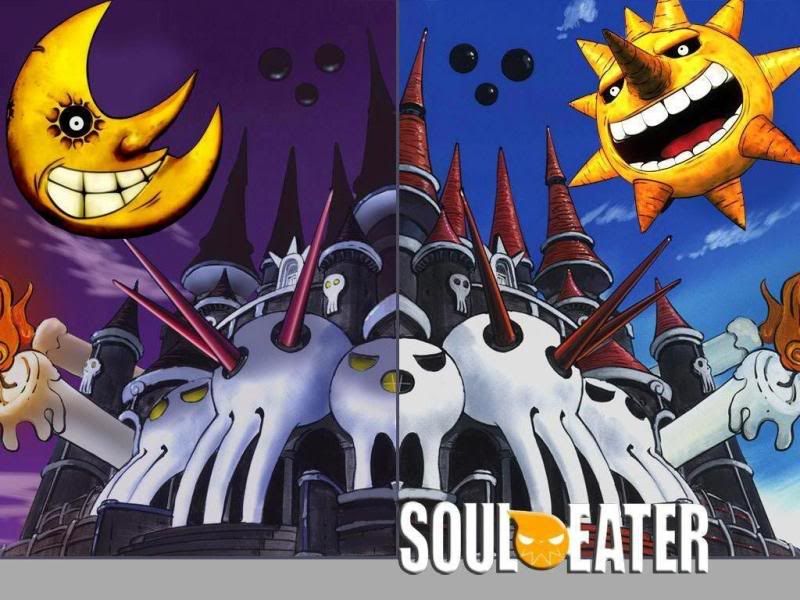 Welcome to Death Academy the school where you can learn to be a Meister while helping your weapon grow to become one of Death's own weapons! To achieve this you will need to feed your weapon 99 Kishin souls and one witch soul, mess this process up and any souls you have gained thus far will be confiscated and you will have to start all over. If you have any questions remember that "42-42-564 to knock on Death's door". You will receive tasks of retrieving Kishin souls at the information board (in the OOC).
Great news! One of the students that will be joining you will be one of Death's own sons! His name is Goro and his weapon, a naginata, is Hisashi. (They will both be NPCs). You'll find that he's okay as a person, an odd duck when it comes to his temper and blaming others, but overall he's seems normal enough to be a student. Death has explained that his son is joining the school not because he needs more help or experience in making his own weapon a Death weapon, but rather that he has lived a solitary life and has become rather lonely. You may start to see some weird things happening to him or around him later on, but it's your own purgative to investigate if it's something more than just having lived a hermit-ish life up to now.
Please join for fun, adventure, mystery, forming bonds between you and others!
Upon entering the Academy each student has signed an agreement to obey the following rules:
If two meisters are dueling on school grounds, at least one of the faculty members must be present to witness.
Taking souls not on Shinigami's List is forbidden.
Taking too many souls is forbidden.
Rule #118: In the event of an emergency, students are allowed to walk into the Death Room without permission
If any of these rules are broken then the student will be expelled, no exceptions.
First year students are required to live in the dorms on campus, other students can opt to live in rented apartments.
Each student is given $200 a week as an allowance, if you blow through it too quickly then you must wait till the next week to get your next allowance. There are jobs available in shops around campus if you so wish.
Name:Stage name:
(optional, this name will replace the original and will be your name at the academy for a minimum of two years)
Age:
Weapon/Meister:
(if a weapon please give a description or picture of their weapon form)
Partner:
(we will have partners chosen before the rp begins, otherwise the actual story may never start)
Appearance:
(anime pictures only please, adding a worded description is optional)
Soul description:
(the essence of your character)
Personality:
(To go into more depth about how they act)
History:
(where did your character come from, why did they choose to go to DWMA, how did they and their partner meet, what was their life like before they came to DWMA?)
Extras:
(here you can add anything extra that you feel is important to know about your character)
Writing excerpt:
(An at least 200 word post describing your character's first day at DWMA)
Meister 1:
Skyler/Skylar Blade
(
Taken
kylewolfblade)
Weapon 1:
Qi
(
Taken
me)
Meister 2:
Mac Solo
(
Taken
CutUp)
Weapon 2:
Avivi Horogium
(
Taken
Phantom's Sword)
Meister 3:
Cinder Chalie
(
Taken
Tinkers)
Weapon 3:
Lucas Jones
(
Taken
CutUp)
(I could be persuaded to add one more set of Meister/Weapon)
Just placing the rules here as well because I've never had the best of luck with them before =D

1.
No perfect characters, people have flaws so let's flaunt some! (i.e. No Mary/Gary-Sues)
2.
Don't control other's characters unless you have their permission, however I will say here that if you are playing a weapon and your character is in weapon form in this instance you character will be controlled
3.
Be respectful in the OOC and maybe put in your character sheet if you're character is in anyway going to be non-respectful so that other writer's will know that while in the writing that it's their character's ways not the author's
4.
Post at least once a week, I understand being very busy in real life (I personally have to read about two or three books a week, plus learn French), I will give one warning if you miss a week without alerting everyone and having a plan so that the story won't stop with your absence, then the second time your character will be removed
5.
Please follow my character sheet, it's fine if you add more things, but what I give will be what I want the minimal of information to be
6.
Since there are a limited spots please reserve by the code I've hidden above, I will not be reserving or accepting characters that do not use it, I will also be giving about a week (possibly a week and a half) for reserving characters before starting the rp and week after that for any late comers if all the spots haven't been filled (if there are still empty spots after that we can work on doubling up on characters, otherwise please just one per person)
7.
I want semi-literate writing, small mistakes and grammar won't get you kicked, but I would like about 200 words per post, please submit a small post about your character's first day at the school to show that you will be serious about the word limit
8.
If you need any help with writing, ideas please feel to ask I want to keep this a safe space where we can help one another!
Code:
# to Death's door
Taking place in...
19 posts here • Page 1 of 1
19 posts here • Page 1 of 1
Arcs are bundles of posts that you can organize on your own. They're useful for telling a story that might span long periods of time or space.
There are no arcs in this roleplay.
There are no quests in this roleplay.
Here's the current leaderboard.
There are no groups in this roleplay!
Welcome home, Promethean. Here, you can manage your universe.
Arcs are bundles of posts from any location, allowing you to easily capture sub-plots which might be spread out across multiple locations.
You can create Quests with various rewards, encouraging your players to engage with specific plot lines.
Settings are the backdrop for the characters in your universe, giving meaning and context to their existence. By creating a number of well-written locations, you can organize your universe into areas and regions.
Navigation
While not required, locations can be organized onto a map. More information soon!
There are no groups in this roleplay!
By creating Collectibles, you can reward your players with unique items that accentuate their character sheets.
Once an Item has been created, it can be spawned in the IC using /spawn Item Name (case-sensitive, as usual) — this can be followed with /take Item Name to retrieve the item into the current character's inventory.
Give your Universe life by adding a Mob, which are auto-replenishing NPCs your players can interact with. Useful for some quick hack-and-slash fun!
Mobs can be automated spawns, like rats and bats, or full-on NPCs complete with conversation menus. Use them to enhance your player experience!
Current Mobs
No mobs have been created yet.
Locations where Mobs and Items might appear.
You can schedule events for your players to create notifications and schedule times for everyone to plan around.
Add and remove other people from your Universe.
The Forge
Use your INK to craft new artifacts in Eat a Soul. Once created, Items cannot be changed, but they can be bought and sold in the marketplace.
Notable Items
No items have been created yet!
The Market
Buy, sell, and even craft your own items in this universe.
Market Data

Market conditions are unknown. Use caution when trading.

Quick Buy (Items Most Recently Listed for Sale)
None
Discussions
Topics

Replies
Views

Last post
Most recent OOC posts in Eat a Soul
There have been no posts in the OOC topic for this roleplay!