---
◤
◥
«
"Can you not be as useless, as you're displaying right now?"
»
⌠
Encore | Mercer
⌡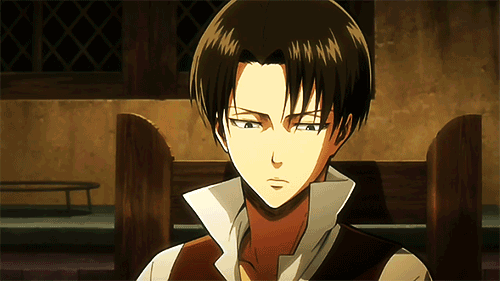 Fᴀᴄᴇ Cʟᴀɪᴍ ◆Levi Ackerman ❘ Pᴏʀᴛʀᴀʏᴇᴅ Bʏ ◇ Nakesnake
Dɪᴀʟᴏɢᴜᴇ Cᴏʟᴏʀ ◆
hexcode
❘ Tʜᴏᴜɢʜᴛ Cᴏʟᴏʀ ◇
hexcode
◣
◢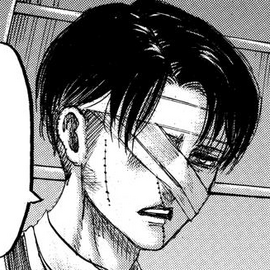 [font=cambria]
|Full Name|
⌊Rivialle Kohinita⌉
|Alias(s)|
⌊Levi,clean freak, heichou, shorty⌉
|Weapon/Miester|
⌊Weapon⌉
|Age|
⌊19⌉
Soul Appearance
⌊His soul seems to take up more of a darker appearance, with two blades planted on each side of the soul, as a cloth wraped around the area where a mouth would be.]
|Sexuality|
⌊Asexual⌉
|Nationality|
⌊Interracial⌉
|Appearnce|
⌊Rivialle has short, straight black hair styled in an undercut, as well as narrow, intimidating grey/blue eyes with dark circles under them and a deceptively youthful face. He is quite short, but his physique is well-developed in musculature, He is usually either frowning or expressionless; that, plus his extremely calm demeanour, often makes it difficult to guess what he is thinking. He wears a white button up shirt underneath along with his trademark white cravat. He also wears a green hodded cloak. Levi was seen in a black suit, plain white shirt, cravat, and dress shoes. However, since the beginning of his journey to become a death scythe he has left the cravat off. ⌉
|History|
⌊Before joining the DWMA in the North American region, he was born in east asia, and was raised in europe. He had went, and attended at the Death weapons miester academy in east asia at the age of 14, his father was in europe assisting the DWMA's europian division, while his mother was assisting in the east asia division wear rivialle had went. His mother wanted his son to become a death scythe as soon as possible, saying there would be trouble in the near future, and wanted him to go to DWMA in north america to help out there once he had become a death scythe, so there legacy would be complete, being the only family trio of weapons who achive death scythe status.
Rivialle was the only weapon who didn't need a miester, though he was formed in teams with other weapons, and miesters. Others acknowledge his skills, and ability. He was also a good leader, and knows what's he's doing. Sometimes he'll disobey his higher ups, because he thinks his choices are more bright, and accurate then their's. However 90% of the time he is right, and the rest he is wrong.
By the time he had reached the age of 18, and gathered all 99 kishin soul, and slayed a witch, he was then granted death scythe status, soon his mother was proud of him, and would admediatly go to north america to aid them.⌉
Rivaille is a calm, and cool guy once you get to know him, he is abrasive, and not very approchable. He rarely shows emotion, giving a cold impression to others. His manner of speaking tends to be blunt and insulting, his comments are frequently coarse or otherwise inappropriate, and he is not above provoking or belittling those who oppose or irritate him. His sense of humour tends toward the vulgar, insulting, and dark. All of this makes him unsettling to a great many people.
He refuses to take order from anyone, he sometimes disobey's lord deaths orders if something he see's doesn't fit him. Though while still in DWMA he started to believe in some of lord deaths tactics, and stratigies.
Not to long ago after achiving death scythe in DWMA of the eastern asian branch, he did make a little stop to europe to give his dad the good news, which was a delightful thing, his arival in north america was quite a late one, he didn't expect to be late, but however it didn't matter anymore, as he was finally there. The academy from the looks of it was quite different from the inside, rather then the outside.
It was quite nice, and well polished, nothing was dusty, and the aroma was magnificent, he had high expectation for this academy, as he doesn't want to waste his time here as a death scythe, though he had promise to lord death that he'll try to get the kids proper guide. Rivialle had settled inside of the death room to discuss the matter, of some sort. Though lord death was a tad bit concen about rivialle, he was similar to the other death scythe's, and was unexpectingly in the eight mysteries of the dwma, both of his parents including rivialle, and the other death scythe's were classified mysteries with unsettling background.
Made by ᏁᎪᏦᎬsᏁᎪᏦᎬ