Please read the rules before you read the whole story and decide whether this is the roleplay for you. Please.
A pretty manor house sprawled out in the hills. Not exactly secluded, but by no means in the center of town. It is said that a rich, handsome young man lives there with only a butler for company.
"Well, that isn't entirely true. I am rich, and handsome, but by no means young anymore. Also, James is all that much company wise. He is great at cleaning though, which is great because I have a tendency to play with my food before I eat it."
This dashing young man hosts many high-scale galas. Anyone lucky enough to receive an invitation instantly goes up in social standing. Although, there have been a few strange deaths and disappearances connected with these dances.
"No one seems to realize that I'm the one behind everything. Those foolish humans still flock to my parties, ripe for the picking. Some of them even pay me for invitations. I always have a good laugh over that, right James?"
Most of these mysterious deaths have been written off a unfortunate accidents. A bear attack, or maybe a couple ran off and eloped. The attacks are usually too scattered to be from the balls themselves. Or at least, that is what thought the attendees of the galas cling to. Because these dances are so spectacular, so wonderful, so extravagant.
"I host so many dances, and guests only go missing every couple parties, so connecting me to the disappearances would be quite a stretch for the stupid humans. Especially since they cling to the parties like desperate leeches. Although, I did cut it rather close this time, taking five humans in the same day. I managed to convince everyone that they hadn't even come to the party. And they lapped it right up, wasn't it hilarious James? But it will be worth all the effort. I have made up a delicious game for them to play so I can get my souls in a timely manner."
The truth of the whole matter is that the young man is actually a soul eater, once an unearthly being (know as an angel to you humans), but he committed a sin and was promptly cast from the heavenly realm. He was forced to live as an animal, given a weak human form and a mad desire for the life force of humans. A hunger for souls.
"Oh yes, the higher ups were very displeased with me. Honestly, I don't even remember what I did to deserve demotion. I just remember my first human experience of pain. Human bodies experience pain much more easily than my old body did, and tearing out my tongue wasn't the gentlest way to introduce me to such agony. Even if I was still immortal in the human body, pain still hurt. And that hunger. It was so horrible. It made me go mad because it was so intense but so hard to satisfy. James can vouch for me on this one. "
Soul eaters are the dirt of society. The speechless beasts kill human after human, searching for an edible soul, not sane enough to realize that any human killed by a soul eater would have their soul reincarnated instantly, thus depriving the beast of its meal. Souls are only free for a soul eater to consume in the few seconds between a human's death from a earthly cause and when the grim reaper collects it to deliver it to the proper place.

"I guess the higher ups decided that the possibilities of this happening were so slim that it would happen only sparingly, and the fallen being would suffer from eternal madness. But I bested the system, oh yes. I came across a burning village, a village where all the occupants were slated to die. I feasted that night, stuffing myself with souls. It resorted me to a rational state, although I don't think I'll ever be as clever as I once was, or as composed, but I managed to keep myself satisfied by making a deal with the Grim Reaper. He let me have parts of the death list, the list that tells when, where, and how humans are going to die. Then I could just stalk the humans that would die soon until they kick the bucket, and then snatch their souls. Life was good then, eh James?"
The Grim Reaper and the soul eating beast came to an unspoken agreement. The seemingly young man made the Reaper's job easier, and the Reaper kept it a secret and provided the fallen being with an constantly updated list of choice life force.

"Oh, that was a good life, but it got old quickly. I hated living like an animal after the first joys of ridding myself of the maddening hunger wore off. I had nothing, and I couldn't communicate with the humans at all. They were all terrified of me. I was nothing more than a glorified animal. I moved with the prey, I was what humans would call an albino, which was feared and thought to be one with the devil, and I was a monster. Most of the dead bodies I got the souls from I also ended up eating as nourishment for my human body, to make me stronger. But then I met James. He was a fifteen year old boy, slated to die with the rest of his family in a fire. I liked him immediately. He had such a beautiful voice. And he was a hard worker, he had guts, and he was very spirited. I wanted him, so I made him mine. I force fed him his sister's soul as he lay dying because I'd already stolen his tongue, and he was mine. You still are, right James?"
After his acquisition of the young man, a boy he gave the name James, the creature took on the human name Drake, and wormed his way into the budding society of England. Death was very common there, and Drake and his companion thrived. James would remain immortal as long as he consumed souls regularly, but could not catch his food source on his own. He was tied to Drake by need, just as Drake had intended.
"Well, that was quite a bit about me. A bit too much if you ask me. I would have been fine and dandy if we'd stopped after the 'dashing young man' bit. Who came up with this idea anyway? I thought I was just here to explain the rules of the game. Not to pour out my whole life story for the world to hear. No, I'm not complaining. Yes. No. Fine, I'll get on with it. No need to get annoyed with me. Can't you cut me some slack? Whatever. James? Write out the rules. It'll be faster that way. You remember them all, right? Make it clear and simple, okay? Good boy."

Five rooms, all connected by one hall.
Five Humans.
No escaping.
Freedom for the last man standing. (Not really. But they don't know that.)
Doors have broken locks.
Daggers are provided.
Or you can make your own shiv. That would be okay.
We also provide Forearm blades.
Or razors.
But you have to bring your own fear. Sorry. We are fresh out.
There is plenty of glass. And heavy objects too.
We will give you enough rope to hang yourself, but we'd prefer if you hung someone else.
You have permission to commit homicide. We won't turn you in.

This is the Game. You've lost it, even before you began.

With a constant flow of fresh life force, it could go on forever.
(This roleplay takes place in Victorian England. Yes you may talk with a bad English accent now.)
Players
Pieluver-
Drake Stewart-still alive and killing
James Butler-As living as he'll ever be.
BekaL101-
Monica Hargreaves-dead
Edward Williams-dead
Seijun13-
Tom Oliver-dead
Alexander Enfield- ...Dead? Or maybe not.
Hassen Heindrick-Still mostly alive, woo!
Toki Skwigelf(Inactive)-
Gepetto Castle-dead
SeraphicStar-
Esther Hathaway-dead
SunshinexDeath-
Deget Carmona-dead
Suibhne Tadhg-dead
SeraphicStar made this lovely picture of all the characters from the first round.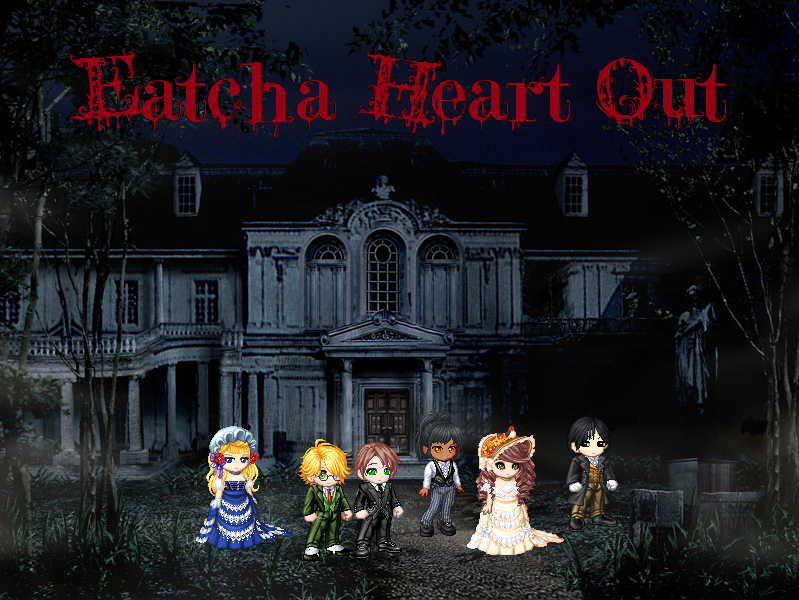 Bio sheet
Code: Select all

Full name:
Gender:
Age: (I'd prefer humans ages 18 to 35, because Drake favors the flavors of souls around those ages.)
Personality: (Make it as long as you want. Three words or three thousand. Just give the gist or explain everything. But keep in mind that your character will die, so don't pour hours upon hours of work into it.)
Appearance: (Any kind of picture along with a short description. Or a long one without the picture. Add weight, height, all that kind of stuff.)
Likes/dislikes/other: (Anything else you'd like to add. This isn't mandatory.)
Short history: (What brought them up to this point. Make it however long you want. But please, keep in mind that you will make more than one character over the course of this roleplay.)