The continent is in a relative peace. The civil war of Skyrim has ended, leaving Ulfric slain and Skyrim a part of the empire, the dragons, while not extinguished are dwindling, and sweet rolls remain in the hands of their rightful owner. That is where we come in. Tamriel has become boring, and we are the only ones who can fix it! Explore the world, stab noblemen, carry some Ayleid loot back to your shack, do it all! This is Tamriel's Potential, can you create a new crisis? Can you quell that crisis? You can you form alliances? Strike down heathens in the name of the divines, plot a takeover of a city, or supply your comrades with weapons and armor aplenty.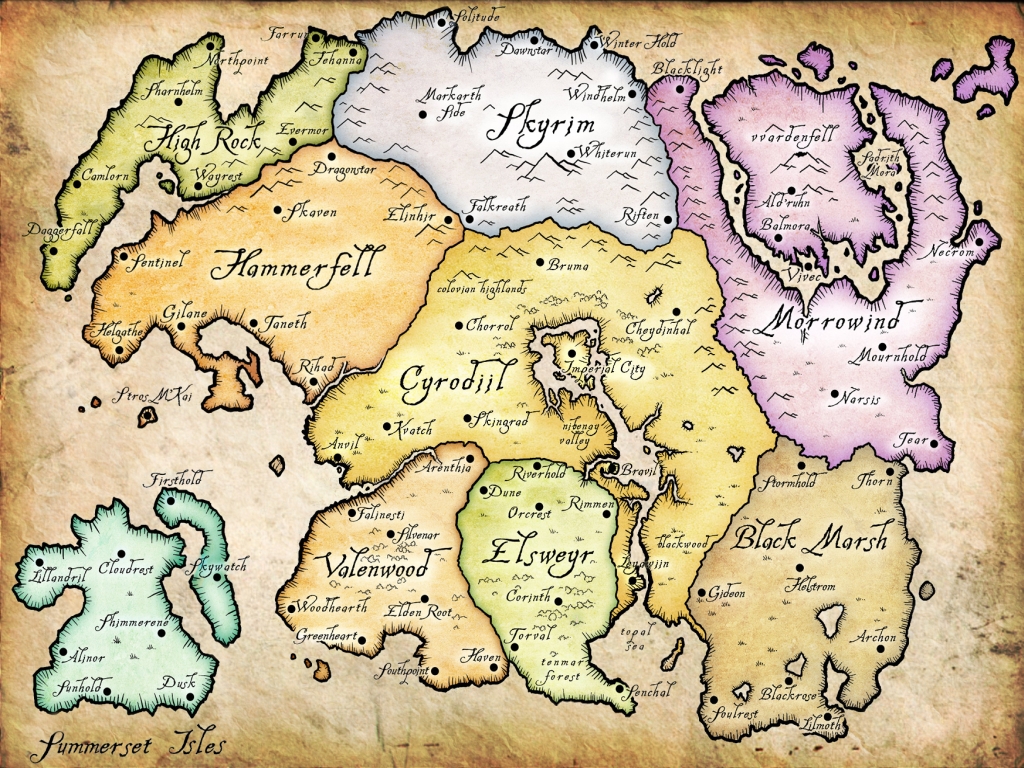 Rule 1: No Godmodding of any nature
Rule 2: Don't be an ass
Rule 3: Be lore friendly, you may not play as anything outside the nine elder scrolls races
Rule 4: You don't have to participate in what other are doing, in essence, there could be fifty arcs at once.
Taking place in...
1 posts here • Page 1 of 1
Setting
Characters Present
Tag Characters »
Add to Arc »
In County Kvatch, Carul-Ei is attacking a band of outlaws traveling on the road. He singes their leader's horse and they all flee with inhuman speed towards a cave, Carul-Ei assumes they must have something good in there, so he follows, pulling out his eastern dwemer axe.
---
1 posts here • Page 1 of 1
Arcs are bundles of posts that you can organize on your own. They're useful for telling a story that might span long periods of time or space.
There are no arcs in this roleplay.
There are no quests in this roleplay.
Here's the current leaderboard.
There are no groups in this roleplay!
Welcome home, Promethean. Here, you can manage your universe.
Arcs are bundles of posts from any location, allowing you to easily capture sub-plots which might be spread out across multiple locations.
You can create Quests with various rewards, encouraging your players to engage with specific plot lines.
Settings are the backdrop for the characters in your universe, giving meaning and context to their existence. By creating a number of well-written locations, you can organize your universe into areas and regions.
Navigation
While not required, locations can be organized onto a map. More information soon!
There are no groups in this roleplay!
By creating Collectibles, you can reward your players with unique items that accentuate their character sheets.
Once an Item has been created, it can be spawned in the IC using /spawn Item Name (case-sensitive, as usual) — this can be followed with /take Item Name to retrieve the item into the current character's inventory.
Give your Universe life by adding a Mob, which are auto-replenishing NPCs your players can interact with. Useful for some quick hack-and-slash fun!
Mobs can be automated spawns, like rats and bats, or full-on NPCs complete with conversation menus. Use them to enhance your player experience!
Current Mobs
No mobs have been created yet.
Locations where Mobs and Items might appear.
You can schedule events for your players to create notifications and schedule times for everyone to plan around.
Add and remove other people from your Universe.
The Forge
Use your INK to craft new artifacts in Elder Scrolls: Tamriel's Potential. Once created, Items cannot be changed, but they can be bought and sold in the marketplace.
Notable Items
No items have been created yet!
The Market
Buy, sell, and even craft your own items in this universe.
Market Data

Market conditions are unknown. Use caution when trading.

Quick Buy (Items Most Recently Listed for Sale)
Newest
An Argonian battlemage with an imperial father and an inability to cast shock spells
Trending
An Argonian battlemage with an imperial father and an inability to cast shock spells
Most Followed
An Argonian battlemage with an imperial father and an inability to cast shock spells
None
Discussions
Topics

Replies
Views

Last post
Most recent OOC posts in Elder Scrolls: Tamriel's Potential