Name
: Kaveh
Pack
: Kamaria
Gender
: Male
Description
: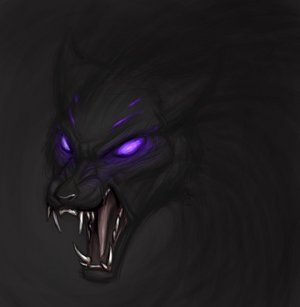 A dark furred wolf, with purple eyes that glow eerily when manipulating his natural element. Although he is a wolf some of his features are very feline like. Including have a tight, compact frame built for stealth and speed. While he does have long, sharp claws his fangs are especially long and pointed.
Personality
: A cruel and malevolent wolf, Kaveh is a ruthless and deadly foe. He gives no thought or care towards other wolves, including his own pack, seeing them as tools in order to enforce his will and achieve his desires. He is power hungry and ambitious, seeking to conquer land and wolves in order to build his perfect vision of a pack. He is also very paranoid and vindictive, seeing most wolves as enemies rather than friends.
Abilities
:
Shadow Sphere
- Kaveh's special technique. Can create orbs of concentrated darkness that he fires like a projectile, causing damage to all that it touches.
Shadow Decoy
- Described as a mirage made of shadows, Kaveh creates an image of himself to deceive his foes.
Death Bomb
- A special technique that is designed to kill other wolves. A wolf is pumped with copious amounts of dark force energy as the victim explodes into a bluish sphere of darkness. For each death the bomb causes, the larger the sphere grows, swallowing more inside the swirling torrent of malignant energy.
Equipment
: Kaveh wears form fitting armor made of strong hide, that has been tempered through a special process. Thus giving him the desired hardness of metal armor but without limiting his speed and mobility.
History
: Kaveh was born and raised inside the company of death and warfare. He was the son of two Shadow Wolves who gave birth right on the battlefield. Seeing that a pup would get in their way, his parents had him shipped off back home to the Darkess Canyons to be trained in the ways of combat. Kaveh would never know his parents. Inside a training camp, he learned to control his element and become a soldier for his pack. Never knowing love and only discipline and rage, Kaveh was molded into a brutal warrior, one that their God could be proud of.
Yet facing grueling training and then facing the horrors of war soon after, Kaveh's mind was deranged. Only understanding and valuing competition and power, Kaveh sought to become Alpha of his pack by killing the current Alpha. Once he did so, he led his pack into an unsuccessful campaign of conquest that left many of the Shadow Wolves bitter, leading into a civil war that destroyed their homes in the Darkess Canyons. After squashing the rebellion, Kaveh took whatever followers he had left and searched for new lands to conquer and call home. This led him to Rashid and in his desperate bid for more power, sold his loyal followers as slaves to be controlled by Rashid. Now working with Rashid as his tactical advisor, he enforces both of their wills to dominate all others.