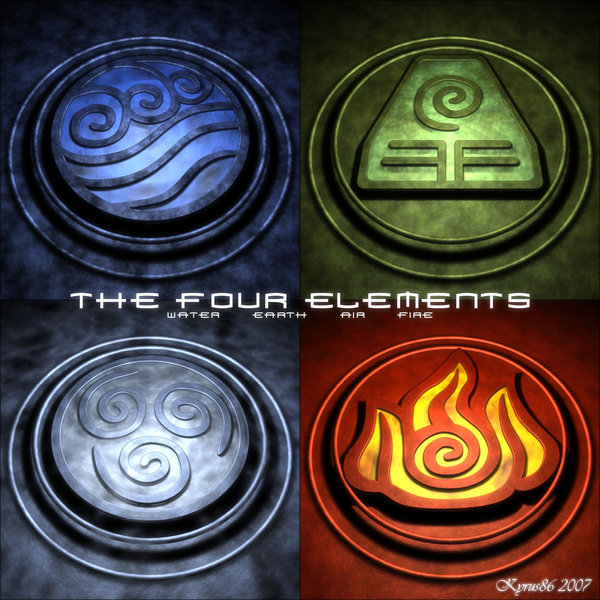 In the beginning there were four known elements: Fire, Water, Air, and Earth, but a new age has started and with it many more elements. Some have been documented and experimented with, that is until all original four elements decided that these... Abominations should be destroyed. and so they were. Although they were gone, they came back together but in the form of an all new element that should be dealt with carefully: Spirit. The four elements didn't know what to do, so they accepted it and so it began. New elements were born, and when matured they were looked at and screened. If an element seemed threatening or dangerous they were destroyed, but if they seemed helpful they were allowed to live.
It may seem like these elements I'm talking about are just lifeless things when really they aren't. Believe me. These elements are actually people who are the Elements. The Element is the person, the person is the Element. It's a difficult idea to really grasp but the old Elements have disappeared for a hundred years and reappeared in the form of five young teenagers today. They were found and brought to me, and now live in a house with me or they sleep on the floor. These teenagers need alot of training and control to work on, because a person was born with all five elements to control. This person was imprisoned for a thousand year, until he was released by the birth of a powerful metal elementalist. So who else to chase this guy down besides the great five, er, six elements. And did I mention that I'm your mentor?
Fire
Dangerous and most seen as aggressive, this Element needs to learn control alot more than the other elements. If really angered and aggressive, and taught enough control this Element could burn the entire country down. Also known to be strong willed and passionate, many people find this Element to be wild and passionate but can easily find it to be hard to get along with.
Air
This Element is known for it's free spirit and easy going behavior, but is also known for it's love of history and studies. As most would say this Element loves eduaction. It loves to make other feel good, and it's always willing to help. This Element can glide or run in the air if it wants to and often finds itself making friends with animals that fly. Again, it may seem harmless but it can cause a twister or tornado if angered and can practically take the air out of your lungs and cause you to die from suffocation. Of course, it's difficult to upset this element but if you do, run.
Water
An Element that changes easily and is always rushing, this element is known for having control over fresh and salt waters. It may seem like it's not dangerous but it really is. This Element can wield or control anything with H2O, and of course, it can even control your very body. It can rip the moisture out of the air and drown you if it wished so, step carefully around this one. Of course it can also heal others with a dab of water. Healing comes naturally and has no limits and no payments. Is often described as changing to adapt to any type of conditions. This Element is know for surviving through the worst possible situations. Can also freeze water to where it's entirely frozen and even make it not frozen.
Earth
Older than any of the other Elements, this one is known for being strong and caring like a mother or father. It has more sense or as most people would say, great intellect and deep thoughts. This Element can make plants and trees grow and even cause the ground to shake if hindered. It is even said it once had the power to shapeshift into animals and morph into plants and trees.
Spirit
An Element that is not young neither old, but is greatly respected. This element is greatly reknown for having the power to heal physical and sometimes unseen wounds inside the soul and head. Although this Element can heal, there is a price it has to make. To heal someone is to give that person apart of the spirit wielder, to give some of your sanity and energy. So to heal and do things of high energy can cause the wielder to go insane. This Element can also see Auras or the color of the energy around people and is a great lie detector. It can even mess with people's head or have a person see things that are aren't there like shadows or animals. Of course, the payment for using it's power is... a reckoning.
Metal
This new, powerful young Element is actually the result of throwing all four elements together. And is very... Unpredictable. It has many benefits and only one other Metal Element was born but was destroyed by the four orginal Elements thousands of years ago. It's depth of power is unknown and it's ways of appearing are unknown, so with this Element, many people are wary of it. And unlike the other Elements, it was said, thought and is known as a fact that Metal has no soul, has no real emotions. It is looked at like a regular object, a being that acts and talks like the elements, like people, but is not really like them. Many fear this Metal, and they are right to be wary.
True Aspect
True Aspect is the real, original form of the Elements. It is said that to be in the present of an Element in it's True Aspect is a blessing. An Element's True Aspect is what they really are, what they protect and care for or act as. (I will talk about in the OOC later.)
Plot
The plan is for the Elements to learn how to control themselves. Oh, and maybe fall in love with each other? And here a part I forgot to mention. The Prisoner is already powerful, but it's power is limited right now and he or she needs a certain powerful metal wielder to reawaken him or she's true power. Don't get me wrong, even weakened the Prisoner is stronger than all original elements together, but the good guys have recently found the Metal Wielder. So they got a bad ass person who wants to destroy them. Oh and the Elements might have to sleep on the floor in my house for awhile.
Fire Element, Male:
Lucas Deas
Water Element, Male:
Carded Materos
Earth Element, Female:
Avani Guiana Sorent
Wind Element, Male:
Max Arrow Proven
Spirit Element, Female:
Nirvana Elizabeth Deadwood
Metal Element, Female:
Ember Wolfe
Ancient Prisoner: Gender can be chosen by the person that decides to be this person, is also ageless. She/He may look 20 when really their 11,213 years of age. Reserved.
Mentor: Teacher and Protector of the Young Elements. Looks 32 but really is 2,996 years of age. Male. Has no powers.
Couples Idea
Fire - Metal
Earth - Wind
Spirit - Water
Skelly
Code: Select all

[img]PLACE PICTURE HERE[/img] [Real and Anime Pics are accepted]
[b]Name:[/b] [full name please]
[b]Age:[/b] [17-19]
[b]Gender:[/b] [male or female]
[b]Role:[/b] [Fire Element? Water Element? Mentor?]

[b]Personality:[/b] [more than four complete sentences]
[b]Dislikes:[/b] [more than three]
[b]Likes:[/b] [more than three]

[b]Element Control:[/b] [how much control do they have? Do they have a good handle on it? Or have trouble controlling it?]
[b]Power Range:[/b] [This what they can do with their Element so far. Like make fireballs or heal someones wound completely or create icey walls and even make giant waves.]

[b]History:[/b] [more than a paragraph of five sentences.]
[b]Other:[/b] [Anything else?]
Rules
- No godmoding or killing charries without permission.
- Please use Fades To Black or just write that IT has happened, kissing is allowed.
- No abuse of the OOC
- No guns
- BE COMMITTED!
- Please post more than 200 words
- We all make mistake try not to make too many... Grammer and Spelling.
- Please check in the Places tab because I'll be posting pictures there of the house.
- Please fill in the Forum or Skelly provided and please reserve your characters through PM or OOC before sending in your character.
- I can and probably will add more rules later.
- HAVE FUN!
9 posts here • Page 1 of 1
9 posts here • Page 1 of 1
Arcs are bundles of posts that you can organize on your own. They're useful for telling a story that might span long periods of time or space.
There are no arcs in this roleplay.
There are no quests in this roleplay.
Here's the current leaderboard.
There are no groups in this roleplay!
Welcome home, Promethean. Here, you can manage your universe.
Arcs are bundles of posts from any location, allowing you to easily capture sub-plots which might be spread out across multiple locations.
You can create Quests with various rewards, encouraging your players to engage with specific plot lines.
Settings are the backdrop for the characters in your universe, giving meaning and context to their existence. By creating a number of well-written locations, you can organize your universe into areas and regions.
Navigation
While not required, locations can be organized onto a map. More information soon!
There are no groups in this roleplay!
By creating Collectibles, you can reward your players with unique items that accentuate their character sheets.
Once an Item has been created, it can be spawned in the IC using /spawn Item Name (case-sensitive, as usual) — this can be followed with /take Item Name to retrieve the item into the current character's inventory.
Give your Universe life by adding a Mob, which are auto-replenishing NPCs your players can interact with. Useful for some quick hack-and-slash fun!
Mobs can be automated spawns, like rats and bats, or full-on NPCs complete with conversation menus. Use them to enhance your player experience!
Current Mobs
No mobs have been created yet.
Locations where Mobs and Items might appear.
You can schedule events for your players to create notifications and schedule times for everyone to plan around.
Add and remove other people from your Universe.
The Forge
Use your INK to craft new artifacts in Elemental Rage. Once created, Items cannot be changed, but they can be bought and sold in the marketplace.
Notable Items
No items have been created yet!
The Market
Buy, sell, and even craft your own items in this universe.
Market Data

Market conditions are unknown. Use caution when trading.

Quick Buy (Items Most Recently Listed for Sale)
None
Inside Mentor's House.
Discussions
Most recent OOC posts in Elemental Rage