Name: Eiryn Kari
Age: 16
Gender: Female
Element: Fire
Position: Rouge
Description: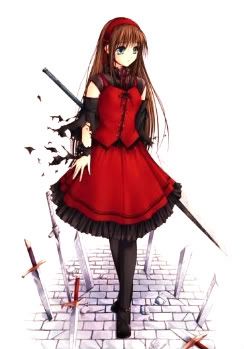 Personality: Quiet around others but her heart full of rage can be at times, easily provoked. Because of her failure to maintain relationships with anyone, Eiryn has chosen a path alone, and believes that no one understands her.
History: Scarred and silent, she was left alone after striking a fire in her own anger and stupidity, that caused the death of her parents many years ago. Lost without a purpose, she now wanders aimlessly through life, living only for herself and what she can get out of people. Ever since the day she took the lives of her parents in such a gruesome accident, Eiryn spends most of her time honing her skills, trying to find the balance required to tame and control her ability.
Boyfriend/Girlfriend: None
Horse or pet: Rayko, a four year old Friesian stallion.