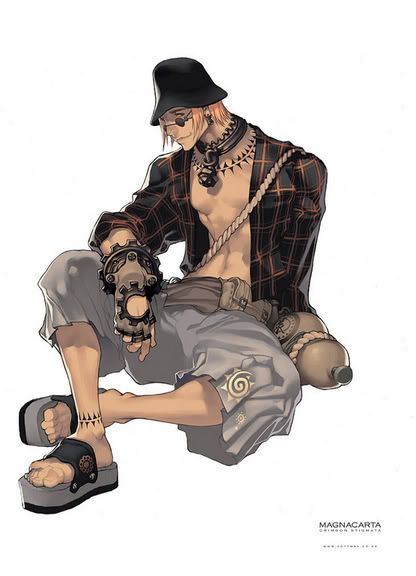 Role:
Commoner
Which Kingdom Are They From:
Elphanor
What's Your Caharacter's Hometown was like:
Lamolrian
is a city made out of stone in the Elphanor kingdom. Since it is not the captial, Lamolrian is on the ground along with all the other commoner settlements. The city was actually was built with assistance of Golems, which helped the city to built what seemed to be a night (it actually took two months, but that like a night compare to the normal speed of city building). Lamolrian has a wide varity of shops, including a tavern called the
Laughing Mug
that is owned and run by the members of the Oxbaren clan. The tavern not only sells great alcohol but also potions and little geared inventions made by the family since they are all Alcatraz.
Age:
21
Race:
Alcatraz
Description:
Sado is more than pretty tall with the height of 6'3" and his height is boosted another 1 and half inch when he wears his orange and red sandles that he is nearly always seen in. He also has short orange hair that makes him stand out of a crowd. But it would be more noticable with he didn't wear his droppy black hat of his. There are always two things that Sado wears anywhere and everywhere, those are the hat and the sunglasses that would hide his green eyes if they didn't set them so low on his nose. He also has a few tattoos. There are three ring-style tattoos, two that go all around his neck and one all around his right ankle. Since the tattoos are in black ink, they show up easily on his tan skin. These represent that he's a level 3 Alcatraz, there's 5 levels of mastering the abilities of a Alcatraz. As for clothes, Sado wears a button shirt that he keeps opened, he's too lazy to even button one button, along with a pair of baggy shorts. He also wears a thick chocker that's made out of metal and fingerless gloves that the right one has a metal ring on the wrist part with other little gear like pieceson them. These are just little things that Sado wipped up when he was beginning to be trained as he's Alcatrz skill. Well part bits and pieces of what he made since he started his training when he was seven. Sado is also fond of the small gourd that he keeps at his belt and filled with ale, whin, or beer (depends on his mood).
Ablitlies:
There are two types of Alcatraz: Alcatraz that makes potions and Alcatraz that make little inventions, like the ones that help to the captial afloat. Sado is the invetion type but he does know some potions, but anything more powerful than basic potions it would blow up in his face.
Alcohol God
-
Everyone in the Oxbaren clan knows how to age their alcohol great by using a aging potion that is passed down from generation to generation. Sure Sado can use the potion on other things instead of alcohol, but taking time for someone else is nothing less than a great sin. So each member of the Oxbaren clan has to take an oath of sorts that they only use the potion to make profit off their alcohol.
Gear Head
-
Even though he's the lazy man, and probably being, on the planet, Sado believes it's only work if you sweat. So he has no problem with tickering with parts that he finds laying about and making them work together to create something.
Nighty-Night Gas
-
A simple knock-out potion that is easy for even beginers, meaning it's not going to blow up in his face, that turns into a gas when it makes contact with the air. It's packed in small veils in a small pouch on Sado's belt that he could throw at a distance. If he used it a close range and didn't hold his breath or have something covering his face, then his enemies wouldn't be the only ones taking a nap.
Weapons:
Sado will avoid not only work but fights as well. If it looks like a smiple nighty-night gas won't work to solve the fight, no one else is going to fight, or his allies are losing then the lazy man gets up from his ass and fights. Unlike most people, the only weapons he uses are his gloves along with his boxer-like fighting style.
Personality:
People that know Sado would knew that he's a man of his honor, deeds, and williness to work hard are three words that would not decribe him in the least. Instead they would describe him as lazy, annoying relaxed, and wishy-washy. Sado will avoid anything and everything that has to do with work. Ironically, he spends more enegry trying to get away from work than what he would if he worked. Many times he would got up from he's comfortable seat that he was talking one of his many cat naps in and jumps up and dashes out of the nearest exit if his own man or his father's old man come in and tells him to get into the tavern and work. Sado would run circle around a city if he could get out of working a single sweat in the tavern, unless it's sitting at a table and drinks mugs of ale, whine, beer, and other alcohol. The lazy guy can just out drink anybody in his hometown and usually ends up with slightly less drunk or only a buzz compared to the guy that challeged him to the drinking contest.
Sado is also very laid back and it takes a lot to get out of his happily relaxed mood. He's the type of guy that would laugh it off if someone pours perfectly good ale on him for som reason. If people, especially in the tavern, get getting restless or angry then he gets his nose in someone else's business. He would try get all friendly with them and telling them to chill out, which usually gets him punched in the face. Leaving Sado to knock them out with some "nighty-night"gas from a potion that puts people to sleep in seconds and turns into a gas once it makes contact with the air. All in all, Sado has not ambitions, lazy, hippy-like, and passive to a fault.
Bio:
Sado's mother,
Prysala
, was one of those women that earned the saying '
The woman tha forced her husband to marriaged
'. Since when ,
Beck
,Sado's father, and Prysala were dating when they were around 25, Prysala got pregent with Sado after a few years of dating. Unknown to Beck, but to literally everyone else, her being pregent was planned so she could finally tie him down and get him into marrying her. Beck done just that and Sado was born. If Sado had to decribe his mother in one word, that word would be terrifing. She was a strict woman that was determine to teach her son how to be a gentleman and how to treat woman. Not to mention she schadenfreuded (German for taking enjoyment for someone else's misfortunes or pain). If the family didn't know any better, they would have thought that she was an Oni. But other than her slightly twisted nature, she was still a loving mother though it was tough love.
The Laughing Mug was founded by Sado's great-great grandfather, making him the fourth generation bartender/whine maker. As a boy, Sado was taught everything to know about running a tavern. Though that was harder said then done with both his father Beck, and grandfather,
Gothar
, chasing him all around town since Sado had other plans then learning how to work. Then not only got lectured to the importance of him learning how work a tavern, or in general, but also admitting to punch some sense into him (not to abusement). Even as a snot nose brat, only a sloth could beat Sado is laziness. His days were filled of napping, running, and getting his ass kicked and ear fulls of his father and grandfather while his mother contently watched from the side lines and gave Sado an ice bag afterwards.
Sado's family hoped, and probably even prayed, that the small boy would grow up into a man of honor, great dignity, and over all a hard worker. To bad they were in for only more disappointment since Sado still had his anti-working attitude through out his teenage years. So his teenage years were no different from his childhood years besides being interested in girls. Once he was a teenager, he realized not all girls were as scarey as his mother. Well, more like he found out that girls are many types of scarey. Like the control freaks, ever talkive, pure and frail looking ones, over paranoid, and the list goes on and on. But apart the control freaks and paranoid girls, any type is better than his mother. So he dated a few girls before he was selected to be one of the commoners that would be engaged to a royal.
Who is your fiancé:
TBA
Love Interest:
He did date a few girls, but he's the guy that always gets dumped. Probably because he's the type that likes to stay at home and cuddle instead of going on dates or dinner.
Theme Song:
Alesha Dixon-The Boy Does Nothing