{{
I'm going to turn you into a toad if you speak in that tone again.
}}
Make a Move
||
Never Surrender
||
Your Savior
---
---
---
---
♔ Face Claim ♔:
Matt Cohen
"Who is he."
♔ Full Name ♔:
Raynei Cloud Ravenwood
"My parent's were very sick humored."
♔ Nicknames ♔:
Rayne, R, Cloud
"If you address me as anything other than that, don't expect to live long. "
♔ Age ♔:
22
"Recently 22. "
♔ D.O.B ♔:
August 18, 1992
"I'm a Leo"
♔ Gender ♔:
Male
"Do I look like a female to you?"
♔ Nationality ♔:
1/4 German, 1/4 Russian, 1/2 American.
""I'm three enemies…I think."
♔ Sexuality ♔:
Homosexual
"I'm a gay witch….do you have a problem?"
♔ Species ♔:
Pureblood Witch
"Yes Yes, I'm pureblooded so amazing."
♔ Occupation ♔:
He works in a book store called Fiction
"It's like my life in there."
♔ Natural Born Ability ♔:
Fire Manipulation
"Believe it or not, I have set fire to the rain, it was made out of oil…."
---
---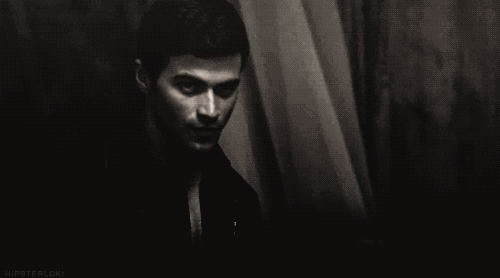 ]
---
---
---
---
♔ Height & Weight ♔:
5'9 and 200 lb.
"I like to think I'm short."
♔ Hair ♔:
Rayne has dark black hair that occasionally falls into his eyes.
"Think raven feather black."
♔ Eyes ♔:
Steel Gray, often stormy blue-grey
"My eyes are as sensitive to my emotions as I am to a knife."
♔ Physical Description♔:
Rayne has dark chocolate/black locks that will occasionally if allowed to grow fall into his face. He stands at 5'9 teetering on the edge of 6'0, and weighs around 200 lb. of muscle due to work outs. He has a fairly muscular body, and keeps it a pale stark white for odd reasons none to his own clue. His body figure in the past was described as feminine, but now it's a bit more masculine still retaining some of his feminine body structure. HIs jawline is immaculate and could even make the most well built statues jealous. He has dark whitish-grey scars along his wrists from depression as a child, and he also has a tattoo of a stitch going around his wrist.
"I like to think I'm a bit handsome."
♔ Clothing Preference ♔:
What one may notice, is that Rayne has a clothing preference to more dark/goth colors. He likes to wear arrays of dark black shirts that go to his knees and purple leggings as if he is in medieval times. He also never leaves his tiny three bedroom apartment without his hoodie and dark gray pentagram necklace.
"If you don't like fuck off."
---
---
---
---
---
---
♔ Personality ♔:
Silent||Kind||Easily Angered||Loyal||Deceptive
Rayne is a man of not to many words, unless he is using his magic, then he is speaking clearly where he wants his enemy or victim to hear him. Rayne has a strong sense of pride, which may lead to his downfall one day, but he does't like most one upping him. If you make friends with him, he will be as loyal as a lion. His loyalty isn't easily gained either, you must first prove yourself loyal then he will return it. He can be deceptive, when he want something but not always. He is also very ill-tempered. He can get at the littlest thing aimed at him.
"I'm me…."
♔ Education ♔:
He has been to Mixology, or is currently going to.
"I want to be a bartender"
♔ Family ♔:
Mother| Alea Ravenwood (Deceased)
Father| Unknown (Unknown)
Sister| Selena Ravenwood (Deceased)
Brother| Solius Ravenwood (Deceased)
"I hate the man who left my mother."
♔ Likes ♔:


*Cake
*Men
*Tall Men
*Black Magic (Has interest in it)
*HIs Familiar


"I have a minor interest in the matter."
♔ Dislikes ♔:


*Most Women
*Fan girls
*Fake Witches or Supernatural
*Tarot Cards
*Sacrifices


"I don't hate them, I just dislike them with a burning passion."
---
---
---
---
---
---
♔ Backstory ♔:
Rayne, was born to Alea Ravenwood, and an unknown man who left immediately but was assumed a witch. Alea raised her children in the world of witchcraft, and RAyne loved it. Typically Rayne grew up as the one who loved witch craft, and anything spooky in general. They even owned a black cat named Lucky (ironically). Rayne went through out kindergarten to the eight grade being bullied because his mother was the town weirdo and sold supernatural charms and other things. This was when Rayne's natural born ability manifested, in the sixth grade he was being teased and told them enough. A nearby science teacher was doing a lab with burners and the fires all ignited and flew towards Rayne.
Scared, Rayne pointed upwards and the fire flew up. Then he felt in control he basically figured it out within seconds and created a fire form of himself igniting himself on fire. The bullies ran scared and Rayne let the fore die out, and returned to normalcy. At the time they lived in Salem,Massachusetts and witchcraft wasn't very loved. An angry mob swarmed Rayne's home in the eight grade, and Rayne freaked out and set the whole house ablaze. Killing those surrounding the house and inside. His family was declared dead and he left to live with his aunt in Marbrooke. He then developed his other powers.
♔ Reply Sample♔:
Rayne walked down the street, his gray eyes seemingly sad. It was his family's anniversary of death, something he hated….because he caused. MOst people say no you couldn't have caused something like that,but he did. He felt panicked and the candles expanded around the house. He felt like a bad person, he almost turned down a path of black magic but he didn't thankfully. So he turned towards the bookstore he worked at and smiled as he entered.
He headed to the counter when he saw the most beautiful man he had ever laid eyes on, he headed the direction of the 22 year old witch. He suddenly forgot, he took up position as a fortune teller in the shop just previously. "Excuse me, Are you Sir Sirius?" he asked with a smooth tone. Rayne nodded his every gray eyes still on the handsome man. HE walked him to the back room that had been set up as Rayne had asked. "So what do you want? A forutne reading? Palm reading? Mediumship?" he asked with a smile.
"Actually, I'm more interested in your family's death around seven years ago?" the man asked.
Again?
the witch mentally groaned. "Um yes, they told me one of you would be stopping by today. As I've told everyone before it was a freaky house fire that killed them and not me. I was in the house I even have the burn mark to prove it." he spoke silently showing the illusion made burn mark across his fore arm. The agent nodded and muttered something. "Sorry for wasting your time." like that the man walked out and Rayne sat there smiling.
♔ Powers ♔:
[♔] Master Level- Pyrokinesis
[♔] Master Level- Hallucikinesis
[♔] Advanced Level- Healing
[♔] Advanced Level- Ink Manipulation
[♔] Beginner Level- Shadow Manpulation
[♔] Beginner Level- Teleportation
[♔]Expert Level- Precognition

---
---
[/font]