USERNAME:
moonlighter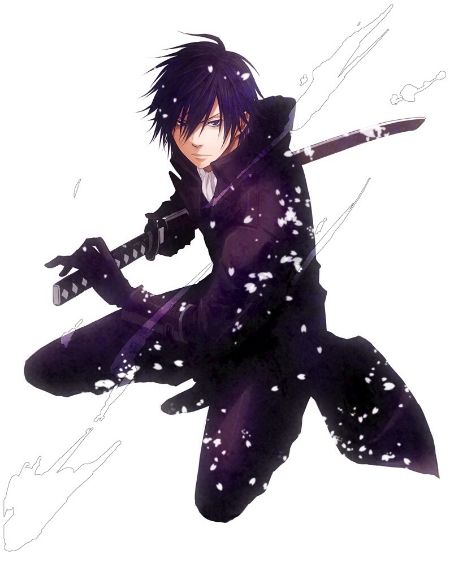 NICKNAMES/TITLES:
The Beast Of Dragonbridge, Mutt,
RACE:
Shapeshifter- a race of human-like beings that can undergo a transformation to shift into a fierce beast. Different clans transform into different animals, Fen's being a wolf.
CHARACTER CLASSes:
Main-Swordsman / Sub-Shapeshifter
Guild: Guildless
Role: Tank
GRADING SCALE:
-Strength(Physical attk power): B-150
-Agility(Dodge,Speed): F-30
-Intellect(Magical power): F-20
-Endurance(Resistance, health): A-200
CHARACTER PHYSICAL APPEARANCE:
Fen is 5'10", weighing 186 lbs in his human state. He has dark-purple neck-length hair, with pale aqua eyes. In his wolf form, he is a blue-eyed black beast, large enough to ride on, with razor sharp claws and fangs that are terribly good at shredding foolish PKers, and stray mobs.
CHARACTER PERSONALITY:WEAPON:
Sword
WEAPON NAME:
Ædelwulf - A silver katana-style sword with a moonstone embedded in the hilt, allowing the user full control over their transformations.
ATTACKS/ABILITIES:
Blood of Sköll: Using his shapeshifter blood, The user can transform into a large wolf. The transformation length and power of his wolf form varies on the status of his vitality and that of his or her allies.
Rally Howl: The user lets out a howl which rallies and excites his allies and strikes fear in his enemies. The user and his allies get a 10% damage bonus and a 50% chance to ignore status conditions for three minutes, and any non-boss enemy nearby gets a 20% speed reduction for one minute.
Ancestral Spirits: The user summons the animal spirits of his or her warrior ancestors. They will attack any nearby enemy for 90 seconds or until they sustain massive damage. When fighting a boss-type enemy, the user will gain a 30% damage reduction until 30 seconds until after the spirits dissipate.
None Shall Pass: The user plants their feet and holds their ground. All attacks do an extra 10% damage for every 10% of health the user has lost. In addition, each kill with this attack grants the user 5% of their hp back. The user must stay in position for at least 30s when this skill activates. When the user moves away, the attack will end.
Lop: The user transfers the energy of the damage they have taken by a specific enemy and pours it into one fell strike, aiming to decapitate. This attack does an extra 10% damage on boss enemies. Only works on enemies with a discernible head.
Rush Recklessly: The user rushes and intercepts an enemy attack on an NPC or ally character. The user takes 20% Reduced damage from the intercepted attack.
Righteous in Wrath: Defending their allies, the user turns their wounds into power. The users next attack does an extra 5% damage for every 20% health lost by each ally, excluding any summons.
IN GAME LIFE/REPUTATION:REAL LIFE: