The Great Prophecy

Though the Upperworld and Underworld,
Hate each other so; the two worlds will be joined as one.
The one special demon
And the one special girl,
Shall love each other true;
And make the sacred vow
To be together throughout time.
The demons will calm,
And stand the light
Which they could not before.
Ephron shall be a world of peace.
____________________________________________________________________________
Ephron

Glorious Ephron! A world of calm and peace for many, many centuries. A world populated by numerous races, Humans, Elves, Dwarves, Faerie kind, Centaurs, Vampires, Trolls, Ogres, Demons and the like. A world filled with lush green flora and a stunning variety of fauna. A land where the sun shone bright as the smile on the faces of its citizens. A land where each race was at peace with each other, co-existing and co-operating.

But alas! Peace did not last forever. The ruling family, a race of Vampires who were kind and just .. a race which eschewed the blood of sentient beings and instead chose to consume only those of animals, fell into discord. A difference of opinion on the policies followed by the King led two of his sons to argue. This led for a struggle for power between the sons, each one wanting to take the throne for himself.

The King was pained greatly to see such animosity between brothers. He ordered the sons to each take half of the world and be sole ruler therein. Soon, the King passed away. The elder son took for himself half of the world. He kept the peace, and the half prospered and grew more fertile and flourishing. The younger son, who couldn't digest being given just half a world to rule, took his half with malice in his heart. He twisted the very land, made it a cruel mockery of what Ephron originally was. Soon, his half was barren and dry. Forests were filled with blackened tree-trunks and the light never seemed to shine there as bright as it did in the half of the Elder brother.

The races of Ephron slowly began drifting to either one half or the other. The fairies, pixies, centaurs, elves, and other races viewed generally as 'good creatures' populated Ephron. The race of the elder brother, 'vegetarian vampires', still rule the Upperworld, creating peace and tranquility for all its inhabitants. Even so, the race has been diluted due to lots of marriages with commoners and the like, and is now known as the Mitsuga Clan. This is a lush green land.

The ogres, trolls, dragons, and other such races stereotypically branded as being 'evil' drifted towards the younger brother's half of the world, where his descendants (also diluted) ruled. They had reverted to drinking the blood of sentient beings in addition to that of animals. It was a barren land riddled with cracks and ravines. Nothing but thorn hedges grew there, and all was dark. Soon, the ruling race became so averse to sunlight that they actually could no longer stand the midday sun., as did the inhabitants of that wasteland. The sky was filled with thick black clouds by the order of the king, so as to provide a modicum of comfort for its citizens. The ruling class is known as the Hitsuya Clan.

It was only rarely that inhabitants of the Half ruled by the Mitsuga Clan, now known as the Upperworld ventured into the desolation ruled by the Hitsuya Clan, now called the Underworld, and vice versa. Besides, the Underworlders could only venture into Upperworld at night, due to the fact that their skins were very sensitive to the sun.

By and by, it became common for spies from each world to slip into the other in the guise of innocent passers-by and then lay plots for the assassination of the respective Royal Families. The Mitsugas and Hitsuyas decided to outlaw the inhabitants of one World travelling to the other. Now, inter-world travel is only possible through one single Arcane Portal, which is guarded heavily on both sides to prevent unlawful entry.
____________________________________________________________________________
The Upperworld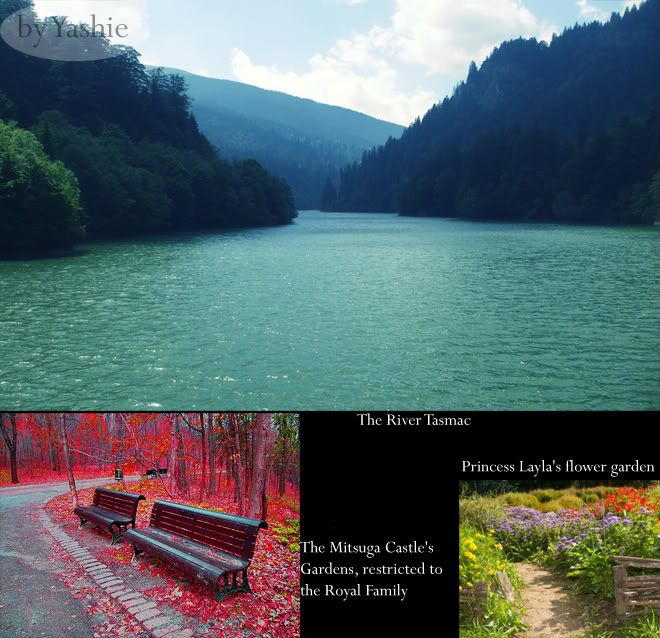 The Underworld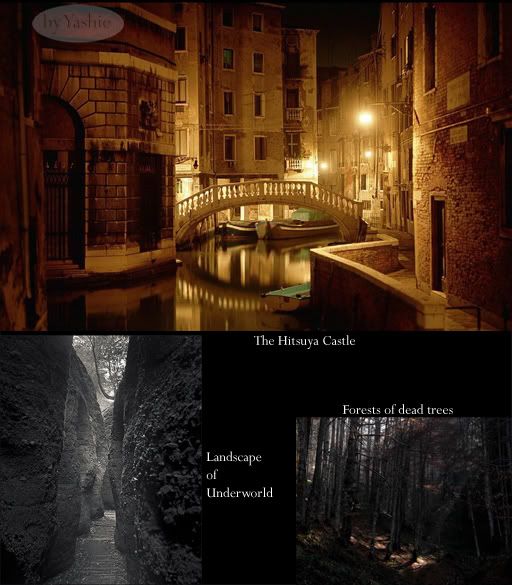 ____________________________________________________________________________
The current Mitsuga king is Alaric Mitsuga (played by), 58. He has been king since he was 33. He is a kind and just king and is quite fond of his family. He is quite rational except for his almost fanatic upholding of the Pact of Banishment, that prevents inhabitants of one world from travelling to the other. He also has a dislike of Underworlders that borders on hatred. This animosity is due to an unfortunate incident in his past involving his first wife (from whom he is now divorced), treachery and Demons. He is now happily married to Aerial Mitsuga, a woman from a noble family in the Upperworld court and he has three children with her. He would never admit it, but he does depend on his right hand, his elder son Yashie to an appreciable extent.
Aerial Mitsuga (played by
Cienpher
), 51, is the Queen of the Upperworld and the wife of Alaric. She is a veritable 'mother-hen' sort of person, content as long as she has someone to look after. She does not concern herself in the politics of the Upperworld much, but she does attend court with the King. Being the kind person she is, she disapproves of Alaric's hatred of the Underworlders and wishes (forgive the cliche) for world peace and for the two Worlds to be one again, like they used to be. She loves her children dearly.
Yashie Mitsuga (played by
Yashie
), 19, is the Crown Prince of the Upperworld and the eldest son of Alaric and Aerial Mitsuga. He has a vicious hatred for the Demonworlders and seeks to exterminate them all. This is owing solely to his upbringing by his father. He is otherwise quite agreeable and surprisingly kind and thoughtful, since he is the oldest among his siblings and also since both his siblings are female and since he did look after them wehen they were younger. He dotes on his youngest sister and is also quite fond of his younger sister. His aim in life is to become a great Ruler worthy of the Mitsuga name and he works hard towards that aim, training and studying diligently. Yashie is quite renowed throughout the Upperworld for his skill with Kamas, his weapons of choice. However, he has forgotten to have fun, in his quest for perfection. Even though he is young, he attends court with his parents and carries out a part of the administration of the Kingdom.
Selene Mitsuga (played by
Kuukakulily
), 17, is the elder of the King's daughters. She is quite fond of her family and she harbors a secret desire to visit the Demonworld.
Erika Mitsuga (played by
Rhyme
), 15, is the youngest child of the Mitsuga Clan and is as such the baby of the family, quite pampered. She has quite a playful nature.
____________________________________________________________________________
Baphomet Hitsuya (played by
Stlits
), 52, currently rules over Underworld. He is quite cold and ruthless and his hatred of the Upperworld and its inhabitants is only equalled by his lust for power. His aim is to raze Upperworld and exterminate its citizens and render it a barren desolation like Underworld. He is married, and he too has three children, except that two of his children are male. He does love his family very much. Even though he is normally quite emotionless and tyranical otherwise, he is too much in love with his wife and she has a modicum of control over him.
Helena Hitsuya (played by
echored
), 47, is the wife of Baphomet. They fell in love at a young age and have been together since. She seeks to make her husband a kinder person overall and does not agree with his Anti-Upperworld tendencies. She, like her Mitsuga counterpart wants union of the Worlds.
Jeremy Hitsuya (played by
XMatthewXHitomiX
), 18 is the Crown Prince of the Underworld and is highly unlike his father. He constantly plays truant on his lessons and wanders around, 'exploring.' He has, on occasion slipped into the Upperworld, in disguise and invisible, at night and holds a certain fascination for the Upperworld and the people who live therein. Of course, he once almost got caught and only escaped by the skin of his teeth, so to speak. He dislikes killing and is quite the pacifist. Given the chance, he would like to live in the Upperworld and this line of thinking brings him into conflict with his younger brother and his father.
Sesaro Hitsuya (played by
:Nagato:
), 16, the younger brother of Jeremy and the third offspring of Baphomet and Helena, is quite like his father in his views about the Upperworld and his conflict with his elder brother is just a little more than normal sibling rivalry.
Kurenai Hitsuya (played by
KrazyTigger
), 17, is the middle child of the Hitsuga Clan. Kurenai is a hopeless romantic and a dreamer. She is irked to no end about her brothers' rivalry and wishes everyone would just get along, both in her family and in Ephron as a whole.
____________________________________________________________________________
Power Gems are possessed by the Royal Families of both Worlds. They grant the wearer great arcane powers and increase their physical abilites as well. Without the Gem, the person is just another (weak) mortal. Thus, all the members of the Royal Families take good care of their Power Gems and guard them very carefully. The Power Gems of the Hitsugas are rubies and those of the Mitsugas are sapphires. Each member of the royal family is given his/her power gem at birth. Power Gems are to be worn anywhere on one's person in order to use their powers.
[i](I know of the sudden urge we all get, upon reading that last sentence, to make our characters wear their Power Gems sewn into our G-Strings or something *laughs* Let's not do that, hmm? I'm only joking but my point is, try to have your Character wear his/her Power Gem where it's visible!)
____________________________________________________________________________
In the long run, eventually, after the RP has gone on for a while and when the circumstances inside the RP allow, these relationships are to come to pass, since they are what the Prophecy refers to. Of course, the story will (and must) take its own course, but at some point, it is requested that you work these relationships into the story, please.

Selene Mitsuga ♥ Jeremy Hitsuya
Erika Mitsuga ♥ Sesaro Hitsuya
Yashie Mitsuga ♥ Kurenai Hitsuya
____________________________________________________________________________
Availability of Characters
____________________________________________________________________________
Rules, Guidelines, and Other Miscellaneous Information
1. The GM of this Roleplay is
XMatthewXHitomiX
and all rights as to the use of Ephron is his. He's a pretty nice guy, though.
Yashie
is the Co-GM, which means I get to color my name in pretty red, as seen here. Nice to meetchu all.
2. This Roleplay is a literate one, which means that a decent sized post is expected from you almost each time you post. But of course, the whole 'advanced and literate' thing pertains to proper grammar usage, proper language and spelling as well. Please do use those!
3. Important : Please refrain from Meta-Gaming or Godmodding, so that the RP is fun for everyone!
4. Please post often and regularly! Of course, if you have to be inactive for a while, we GMs are just a PM away (PM the GMs. Hehe) Please let us know and we can work something out. There is no particular order to posting but we (as in all of us, not GMs) will work such that no one's left behind.
5. The usual rules you see everywhere also apply here; No excessive cursing and swearing, no excessive gore, Romance but no naughty-naughty and the like. You know them, I'm sure.
6. One more thing I'd like to say : The introduction and the character description may seem as though I'm forcing character traits and character history on you. Please don't take it like that. I'm merely offering guidelines for the creation of your characters and requesting that you incorporate them into your character. Please feel free to elaborate on those, add new traits and otherwise develop your Character. If you want to make subtle changes, go ahead. Ultimately it's your character and you are the ones who will play them.
7. About the character images; try to find something which has a Power Gem in evidence. Of course, this is not at all mandatory but .. well it'd look good, right? Of course, if you find something to your liking and you want someone to photoshop a Sapphire or something on them, I could help. Again, this is not mandatory, just something I thought I should mention
8. More than one person can reserve a character. We will choose the best.
9. One final point. Please try to make nice, detailed Character sheets. Who doesn't love well-written, detailed biographies? :D
____________________________________________________________________________
Code: Select all

[img]Place realistic, character-appropriate image here. If you need help, ask directly[/img]

[b]Name:[/b] Put your name here, followed by your surname (Mitsuga/Hitsuya)

[b]Age:[/b] Kindly use the age already mentioned.

[b]Personality:[/b] Give a detailed description of your character's personality and his main traits here, while working in any points which may have been mentioned earlier.

[b]Description:[/b] If you would like to add some finer points in explanation to your character's appearance and are not satisfied with his/her picture alone, use this space. Basically, this column is optional. If you've got a good picture and you think that says it all, then that'll do.

[b]Skills and/or Talents:[/b] A small paragraph on what they are special at. It could be mastery of a weapon, it could be mastery of something more arcane, or singing, or maybe .. I dunno .. other such pursuits. It's up to you to make up whatever you wish. Or you could just mention hobbies here.

[b]Location of Power Gem:[/b] Where does your character wear his/her power gem?

____________________________________________________________________________
Image & RP Introduction Credits :

Yashie

(...Matthew helped too., a little ... okay, not really, but it was his idea!I just made it cooler)
Taking place in...
13 posts here • Page 1 of 1
13 posts here • Page 1 of 1
Arcs are bundles of posts that you can organize on your own. They're useful for telling a story that might span long periods of time or space.
There are no arcs in this roleplay.
There are no quests in this roleplay.
Here's the current leaderboard.
There are no groups in this roleplay!
Welcome home, Promethean. Here, you can manage your universe.
Arcs are bundles of posts from any location, allowing you to easily capture sub-plots which might be spread out across multiple locations.
You can create Quests with various rewards, encouraging your players to engage with specific plot lines.
Settings are the backdrop for the characters in your universe, giving meaning and context to their existence. By creating a number of well-written locations, you can organize your universe into areas and regions.
Navigation
While not required, locations can be organized onto a map. More information soon!
There are no groups in this roleplay!
By creating Collectibles, you can reward your players with unique items that accentuate their character sheets.
Once an Item has been created, it can be spawned in the IC using /spawn Item Name (case-sensitive, as usual) — this can be followed with /take Item Name to retrieve the item into the current character's inventory.
Give your Universe life by adding a Mob, which are auto-replenishing NPCs your players can interact with. Useful for some quick hack-and-slash fun!
Mobs can be automated spawns, like rats and bats, or full-on NPCs complete with conversation menus. Use them to enhance your player experience!
Current Mobs
No mobs have been created yet.
Locations where Mobs and Items might appear.
You can schedule events for your players to create notifications and schedule times for everyone to plan around.
Add and remove other people from your Universe.
Orphanage
By marking a character as abandoned, you can offer them to your players as pre-made character sheets.
"You should listen to me! Everything could change...if only you'd listen."
The headstrong Princess of the Upperworld.
The Forge
Use your INK to craft new artifacts in Ephron : Torn World. Once created, Items cannot be changed, but they can be bought and sold in the marketplace.
Notable Items
No items have been created yet!
The Market
Buy, sell, and even craft your own items in this universe.
Market Data

Market conditions are unknown. Use caution when trading.

Quick Buy (Items Most Recently Listed for Sale)
None
Discussions
Most recent OOC posts in Ephron : Torn World