Cerbin "Cerberus" Hiberion
---
---
---
---
---
---





♠Race


Superior Demon l Half dog demon l



♠Rank


Demon Guardian


♠Affiliation


Inferno, but goes to True cross academy in his human disguise to watch over Satan's daughter. In the academy he is known as a Teacher to tamers. This is of course forged by him because he has ways of summoning but its not the type of summoning that exorcist usually do. Still, being as old as he is he knows a thing or two about taming familiars and summoning to a passable degree.


♠ Gender


Male


♠ Nickname(s)/Alias (es)


Cerby, Pet, Puppet


♠ Age


Because of his young looking body, he passes off for a 21 year old man, but in reality, he was born 743 years ago


♠ Love Interest


After looking after her for so long, he has gained hidden feelings for Aura. He tries to keep his feelings hidden knowing that it would anger the current Satan.


♠ Face Claim


Saito Yakumo from Psychic Detective Yakumo
Ulquiorra from Bleach

---
---





♠Height


5'9


♠Weight


153 lbs


♠Build


Muscular and athletic


♠Hair Color


Black in his demonic form, brown in his hidden form.


♠Eye Color


His right eye is dark tint of green and his left eye is a glowing shade of blood red. He has heterochromia.


♠Scars/Tattoos/Piercings


He has a black circle imprinted circled birthmark on his chest. When he in his hidden form the circle is covered, but opens up when his true self is shown.


♠Description


Being born from a lesser demon and a superior, Cerbin gained a humanoid figure applied with fur, bat like wings, a long thin tail, and claws. His face and body being the only thing that takes human form, his complexion shows a pale grey tone. His eyes are bi-colored, being green on one side and red on the other. His hair is long and wavy and he has a whole in the middle of his chest. Black liquid seems to endlessly spill out of the whole when he is in this form. In demon appearances he is an abomination.

Even so, Cerbin has learned to retract his wings and shed his fur to take human form. Still, this form is an abomination which made him even more of an outcast, but he likes it more than his half bestial form. In this form Cerbin's eyes still show their natural colors and his fangs can still be shown upon opening his mouth. His hair becomes shorter and a light shade of brown. The other apparent change is his skin color which turns into a more creamed color. In this handsome form his body also gains a little more muscle and he appears to be less sick. The final change is his hole which fills up leaving a dark imprint on his chest. It appears to be either a huge birthmark or tattoo and he has passed it off as both from time to time.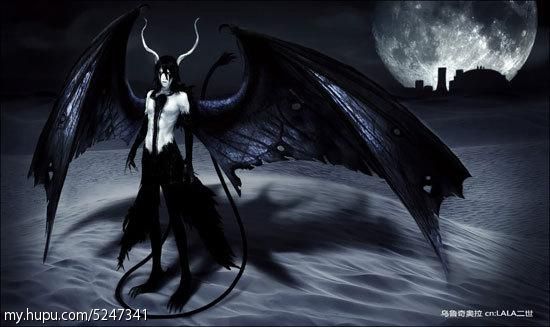 ♠Preferred Clothing
Trying to uphold an adult like look, Cerbin wears normal casual business wear. He prefers not to wear a tie and to keep the first few buttons of his shirt unbuttoned. The creases of his shirt easily tell you that he had either slept in the same shirt the night before, or just doesn't know how to iron and even though it would look better without, he still tucks his shirt in. When outside Cerbin dawns a black fur over coat that he rarely takes off unless he's inside. The fur lines the hood and the cuffs of the sleeves. Even with the messy look he manages to keep his shoes clean and shinny, probably because he only wheres them at the academy. On the outside he wears normal ragged sneakers, just comfortable enough for running.
---
---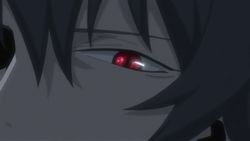 ♠Oddities


Hunger pains- Because he comes from a race of dog demons, Cerbin is always hungry. He seems to enjoy "Human Sweets" as he mentally called them and eats more candy than one could probably find in a local store. He is rarely not seen chewing on a piece of gum or Toffee. He also enjoys meals, but keeps to regular human hours of eating them, however, when he does eat a meal he eats enough for two families of four.
Monologue- It seems that when Cerbin is really concentrated on something he makes a mental note of it by saying what he's doing or whats happening to him out loud. Allot people have thought he was crazy because of the many times he has done this.
Staying put- Unless Cerbin is interested in something he will leave the area which he was, even while someone is talking to him.


♠Skills


Uses Handguns- Cerbin has learned the basic arts of human fire arms, using handguns as his weapon.
Speed- Cerbin is able to run faster than any of earths animals without tire, however this makes collisions all the more painful should he run into something.
Concealment- Being ashamed of his demonic form, Cerbin learned to conceal the fur on his arms and feet. However, his speed goes down a considerable amount without his bestial legs. It's been a couple hundred years since he changed into his original form and he plans to keep his current look for many years to come.
Demonic eye- Upon closing his normal eye, Cerbin can use his demonic eye to view the world in time cut by 2/3. This is able to be used for one minute at a time before he has to open his left eye. The major side effect for him constantly going over that time is he usually receives a chronic headache. He hasn't pushed himself too far however, so it's unknown how bad the headache can be.
Dog like traits- Having a dog demon for a father, Cerbin has enhanced hearing and a keen sense of smell.


♠Likes


Black, Aura, violence, watching people as they live their lives happily, power, pain, love, achievement through hard work, Earth, Azrael


♠Dislikes


Himself, his body, Inferno, School, Demons, Cats,( well he likes the ones that don't try to attack him, but that's rare), High and mighty people


♠Hobbies


Music- Cerbin loves how instruments sound and even practices a few himself.
Teaching- Most recently, Cerbin has found what he feels the need to call joy in teaching students. In reality the students are the ones teaching him more about the humans that he spent so long observing from a distance.





♠Phobia(s)


Cats- ever since he got to earth he has found that cats don't like his scent. On occasion when he hears a scuffling noise he will wince in fear of getting scratched.
Hurting people- Being on earth a long time has given him somewhat of a sense of guilt towards harming humans. This sense is also known as a conscience.
Failing his mission- Cerbin lives for the only person besides his family that has shown him some type of respect and trust. Deep down he understands that should he fail in his mission of protecting Aura, he will anger Azrael.



♠Sexuality


Heterosexual, although before coming to Earth he never felt need to love another.


♠Personality


While living in hell Cerbin had gained a liking for being alone and hate for himself and his kind. He never liked being a mix breed between a lesser and superior demon and much rather would of liked to just be a lesser demon like his brothers than some abomination. Truly, that is what everyone around him including himself thought of him. When he was born from the bloodhound of the last Satan he was already hand picked to be the hound for the next. He was installed with a mindset that the only thing he could ever become was a hound, even if he did have a half superior body. Still, when the day came for Azrael to take the throne he wasn't treated any different from the other superior demons. He watched his master closely and even envied his attitude towards things. The being that ruled over hell was much stronger than him but also had something he didn't. He didn't know what that thing was until his daughter was conceived out of a relationship between him and an angel. A seraphim no less. Unlike others who questioned this act of something more foul in the demon community than his own birth, he stayed loyal and didn't say a thing. That was until, he was asked to take on a dangerous mission the he could only do. He knew his powers weren't as strong as most superior demons, but he also knew and took great pride in how loyal he was to Azrael.

With the title of outcast given to him by most in the demon community, he gained an attitude towards people who approached him in the wrong way. Learning that if he wanted to survive he would have to fight, he forced himself into liking violence, something that he eventually got rid of when he went to Earth. Still, he sometimes snaps on people if they sneak up on him. In the present day Cerbin comes off as a pretty nice guy. He learned human mannerisms from watching children grow and learn themselves and learned to act like an adult by watching many adults go about their daily activities. When he became a teacher at True Cross Academy he found a love for helping children, even though the job description he forged on his papers was the type to help them learn violent things. He waits for the day for Aura to learn of her heritage and obtain her true role as Satan wanted, but also dreads it. He feels that he has no place to return to once his mission is over. No he doesn't fear the end event, but at the same time, he isn't in a rush for it either.

One more thing that should be known about him is that he holds a secret love for Aura. Still, he doesn't even know if what he feels is love or not, for he has never felt any such emotion before. What he does know is that he can never approach her in such a way. He knows that if he were to do so, it would anger her father. The feeling he has puts him in doubt of his mission, causing him to think that she would be better off if she stayed on Earth and lived a normal human life, and that she may be too young to currently take the full blunt of knowledge that has been hidden from her for so long. Internally his mind is out of sorts with these thoughts, but so far he hasn't shown it on the outside.
---
---



♠Relationship Status


Single


♠Family


Mother-Ilisis - Superior demon
Father-Cerberus-Lesser demon
Brothers- Both lesser demons
Malice
Indigo



♠Personal History


The legend of Cerberus being the hound of Satan has ran through all the realms at some point. Cerberus was the three headed lesser demon dog, that Satan would use to fulfill tasks not worth his time. These tasks were always ended in blood. Having Cerberus outlive his use, the old Satan decided that Cerberus should mate with another Demon in hopes of getting another servant out of it. Ilisis a superior demon wanting to experiment, decided to mate with Cerberus and from their union came three offspring. Two were lesser demons just like their father, but the youngest was a superior type of demon with lesser demon qualities. Bored of the outcome, Ilisis left all her children to be raised by Cerberus. This is where the younger of the brothers, Cerbin would start his training. Thrilled of the grotesque look of Cerbin, The last Satan made sure he was ready to take his fathers place as the hound for the next Satan. Cerbin doesn't really remember how the current Satan came into power, but what he does know is that once Azrael took the thrown, he was no longer treated as just another lower demon. At least not by his new master.

Cerbin didn't let the new found respect, as he would call it, get in the way of his duty and how he acted towards the being. However, he did replace his hate for his position with honor and loyalty because of it. He would complete each task to its fullest and always return with his head bowed. To some he was giving his new found freedoms away, but he did no such things. He was showing Azrael the sort of respect he knew he deserved and even looked down on demons who couldn't give their all like he gave his. Hating his mixed breaded form he learned to take an even more human-esque one. This caused him a little trouble in the demon community but where the last king of demons would send him out to the wolves, the current one treated him fairly, and in return so did the others start doing.

After years of service, an event happened that would change Cerbin's life forever and even put strain on his position in the demon realm. Satan, his king Azrael, his master had commited an act of great dread and anger to the demon community. He impregnated an angel. Not only was it an angel but a seraph. This caused the some demons to uproar and even call for blood, and, through his own will, Cerbin exterminated many of them. He didn't care what his master did. In his eyes he was still king and no relation of any sort would change that. Maybe it was that type of loyalty that made Azrael think of asking Cerbin to do his mission. Maybe it was something else. All Cerbin was sure of was that no matter how many times he would have asked, even if he knew what it would bring for himself, the answer would always be the same. Thus, Cerbin took Satan's child to Earth along with a stolen piece of Satan's relic and found her a place where she could be safe and he could watch over her.


Being the loyal dog, Cerbin never took his eyes off Aura. He watched her grow day by day and watched her change in all sorts of ways. He also watched the people around her and at times found himself jealous that he couldn't be one of them. He doesn't even know when it happened but after many years he found himself falling in love with her. This made his task all the more greater to bare. He wanted to get close to her and learn more about her. When she was old enough to go to True Cross academy, he, without a second thought, signed himself up to become a teacher there, under the alias, Cerbin Hiberion.

Now being in True Cross Academy, will he be able to complete the most dangerous and vital part of his mission, or, will he fall while trying to do so?
---
---



♠ Familiar


Unlike most demons, Cerbin has two familiars that he is bound two. They also happen to be his brothers, Malice and Indigo.

Malice being the oldest has always took a dominate attitude toward Cerbin and Indigo. Even though Cerbin is the stronger of the two Malice can be seen growling or baring his fangs if he sees potential trouble for Cerbin. Unlike his brothers, Malice can't speak, but he seems to understand words well enough to listen to them. Cerbin and Malice share the sense of smell, meaning whatever one smells, so can the other. Cerbin uses him as a hunting tool, should he need to find someone or something. He currently lives in Cerbins shadow.

Indigo is the second oldest of the Trio. Being smaller than Malice and without sight, Cerbin uses him only for communication. Indigo and Cerbin share a their hearing together, meaning whatever one hears, so can the other. Indigo is the only one who didn't make the trip to Earth and instead stays by Azrael's side to link him and Cerbin.



♠Weapon


Having held many handheld guns, his most carried would have to be his two double barreled pistols which he keeps on his sides at all times.
---
---