---
---
Theme
Monster|Skillet
---
---

[center]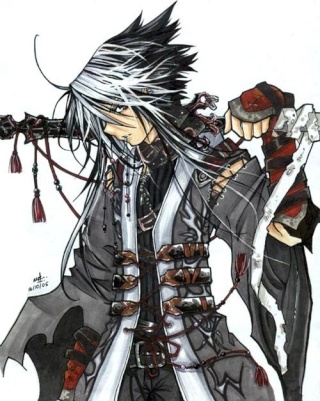 ---
---
[font=calibri]
♠Race
Superior Demon
♠Rank
Demon Prince of Earth
♠Affiliation
3rd, 5th, 8th Circles||Wrath and Gluttony||Satan Azrael
♠ Gender
Male
♠ Nickname(s)/Alias (es)
Earth King||Big Brother||The Third Pillar||Ultimate Fist
♠ Age
645||Looks to be in his early twenties
♠ Love Interest
None
---
---




♠Height


6'7


♠Weight


164


♠Build


Slender||Lean


♠Hair Color


Overall his hair color is black with a white front


♠Eye Color


Cold Blue-Green


♠Scars/Tattoos/Piercings


Being a demon and a Prince at that, Chikyu bears many scars on his body. One of the most notable ones being a large scar on his chest from a fight he had with the Prince of Fire.


♠Description


Chikyu is not per say the exact idea of what one might call a demon or a Prince of Earth at that. Standing at an incredibly tall height very few have been able to beat him height wise. Spiky black hair adorns the top of his head with long bangs that add a splash of white to his otherwise black hair. The style in which Chikyu's hair is cut is a bit odd with the back being extremely short and spiky while the front gradually grows in length until a few strands of white reach just past his shoulders. His bangs brush the tops of cold blue-green eyes that appear to look right into the contents of your soul. And their glare will supposedly send chills down your spine if you have one that is. Not pale in color but not overly dark, Chikyu sports an even tanned skin tone. To some Chikyu is what they call a punk styled young man, he often wears a scowl on his face.


♠Preferred Clothing


Chikyu usually wears clothes one would expect of a man his age. With most of his attire being different shades of black, gray and the odd white one would think Chikyu was going to a funeral every single day of his current life. Most of his clothes have small random tears or chains here and there since overall his style is very punk. His spiritual power seal takes on the form of black choker that has a few chains that loop around it.
---
---




♠Oddities


Licking||He has the habit of licking his lips whenever he sees a person who is of interest to him. a habit he picked up from Satan when he was younger.
Growling||Chikyu will without a doubt growl at whoever irritates him or simply as a warning to back off
Possessive||Yes Chikyu is quite possessive of certain things especially his food and people often regarding people as objects or property.
Food||As afore mentioned, Chikyu loves to eat hence one of his sins is Gluttony. However what he calls food isn't always in the normal sense, it can range from actual food to other lesser demons or even humans and angels.


♠Skills


Earth Manipulation|| As his title states Chikyu is able to manipulate the ground. One way of doing so is by banging his fists into the ground capable of creating large tremors and earthquakes and is able to control the earth we walk on to an extent. Being a Superior Demon and a Prince at that, Chikyū naturally possesses strength far above the average human being. The exact amount of strength he possesses is unknown, due to how little he is allowed in combat since he often destroys everything around him very easily. His powers include but are not limited to small tremors caused by his flaring rage to miniature earthquakes generated by his fists slamming into the ground. However due to him focusing mainly on his hand-to-hand combat abilities, he isn't all that great in manipulating but becomes a bit more advance upon his Transformation.
Hand-To-Hand Combatant||Unlike the other Princes, Chikyu prefers to fight one on one with his opponent and dislikes having to rely on magic or some sort of weaponry to aid him in battle. And because of this Chikyu has become quite the adversary when it comes to hand to hand combat where more often than not Chikyu comes out on top. This is mainly due to his abnormal strength even for a Prince, hence the name Ultimate Fist; Chikyu is probably the strongest by physical strength out of the three Princes, while he is the weakest in magic.
Transformation||Being the few Superior Demons who have a second form, Chikyu usually only transforms when he is in need of more power or he uses too much of his spiritual power. When he does the white in his hair covers the entirety of his once black hair and a small horn protrudes from the middle of his forehead. And his bangs grow a bit longer while the rest of it loses its spikiness. However keeping this form for an extended period of time often results in his transformation going beyond that or simple differences to his entire appearance changing to one of a more animalistic nature. The only change in his power when he transforms is he grows considerably stronger but its kept sealed whenever he goes to the human world. This form is separate from him taking on a humanoid appearance when in the human world.


♠Likes


Earth||Solitude||A Good Fight||Food||Satan's Daughter||Inferno||Alcohol


♠Dislikes


Water||The Cold|||Prince of Fire||Those who oppose Satan and his beliefs||Sweets||Weapons


♠Hobbies


Martial Arts||Due to his every growing knowledge and refusal of weapons use, Chikyu has made his learning various fighting styles a hobby of his
Planting||Surprisingly enough despite his tough demeanor, Chikyu actually enjoys planting flowers and has one of the best green houses in Inferno but then again he's probably about the only demon whose home is relatively pretty.


♠Phobia(s)


Aquaphobia||Autophobia||Frigophobia


♠Sexuality


Heterosexual


♠Personality


Overall Chikyu is calm and collected but in truth it's all a façade. Under his calm demeanor a monster lies in wait for the moment when someone manages to anger him and earn his wrath. Despite his tough demeanor, Chikyu is actually very loyal to those he has close ties with and one of those people is Satan. Chikyu holds his power in a rather high regard and can sometimes be brash in that manner. Keeping up a cold front, it's hard to get past the hard shell he has erected about him.

Unlike those previous to his title, Chikyu is well aware of his position of Prince and doesn't care to fling it around to get what he wants. He prefers to do things himself unless it's meaningless in his eyes. At times he can be playful and is constantly craving food. Some even think it was a mistake for Chikyu to have the title of Prince since he acts more like a lesser demon then a superior one. This is thanks to his possessiveness of his food and those close to him. Chikyu will go into an uproar which is not at all good if someone were to mess with his food and it's even worse if they were to hurt those close to him.
---
---



♠Relationship Status


Single


♠Family


Father||Izaek||Alive||Mother||Dyte||Deceased


♠Personal History


Raised by his father to be a fighter, Chikyu grew up in the very district he governs, the 3rd circle. His family was very tightknit and his father made sure that his son knew that family and friends was more important than anything else in the world. Which is something most demons found strange and therefore they treated Chikyu and his family differently, like lesser demons thanks to Chikyu's overall animal-like behavior. Very few people supported him being named the Prince of Earth; soon after receiving his title an assassin came in the middle of the night his target being Chikyu. However his mother, Dyte came upon said assassin and was killed. Hearing his mother's screams Chikyu and his father rushed to her aid and saw the assassin get away. Chikyu went after the assassin and killed him once catching up with him. And it is for this reason that Chikyu and his father have a strained relationship. Izaek blames his son for the death of his wife but he won't go back on his principles and gives Chikyu advice every now and then.


One thing that often surprises others is the fact that he is quite familiar with Satan Azrael or at least before he was given the title. Azrael served as a sort of mentor to Chikyu and acted more like a father to him after his mothers death. Hence why Chikyu is so loyal to the older demon and its because Azrael is Satan that Chikyu even competed to win the title of The Demon Prince of Earth. You see it was during one of Chikyu's moments where he would go feral on those around him. That day was different as he nearly attack Azrael but of course being younger and not as powerful as his Title would have granted him years later, Chikyu ended the day with a good beating and some yummy food in his belly. Azrael took him home to his parents voicing his curiosity in a group of Superior Demons who still stayed together as a family. Of course Chikyu's father treated him like any other Superior Demon who had asked that same question. Afterwards Azrael chose not to be a bother about it and with Chikyu's mothers encouragement took Chikyu under his wing and became his mentor.

However not everything was all fine and dandy especially when he first met the Prince of Fire. Having watched the duel between the other Prince and his old mentor, Chikyu was disgusted by the tactic Vincent had used. A few days after Vincent got situated in his new offices, Chikyu confronted him about the whole thing. Of course since the Prince of Fire was an avid weapons user something the demon really had a hatred only added fuel to the fire that was his rage. Chikyu in that moment challenged the Prince to a duel and the two fought it out. They caused quite a bit of havoc within Inferno so much that Satan himself stepped in a ended the fight by showing the pair why he had been given the title of Satan. After that Chikyu held a newfound respect for his mentor and leader but still harbors a deep hatred for the Prince of Fire.
---
---



♠Familiar


Chikyu has only one familiar by the name of Golem, who is by his name a golem made entirely of earthly materials. A considerably large creature Golem is rarely called upon due to his massive size but there have been times where Chikyu is able to lessen his size to something more agreeable.


Weapon


Chikyu dislikes weapons so he carries none.
---
---