---
---
---
---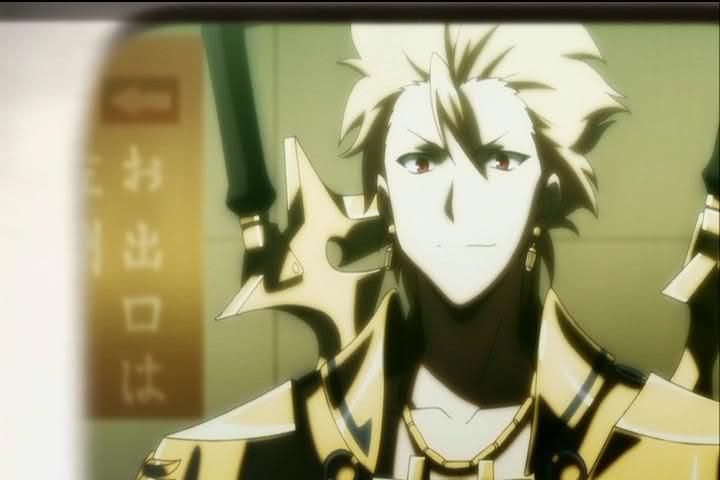 ---
---




♠Race

Human


♠Rank

Exwire


♠Affiliation

Tamer


♠Gender

Male


♠Nickname(s)/Alias(es)

Julio, King, Joker (due to the JK initials)


♠Age

16


♠Love Interest

to be seen


♠Face Claim

Archer Fate Prototype


---
---

[font=choose font]



♠Height

5'9


♠Weight

150


♠Build

Slim to Medium


♠Hair Color

Obsidian


♠Eye Color

Bloody Crimson


♠Scars/Tattoos/Piercings

Julius has the classic pierced ears as far as piercings go. On the more elaborate end is tattoos, which cover his body. The majority of these tattoos are of various holy symbols of various faiths and cultures across history. Their arrangement is clearly done by design with an artful taste and with close inspection one can find a variety of magic circles concealed in the images... except on the hands where the circles are quite obvious. Even his face possesses tattooing, such as eight horns placed almost like a crown over his brows and a strange trident like mark in the center of his forehead. Perhaps the strangest part is he has no recollection of ever getting them.


♠Description

Julius's appearance is certainly one that catches eyes, after all the sheer volume of tattoos that paint his unnaturally smooth skin would turn heads most anywhere. His features are also sharp to the point where he seems more of a mobile sculpture than a flesh and blood human being. The fact that his unpainted skin seems forever bronzed only serves to enhance the illusion. Even his hair seems to always fall the same way and seems to act in set patterns when moved. In truth he normally doesn't bother trying to style it but will do so on occasion. His eyes have a naturally vicious appearance due to more than their mere appearance of liquid fire...or blood. It's slight to the point of a lie but his pupils seem rather slit like and the orbs always seem to be ablaze even when Julio is calm.



♠Preferred Clothing
Almost as a form of modesty, Julius likes to dress up in plenty of layers. For example it's not uncommon for him to wear full length jeans, an under shirt, normal shirt and then a light jacket with long sleeves. Sometimes the clothes he grabs are close cut but usually he wears clothes than are a bit large on him resulting in a baggy or flowing appearance if the cuts just right. In terms of colors he'll go for strong shades such as crimson, rich purples,pristine whites and golds or deep black.
---
---




♠Oddities


Temper/Ego: While normally calm, Julius seems to have an uncontrollable temper when he himself is insulted. This also extends to things and people he values. The attitude adopted in those situations also shifts to extreme rudeness and highly melodramatic.

Ambition Possesses an overly strong desire to prove himself and always holds himself to unrealistically high standards. This desire drives him almost like a machine or a madman.

Memory Julius has a memory that's either highly selective or highly variable. By which he'll either remember things completely at irrelevant times or never remember things regardless of how much he wants to. In a day-to-day sense it means he is very good for asking Trivia, but pretty hopeless at functional things that occur everyday.



♠Skills


Fortune: Julius is lucky to the point of ridiculousness. In terms of misfortune, it's safe to say he's never experienced hardship of any form.

Charisma: Julius has an unnaturally strong type of charisma...to the point where it could be considered a curse. Fortunately it doesn't apply to people, but is exceedingly efficient for his studies as a Tamer.

Mimicry While it's rarely used, Julius is capable of copying everyday skills after seeing them once. It might be due to his obsessive nature picking up minor details and then simply performing it. This seems to be the case since he can't mimic something beyond is physical limits, or requires a skill he doesn't possess.



♠Likes

Fineries: be it food, drink, music, or art Julius has a taste for the expensive and high quality. He also enjoys all the bustle of "high society" and people as a whole.


♠Dislikes

Hard work- Julius will go to extremes to avoid having to genuinely do hard work...albeit his luck rarely requires effort on this front. More than anything he hates being bored...though it's a rather unpredictable occurrence.


♠Hobbies

Rather than a hobby, it's safer to label it an obsession. Julius is always look for ways to summon more familiars both in quality and quantity than anyone else.





♠Phobia(s)

Atychiphobia, Decidophobia, Hemophobia


♠Sexuality

Pansexual...Julius isn't one to deny the potential of pleasure in any form


♠Personality

Julius is a very willful person. In fact he genuinely believes most everything comes down to having sufficient will and dedication to make something happen; he "demonstrates" this point by being very supportive of those who associate with him or ask for his help.His positive characteristics for the most part seem to end there. Beyond that he's highly ambitious and arrogant beyond reason, but short of being angry he's not exactly rude about it. One manifestation of this is his central belief of "I am me" and then basing his perception of reality on that one fact. Essentially the mind of he is undisputed fact while reality is variable and as such his actions are absolute fact. Quite naturally this leaves his thinking in terms of morality grossly lacking but strangely he's not an immoral person. His own answer being those with power and ability are the example and guardians of those beneath them.

Oddly enough though, he's always a willing participant in any form of pleasure or entertainment. This makes him a ready accomplice for most endeavors as a "connoisseur" of life's finer points. Whether it's his ego, bravery or genuine stupidity Julius seems to never be afraid. In fact his attitude is one of either in control or someone along for the ride but has been guaranteed entertainment. This manifests in him taking many risks without any apparent forethought and total lack of concern to most social strata. In his own words "everyone loves me...they just don't know it yet". However to anyone watching his attitude is entirely based on his own luck.
---
---




♠Relationship Status

Single


♠Family

Taken in by the church, views members as family.





♠Personal History


As much as Julius's nonreligious behavior would suggest, he grew up in a church. As for how he got there, he never really knew or cared to ask, after all there were children his age to play with and the place was well managed- in short nothing to complain about. His own memory of that time is rather vague but all-in-all Julius remembers the place to be very well supervised. One thing he does remembers and has since become his obsession is stories of great Exorcists of the past. In particular individuals capable of controlling entire armies of familiars with seals long forgotten if they even existed at all.

To this end, Julius poured excessive amounts of time into studying into matters of seals and eventually in hopes of either finding or recreating a seal of such amazing power. Due to this, he spent very little time with the other kids and even with the staff in charge of the place. Perhaps the greatest event during that time was when it turned out he had the potential to be a Tamer. The occasion wasn't anything major, he just managed to order the pet familiar of one of the faculty. From there the faculty took a bit more interest but in truth nothing changed in terms of his daily routine. His studies did leave him within the top five of his class consistently until eventually he took it upon himself to move out. Scholarships managed to keep him on his feet until finally he enrolled in True Cross.

That being said, except for a slight change in curriculum things still haven't changed too much on the part of his life. He has however opened up a bit for something of a social life.
---
---



♠Familiar


Controlling either familiar requires enough focus to render Julius into a sitting duck, he can't afford to not tunnel vision against the creatures he contracted since both are far beyond what a reasonable Tamer of his ability would attempt. Regulus isn't even under his control and is more "unleashed" and allowed to rampage.

Aja: A brilliant stallion and a mane of sun fire. He's mostly used for rapid and long distance travel since Aja can run in all directions by "riding light". Aja can charge, and in doing so appears as a lance of sunlight, and is just as destructive as it sounds. In that aspect it makes Aja Julius's most powerful summon despite Aja only being able to do so once per day. However the heat produced is not filtered thus resulting in the maneuver being held in reserve. It's tattoo summon is Julius's left hand but he lets Aja roam free until called. Using Aja causes headaches that increase in intensity- to the point of potentially rendering Julius unconscious.

Regulus: A golden lion with an attitude even bigger than its master.The beast is highly aggressive and always itching for a fight. The fact Regulus is cloaked in lightning and its roar the boom of thunder makes this familiar unsummonable except for combat. It's tattoo is Julius's right hand. Regulus is stored within the tattoo until Julius calls it. Aja is dismissed when Regulus is summoned, Julius can't yet control them both at the same time. Merely summoning Regulus results in Julius vomiting blood from the strain which grows increasingly worse across summon duration.
---
---