---
---
---
---
---
---




♠Race

Angel


♠Rank

Principality


♠Gender

Male


♠Nickname(s)/Alias(es)

Al, Arthur and its variants


♠Age

732 appears to be a young man of indeterminate age


♠Love Interest

none


---
---




♠Height

5'10


♠Weight

200 lbs


♠Build

Medium yet dense


♠Hair Color

Golden Blonde


♠Eye Color

Sapphire Blue


♠Scars/Tattoos/Piercings

No tattoos or piercings but body is covered in centuries worth mars from fanatically hard levels of work and pushing beyond ones limits on a regular basis.


♠Description

With his overly humble dress and eyes permanently bagged and sunken to the extent of looking blackened one would hardly expect Salem to be a Principality. However the various scars across his body clearly indicate a lot of hard work for any station. His face is near always that of a calm kindness. His appearance is undeniably masculine but he keeps himself trimmed and his hair at shoulder blade length and frequently tied back out of his face which is highly expressive.



♠Preferred Clothing
simple cloth leggings. Allows for modesty and freedom of movement.
---
---




♠Oddities

Openly weeps when locked in mortal combat. Goes to extreme lengths for the tenets of Justice, Duty and Mercy. In angelic form, hair color spasms into a prismatic spray with movement (the hair itself moving).


♠Skills

Defensive skills, Healing wounds, Capturing and Sealing enemies.


♠Likes

Justice, Perseverance, Loyalty, Peace, Mercy and all creation


♠Dislikes

Cruelty, Destruction, Tyranny, Laziness, Deceit, Treachery,Violence and anything that disrupts peace


♠Hobbies

Improving himself, helping others and furthering the causes of Justice, Duty and Mercy.




♠Phobia(s)

That his efforts will never amount to anything or that one day he may be betrayed by his own ideals.


♠Sexuality

Celibate; mercy demands unending love for all thus one cannot justly have favorites


♠Personality

Salem defines himself and life around him by the tenets of Justice, Duty (specifically loyalty and perseverance) and Mercy (up to the point of peaceful nonviolence). However rather than merely seeking to juggle or pick and choose which aspects of each to follow, he seeks to meet each to the fullest extent. Needless to say this often puts him in moral dilemmas since Justice and Duty often directly contradict Mercy.

This doesn't keep him from trying, after all striving for perfection is something all creatures should prioritize. As a commander, this makes him benevolent to his subordinates. One could say calling him the caring grandfather as more appropriate than a commander. It also results in him taking the fall unnecessarily when an underling messes up since "the mistakes of the soldier are the responsibility of the commander". It also makes him highly critical of the angelic hierarchy, in his opinion it's rather petty. Instead of attempting to gain rank and power, an angel should prioritize doing the most and best they can with what they have. In which case promotion is merely handed down to those who are most capable with their duties. But he doesn't go out of his way to voice his criticisms, peace is the preeminent goal. In this regard, he has very little true respect for the current Seraphim. In his opinion, she's too young and has yet to learn the most important tenet: Mercy. However Duty demands that he follows orders passed down on high, thus he follows but will often file complaints about superiors he finds out of tune with how angels should behave.

Due to the lack of mercy demonstrated by the current system, he has taken it upon himself to compensate. To fulfill that obligation, he does not kill unless absolutely necessary and even then goes to great lengths to avoid the matter. To him, the greatest failure of good is when a life must be extinguished. The most defining part of his personality however is he will simply live by his code, performing his duty and kindness without seeking gain or reward. In silence, he will do what needs to be done and move on...others will simply follow due to the power of virtue.
---
---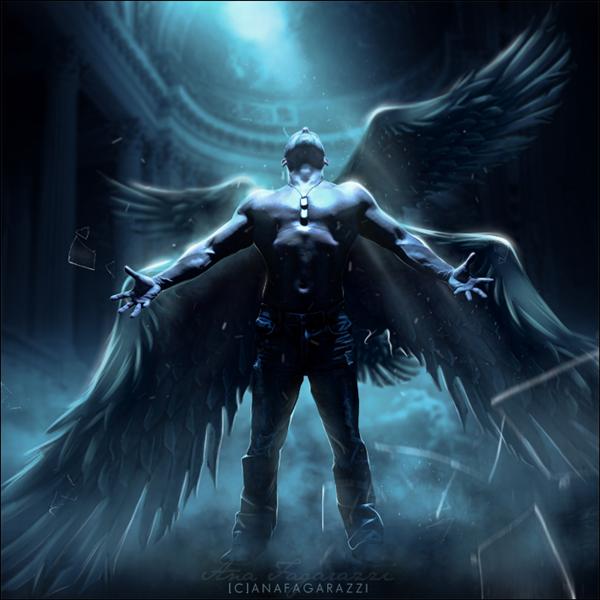 ♠Relationship Status
Single
♠Family
In his mind, all living things are his family (he also has two brothers by blood who do not get along). He is known to "adopt" every once in a while. In simple terms he takes them under his wing: training them, guiding them and performing every role the individual needs to best reach their potential. His most recent "child" left his care centuries ago and has sense surpassed Salem in rank. As with all his children, Salem was immensely proud of this achievement-more so than any other- but he professes a profound sadness at their corruption by the current hierarchy.
♠Personal History
Salem's childhood took place in the time angelic strife, where houses and angels fought each other openly for power and prestige. Salem's family was able to use its own prestige to stay out of the conflict of the great houses but like a wild fire, the fire spread the houses of lesser prestige. His house and family had been sacked and raided by two lesser houses in an attempt to increase their own numbers, the goal was forcefully accomplished. Barely a teenager at the time, Salem was forced to watch his father, mother, both brother and everyone else he knew cleanly separated and dragged away...he'd been spared only due to being the final captive which resulted in an odd number.
Salem barely had time to mourn or despair before a new front approach what had been his home. It was the faction that claimed to seek peace instead of prestige and the man at its helm, Felspar offered him the only assurance Salem would ever hear. Conversely it was also the only words he'd ever need as the gesture gave Salem the straws of "hope" and "purpose" to grasp and while Felspar had by then left for bigger matters Salem immediately joined his faction. With fanatic devotion, he plunged into training. Whether through his own zeal or simply the lack of man power, Salem found himself an arch angel before his time (something he realizes now).
Due to most of his life by this point having been spent fighting, without surprise Salem's first bond was to the spear. He'd spent countless hours drilling with it before his first deployment, the same took place with the shield and sword but the spear was his personal favorite. It may have been due to a weakness of heart or even a misinterpretation of Felspar's words but Salem had fully hailed towards the idea of "Justice". On the field of battle his sword was swift and true and his conviction infallible. When he won, he was known to account for the wrongs of those he bested, "punishment" would take place thereafter. Sometimes it was simply doing unto the fallen as they had done unto those not interested in conflict and others were slightly more arbitrary but no less severe. Perhaps the most striking aspect during these days was never once were his "punishments" more severe than the crime.
As the war dragged on, the nature of their battles grew more defensive simply due to sheer numbers involved at that point. Salem was nearing the rank of Principality by this point...or at least stood as a veteran archangel. He called out claiming that "Justice" on its own is never enough...it's merely a fleeting thing. The more important aspect of their job was "Duty" for to win perseverance was needed, souls must be indomitable and every life they protected from the war was a victory worth fighting for. Unbeknownst to him, the war at this point had already apex-ed by that time but it bolstered the front enough from his point of view. The worst fight he had to fight during this time was against an all too familiar united front...the same that took his family. Once again the twin houses intended forceful recruitment of a peaceful area. Without orders, he rallied what he could and intercepted the two at their meeting point and the war finally hit home for Salem. The battle was trying in its own right, after all it was truly fought on two simultaneous fronts with a huge numeric disadvantage. The greatest asset on his side was the terrain, and his own troops had far more experience than the greens used to bully civilians. However, Salem ended up crossing blades with his own brother during this fight...and hardly recognized the man anymore. It was on this day Salem became known as the weeping warrior, he'd cried the entire time their blades crossed and the tears flowed even as the man retreated.
That battle also marked the day he began using the chain, after all some factions wielded chains to easily take captives for recruitment...perhaps he could do the same for peace. He drilled with the chain even harder with the sword, and gathered just enough renown with its use and his ability to fight on defense to over shadow his bloody and purely aggressive origins by the time of his promotion to Principality. The fight with his brother had robbed him of his blood lust, and in its place came "Mercy". Surely not everyone in the war wished to fight, and the taking of lives should be a last resort as such a final solution is surely the greatest of failures. Very few battles were fought after his promotion, from his view Felspar had somehow managed to do the impossible and force an end to the fighting. Among the first things he got was his family back when Felspar ordered the release of captives. By this point, his only remaining kin were his two brothers but the time they'd spent apart had changed them. The two viewed each other as enemies, and sought to ever kill each other...Salem was left to patch up these remaining dregs of his family and Aurae itself was all too good a comparison.
Whether due to old family ties or through some of his new celebrity, Salem ended up working directly with Felspar at this point. The man had now twice flipped his world upside down and firmly cemented his idol like status in Salem's eyes and as such he eagerly gave his all to assist in rebuilding Aurae. In its own way this task was evening more exciting and arduous in the war,but during this time Felspar became his dearest friend. Salem also developed his habit of "adopting" during this time, all-in-all giving his utmost to put the pieces back together. When the Seraphim's seat was vacated, Salem naturally cast his vote for Felspar, openly proclaiming the other candidate-Felspar's half sister- as too young and immature for the job. On some level she reminded him of a younger version of himself...and clearly not ready for the job. He was even willing to set his own name forward for the promotion to a Power in an attempt to lighten the load of Seraphim. But in the end, Felspar stepped down and Faida took the seat...at this point Salem lost contact with Felspar as he was unable to accept what he viewed as "brotherly promotion" of the new Seraphim. In time, Felspar disappeared and it was this act that forced Salem to accept the new Seraphim... and it's no secret that he only acquiesced to silence any whispers of rebellion. He doesn't defy the current Seraphim, for the sake of order and peace he must listen to his new boss, but the fact she "fell through the cracks" of a system still under repair is still chief in his mind.
---
---



♠Familiar

none, binding another living creature is unjust


♠Weapon

Divine weapons are a chain with manacles to facilitate capture and detainment of foes and a spear. Ordinary supplements are a shield and a sword. Typical wields are Sword and Spear; Spear and Shield. Chain is usually wielded alone but is most frequently partnered with either Shield or Sword.
---
---