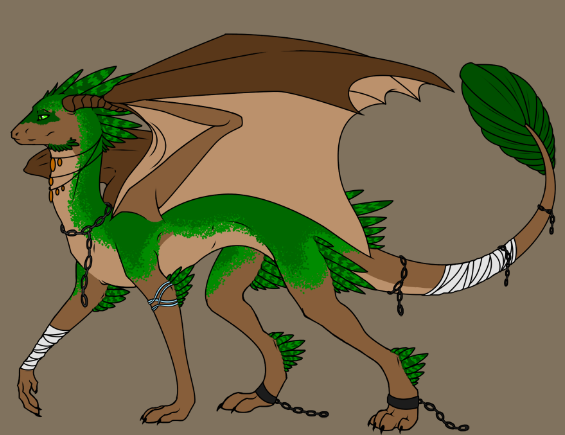 Name: Ori'kumarok
Alias: Oriko
Age: 347
Race: Dragon
Height (at the shoulder): 10' 7.4"
Weight: 382lbs
Eyes: Lime Green
Scales: Brown/Green
Wingspan: 38" 6"
Length: 36' 2.8"
Homeland: Rainforests
Class: Rogue Dragon
Ori'kumarok is a middle-aged dragon, though he appears youthful due to his small size. At various points on his body, his scales have been overgrown by plumage that matches the color of his back, and is used both for camouflage and mating rituals for the dragons he grew up with. The fan-shaped feather cluster at the tip of his tail, while used in finding a mate as well, is more practically use while flying, acting as an air brake and rudder. Despite his small size, which is more adapted to weaving among trees than for battling tooth and claw, he is able to fly at speeds exceeding forty miles an hour and can shift objects twice his size with only a small amount of discomfort, though it takes him a moment or two to make sure he can. With his native lands being steamy and full of natural energy, Oriko is able to use only a small amount of magic, and most of that is centered around healing.
He has plans for the Solar Egg, even if he himself will not be able to hatch the dragon. He doesn't care about that, however, as he intends to destroy the egg and leave nature to run it's own course.