---
~
Lana Del Rey - Dark Paradise.
Rae Morris - Grow.
---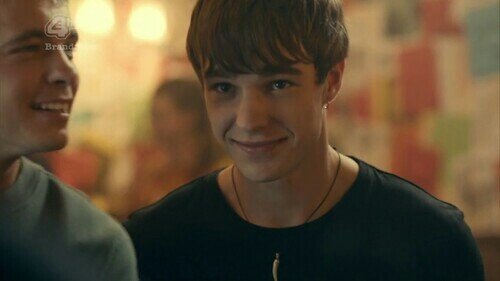 "I don't know you... I most likely won't like you, probably... I don't know; I don't like anybody, so... Yeah."
---
Full name | Alexander Jae Devon.

Nickname(s)/Alias | Alex.

Physical Age | Eighteen.

Real Age | Twenty.

Gender | Male.

Species | Lycanthrope, more commonly known as 'Werewolf'.

Sexuality | Heterosexual, as far as he's concerned.

Nationality | British.


---
Height | 5'8".

Body Build | Given that Werewolves are generally quite muscular creatures, Alexander couldn't be extremely skinny even if he wanted to, though he's not exactly as well-built as he could be. He has a good figure, his shoulders are broad and he has a fairly strong jaw.

Complexion | His skin is fairly smooth and blemish-free, and he has a fair skin colour. He'd tan, but he doesn't like sunlight too much.

Hair | Alex's hair is cut in a way that doesn't make it too short but doesn't allow it to grow incredibly long either. It is usually scruffy and not brushed, merely swept to one side over his forehead. His natural colour is brown, and he has never dyed it so it looks quite healthy and soft.

Eyes | His eyes are a deep, chocolate brown, giving them a warm sort of feel.

Scars/Tattoos | His body is untouched by tattoos; not because he doesn't like them or that he doesn't want one, but because a tattoo is basically a scar and, for most immortals, scars heal. Any tattoo he gets won't stay on his skin longer than a couple of hours or so. The same goes for scars, though you can still see the faint lines of scars from fights with Glitch when his temper gets out of control. Her attacks are enough to leave a mark on his skin, for life.

Piercings/Accessories | Alex has a piercing in each ear, an eyebrow bar and snakebite piercings on his bottom lip. Due to his weakness to silver, his piercings are made purely of surgical steel.

Any additional features | None to speak of.


---
Previous relationship(s) | He's never been close enough to a person.

Crush/Interest | He has eyes for no woman.

Girlfriend/Boyfriend | He's not currently involved with anyone.

Likes | There aren't many things Alex would openly admit to liking, except for silence and being alone, away from civilisation or other people's company. He's seen smoking a lot but there's no telling whether he actually likes the habit or not. Often times, he goes on the balcony to watch the forest, though he'll never really say why, he just does...

Dislikes | Alex dislikes any sort of social situation, whether it's something as simple as having a chat with someone in the house or any type of gathering between the people living in Glitch's home. He hates being touched or stared at, and will say something if he's unhappy. Anyone who is overly cheery or bubbly is just an annoyance in Alex's eyes, and he will try to avoid them as much as possible. As weird as it sounds, he hates to smile; if anything, he hates his own smile. He thinks it is hideous.

Hobbies | He'll admit to nothing, though as a child he would often be seen out with his friends, doing ordinary things such as playing football or just messing around. You might've believed he was actually normal.

Skills | Though Alex doesn't often flaunt his skills, he is thought to be quite the talented artist. His drawing skills are extraordinary, yes, and he often prefers to be in his room painting rather than out talking to others. And, due to his species, he's quite athletic and agile, meaning that he is quite skilled in the art of free running (parkour).

Flaws | He's often very blunt or rude towards people without really meaning to, and because of this it is quite hard for him to make friends or socialise well with others. Another flaw is his uncontrollable temper, which comes as a natural side effect of his Werewolf blood. Though he's not the sort to take his anger out on other people, because he's not completely monstrous, but he will destroy the things around him and it is often hard to calm him down. As for weaknesses, he falls into the stereotype of most Werewolves in the sense that Wolfsbane is enough to kill/poison him and anything silver is enough to weaken or stun him briefly.

Personality description | W.I.P.


---
Offensive Power | Lunar/Night Empowerment - This is the ability in which Alexander is able to take power, energy and strength from the moon and the night time in order to improve his other abilities or to give him a bit of a boost in terms of strength and skill. It is really only an addition to the natural powers he has received from being a Werewolf (heightened senses and physical attributes, as well as the ability to shift into a wolf form) but it helps greatly, given that the situation is right. It's not like he's forced to shift when the moon is out, but that's certainly not the time in which you'd want to pick a needless fight with Alex. His emotions are also quite sensitive during this time, and it's easy for him to snap.

Defensive Power | Lunar Constructs - Alexander holds the defensive power to create constructs out of lunar energy; things such as armour, weaponry or shields/walls to protect him from attacks. More often than not, he can create almost anything out of such energy taken from the moon, within reason. This power can only be used at night, for obvious reasons, and while the moon is fully visible in the sky, he won't ever run out - until morning, of course. It mimics the outline/shape and force of whatever it is trying to replicate, and comes in the form of glowing... energy, for lack of a better word. It has a slightly grey-blue hue to it, and it's not exactly blindingly bright.

Extra Power | Partial Transformation - The ability is all in its name, and it is a much more common occurrence for him to transform partly as opposed to a full transformation, because it's much simple and takes less energy. With this ability, he is able to shift certain body parts to mimic the appearance of a wolf (though usually no more than one or two at a time). For example: His hand could become a claw, or something of the like, his ears could shift to give him the heightened sense of a Werewolf, or he could sprout a tail. While this could vary in its defensive or offensive capabilities, it's not something he will often use in fights, but simple for odd little jobs here and there. In addition to this, he can't hold up a partial shift for too long because he will tire eventually or his senses will become blurred and he faces the risk of fainting or becoming sick.


Extra | There's a small dog, whom he named Felix, that often sleeps in Alex's room or sits outside of the house waiting for him. Alex sees the small dog as his own, though it's not around all the time, and he can be extremely protective or possessive of it. He also has a small set of ladders he built out of planks of wood and rope that hangs off of his balcony and reaches the garden floor.