Raven
KABOOM! - I Fight Dragons
---
~ General Information ~
Full name:
Raven Unique Monicue
Nickname(s)/Alias:
Rave, sometimes Rave-Rat
Age:
24
Gender:
Female
Species:
Tesso
Sexuality:
Homosexual
Nationality:
American
---
~ Appearance ~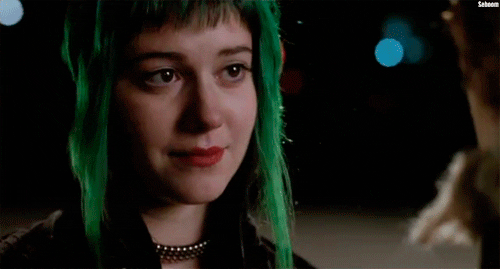 Height:
5'8"
Body Build:
Slim with slight curves
Complexion:
Light, pale-ish
Hair:
Naturally a dark, almost black, brown but nowadays it changes back and forth from a black undercoat to a bright blue, hot pink, and light green upper-coat.
Eyes:
Dark Brown
Scars/Tattoos:
Tattoo Numero Uno
Tattoo #3 & #4
Tattoo Number F1VE
Piercings/Accessories:
Ear Plugs (only one ear, alternates between the four)
Any additional features:
Usually wears a red-ish lipstick.
---
~ Personality ~
Previous relationship(s):
"Only my seven deadly ex's.....just kidding."
Crush/Interest:
No one at the moment.
Girlfriend/Boyfriend:
None
Likes:
- Video Games, Technology, Books, Dying her hair, Rave parties, Rats, Bats, Any type of candy (specifically candy hearts), Fun people, Deep people, Comic books, 7Up, Soft pillows, Owning her own stuff, The colors Blue, Red, and Green, Star Trek, Discussing the theory of alien life on other planets.
Dislikes:
- Hot days, Too cold days, Cable television, Arguing, Screaming, Having nowhere to go, The homeless (she pities them), Mirrors, Ignorance,
Hobbies:
Besides playing video games for a living, Rave spends most of her time online, reading comic books, or rollerblading. Yes, rollerblading. Just because the rest of the world stopped thinking rollerblading was cool doesn't mean she has to.
Skills:
Rollerblading, learning to do things easily, and solving problems.
Flaws:
Not always the most talkative. Can seem like she doesn't play games (as in like she doesn't understand or like jokes/humor). Can always seem bored/uninterested.
Personality description:
On first look, Rave may look like the type that goes to rave parties and gets into a lot of trouble. That's mostly the hair and what she wears. Within the first meet-and-greet, you'll learn a few things about her. You'll learn her real, full name and that she rather be called Rave. You'll learn she doesn't trust you and you probably don't trust her. Then she'll explain that you can earn each others trust by getting to know each other. At that, she'd pause a moment for it to sink in and, once she feels it has, she'll continue to say a little bit about herself, which is sharing obvious likes and dislikes that she feels she should get out of the way early. These likes would be video games (sometimes she'll go into dept and give a few favorite games) and technology. Then she'll give a hate (or dislikes, rather) which is usually arguing, indicating that she doesn't want to have any arguments.
That being said, let's go deeper into the mind of Rave. Rave is one of those people who doesn't really care what goes on as long as she isn't affected by it. As self-centered as that may seem, it's just because she doesn't want any trouble and with people comes trouble. With trouble comes conflict. She tries her best to "weave out" the "good" ones, in a way, so she'd at least be able to warn them before going into something that's going to shoot them back in the face. That indicates she's a rather loyal girl who does care about those close to her, as unbelievable as it may seem.
Now comes Rave's passion. Everyone has a passion for something that isn't the love of another person. For some people, it's art, for others, music. For Rave, video games. Video games could be used as a loose term, meaning all video games. But Rave's favorite is the classic 8-bit games. Some of her favorites include Mario Brothers, MineCraft, and others. Not to mention her love for comic books. She never go anywhere without her favorite comic by her side. Everything aside, Rave can have a nice, fun, hyper time around someone once she gets to know them.
---
~ Powers ~
Shape-Shift:
Rave can shift into a rat. It is unknown whether or not the rat form is her true form, but that's just going to need to stay secret. Though she is transformed into a rat, she is still able to speak and has the tint of the hair color she is dawning at the time. Other than that, she'd be just like any ol' rat.
Appetite For Knowledge!:
The tesso's species is well known for their power of being able to gain knowledge through eating. That meaning, if she eats something, she gains all the knowledge of that object. This mostly concerns books as rats and mice are known for eating boxes and papers, if she was to eat a book (in her rat form) she would gain all the knowledge of said book with out needing to read it. She only does this (or did this already) for various textbooks (mostly math/technology) and a dictionary or two.
Calling All Rats! Calling All Rats!:
Rave, being a tesso, is able to call a legion of rats to do her bidding. Of course, in the olden days, this would have been one of a tesso's favorite abilities, but Rave doesn't like using this of her abilities as the only rats that are affected are awfully cruel and not the sharpish bunch.
---
~ Extra ~
Anything else you wish to add?
Code: Select all

[center][color=#40ff00][font=Minercraftory][size=400]Raven[/size][/font][/color][/center]