---
"Quote."
---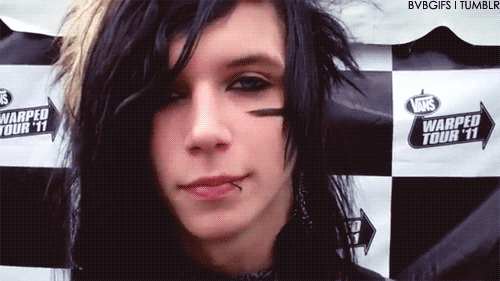 || G E N E R A L - I N F O R M A T I O N ||



Full name | Christian Jae Vanity.

Nickname(s)/Alias | Trigger (Common) or Jae (Rare).

Age | Physically; around twenty. In reality; over a century.

Gender | Male.

Species | Unknown, but presumably a Demonic creature of some sort.

Sexuality | Bisexual.

Nationality | Predominantly American (mixed backgrounds).


---
|| A P P E A R A N C E ||



Height | Around 5'9" or 6'0".

Body Build | Trigger is unhealthily skinny, and it is plain to see from the moment you first set your eyes on him. So skinny, in fact, he often looks as if you can just pick him up and snap him clean in half. His ribs aren't really too visible, unless he stretches his arms upwards. His jaw is sharp and defined, and his insufficient weight doesn't really show in the shape of his face. He lacks muscle, and is the living definition of "looks can be deceiving."

Complexion | Hidden behind foundation, his natural skin is sickly and pale. The skin around his eyes is almost unhealthily dark and bags sit them, due to his lack of sleep or a healthy diet. His skin is free of spots and blemishes because, at the end of the day, he takes good care of his skin - if he can help it.

Hair | His hair is naturally a deep, chocolate brown, but he has recently come into the habit of dying it. His current colour is, of course, black with a slightly blue tint to it under direct sunlight. He shaves the sides and lets the hair on top grow long, then drags it to one side and lets it falls as it will.

Eyes |

Scars/Tattoos |

Piercings/Accessories |

Any additional features |


---

~ Personality ~
Previous relationship(s): (Optional)
Crush/Interest: (Optional)
Girlfriend/Boyfriend: (Optional)
Likes:
Dislikes:
Hobbies: (Optional)
Skills: (Not powers)
Flaws:
Personality description:


---
|| A B I L I T I E S - & - P O W E R S ||



The Basics | Trigger's most basic abilities/skills/enhancements are really what you would expect of most - if not all - Supernatural creatures; his senses are greatly heightened (but this also refers to his ability to sense the power level of other people as well as the five senses) and so is his strength, speed and agility. These alone are enough for him to surpass any human, and take down a group of no more than a hundred of them without tiring.

Offensive - Skeletal Manipulation | Now, for the more unique abilities. His first power, Skeletal Manipulation, gives him the ability to be able to manipulate his own skeletal structure and form bone(s) either inside or outside of his body, mainly for offensive attacks as opposed to defensive. However, it is not completely one-sided, because being able to shift the density of his bones means that he can make them harder than steel or as soft as mush, depending on the situation. While he tires easily, he is able to push himself to Hell and back with sheer force of will alone. At most, the longest he can currently bring his bones to reach is a length of 2 metres or so away from his body, but is fully capable of creating full-body armour or weapons.

Defensive - Intangibility | This is the ability to be able to easily pass through any sort of physical matter and ignore things such as solids, liquids and gasses. He is able to move through the building without even having to open a door, which he seems to find quite amusing. Being able to solidify at any time he wishes, he can simply allow an attack to pass through him and then solidify himself when it is time for his own attack. The major flaw in this technique is that his reaction time isn't exactly what it could be, and he is often vulnerable to surprise attacks, so that he is not able to make himself intangible.

Other - Energy Drain | For this ability to come into effect, the person he is up against would have to make direct skin contact, or avoid touching him at all costs; the same applies for his bones, because they are a part of him. When the two touch, a sort of link is formed between them, and Trigger will then transfer their physical and mental energy into himself to last longer during fights. He does not have the trait that allows him to transfer energy from himself to another person, and the technique is completely one-sided. He can only drain small amounts of energy at a time, and he tends to use it up quite quickly - but for a much-needed boost, it serves its purpose and does it well.


---

~ Extra ~
Anything else you wish to add?