---
---
❝I am he. I am he who walks the line of Chaos and Grace. I am he. I am he who dances through the fires of destruction and creation. I am he. I am he who flits between life and death. I am he.❞
Normal ||Pompeii | Bastille
Fighting ||Dragon Force | Yasuharu Takanashi
Emotional | Death ||Will of Heart | Shiro Sagisu
Anger | Out of Control ||The Power to Strive | Shiro Sagisu
---
---
---
---
∞ Full name ∞
"A good name, a strong name. Hopefully I'll live up to it some day."
William Kieran Hayes
∞ Nickname ∞
"Anything's fine, but please, be original."
Will, Lee, Liam, or any number of possible nicknames. Though Liam addresses himself as such, he doesn't really care what nickname you use so long as it isn't rude.
∞ Alias ∞
"Dancing amidst the flames, a wicked smile on my face."
The Savage Nymph. It used to be, "The Luna Diviner," but he changed it after the death of his best friend. The Savage Nympth was his codename.
∞ Race ∞
"This power, this madness, it rampages through my veins like fire. It used to hurt, now, I can't imagine living without it."
Hiatus
∞ Age ∞
"I suppose that means I'm an adult, doesn't it..."
18
∞ Gender ∞
"Though my hair is rather long, rest assured, I'm not a woman."
Male
∞ Sexuality ∞
"The grass is quite green over here, thank you very much."
Heterosexual
∞ Role ∞
"A single card, one of many in our queen's deck. My suit and number are nothing to me. They are but a means to an end. For my purposes, I don't need to be much else."
Gang Member, no particular ranking.
∞ Group ∞
"Those who make their home in the Wonderland have a penchant for madness. I can't say I'm any different. It's interesting here. That's for certain"
The Wonderland: Landers
∞ Item ∞
"Lunatic and I... We're two sides of the same coin. He is my rage, my strength, and the beast within me."
Lunatic, Liam's Claymore, is the item associated with his Error. He uses it to fight, and he needs it to use his powers. When not in use, Liam keeps it wrapped up in bandages and stored inside an old guitar case to protect and hide it. The case is made of leather with a single, sturdy strap. It is worn over the shoulder, slung from one side to the other, like a messenger bag. When carried this way, the top of the bag is visible as it sticks out from behind Liam's head.
∞ Occupation ∞
"It calms me. Funnily enough, I used to only do it 'cause it paid the bills. Now, it's one of the few things that helps me hold onto who I am.
Surprisingly, the Savage Nymph is actually a pretty good cook. He works in a local restaurant as a prep chef. He wakes up early and spends the whole morning chopping, stirring, slicing, and making preparations for the restaurant's dinner hours. He's the one that makes the soup of the day, prepares a large volume of any and all sauces that might be used for dinner and lunch plates, and bakes fresh bread everyday. When it's time for the lunch and dinner rushes, Liam also works a station in the line, to push out as many dishes as possible when the rush gets tough. Though it started small, with Liam not being responsible for much of anything that reaches the plates, Liam progressed steadily after three years of continued, dedicated work as a chef, and now, just about every plate that get's set, during his shift, passes by him at some point before it is brought to the table. Liam used to be required to work some 50 hours a week just to get by, now that his salary is much higher, and he works with a greater degree of skill, he only works the weekend shift, Friday through Sunday, from six in the morning to ten o'clock at night. Further, because Liam is so good at what he does, and is a decently attractive kind of guy, his boss thought that it would attract more customers if Liam worked where he could be seen from the windows, as well as the entirety of the restaurant. As such, Liam's station is placed squarely in the middle of the restaurant. From there he can be seen from anywhere within the establishment, as well as through a large window at the front of the shop. Though Liam's boss was correct, the main draw of Liam working in that particular station came in the form of lots of gay men. While Liam is happy that he's bringing in more business, he doesn't like that kind of attention, being strictly straight. Though he used to hate his job, now it's all he wants to do. Though he isn't yet skilled enough to own his own restaurant, he does wish to, someday, have a place of his own.
∞ Face Claim ∞
"Ergo sum qui sum. He is me, I am him. We are who we are. Nothing crazy or weird about it."
Saïx, Kingdom Hearts
---
---
❝...And the Slithy Toves...❞
---
---
∞ Side ∞
"This world, it can't be natural. This perfect equality? Farcical. People are different, people are special. People will never be equal. We can try, we can make up for it by creating laws that don't restrict our freedoms; laws that offer beneficial rights to all, so no one is excluded due to differences. That's all well and good. However, this doesn't make us equal. Not by a long shot. This inequality, it defines us. It doesn't make us wrong, or imperfect. It simply makes us human."
Liam knows that this kind of society isn't meant to last. People are different. People are unique, it's what makes us special. It's what makes us human. Ignoring that, pressing everyone into a mold and cutting off what doesn't fit, it isn't healthy, and it most certainly isn't right. People have to be free to just exist. There can't be some higher power forcing everyone through the cookie cutter.
∞ Height & Weight ∞
"Just about right, I suppose."
Liam is a healthy size for his age. He's just under six feet tall, standing at five foot ten. He weighs about 165 lbs and has a body mass index (BMI) of 6.4 percent. This means that out of his entire body, only 6.4 percent of it is concentrated fat. The rest of his body is composed of lean, strong muscle. Liam is well built and sturdy, but he's not stocky, nor is he gangly.
∞ Hair color ∞
"This right here, this is gonna make me fly. It makes me an individual, a unique, singular being. I love it, wouldn't trade it for anything."
Liam's hair is a fantastic blue. It's a deep, oceanic blue, that clashes magnificently with his eyes and pale skin.
∞ Eye color ∞
"It's the part of me I love best."
Liam's eyes are golden, a side effect of his Error. When he uses his powers, they shine brightly. He doesn't wear contacts, but, when necessary, he does make use of reading glasses. He usually never wears them.
∞ Distinguishable Facial Features ∞
"I suppose I look rather odd to someone like you. However, this regalia, this crown, makes me who I am. I wouldn't trade it for anything."
Liam sports an odd hair color, a fantastic blue, that isn't natural. In fact, Liam's hair is naturally blonde, but he much prefers it this way, says it's the real him. Further, his hair is very long, going down past his shoulders, and he usually keeps the back of it in a ponytail so as to facilitate movement and fighting. His bangs frame his face, and they're too long to be pinned back, but too short to reach his pontytail. As a result, he just leaves them be. Liam's hair is a source of pride for him, being able to take such good care of it while simultaneously fighting around it makes him feel like he's much stronger than those who cut their hair short to prevent it from getting in the way of combat. Continuing on, Liam's ears have changed, due to his Error. They carry a bit of a fae-like point. It's not overly pronounced, but they are just pointed enough to be noticeable. The effect is, overall, enchanting, as if he'd stepped out of a storybook. Lastly, Liam's eyes are golden, another side effect of his. Error. They shine brightly when he uses his powers. While at first he disliked those parts of himself, marking him as a freak, he know sees that they make him unique. He's an individual now.
∞ Birthmarks/Scars/Tattoos/Piercings ∞
"Every Hiatus has one. The number of the beast as it were..."
VII. Most Hiatus don't openly display their number. After all, a single glance made by the wrong person could get you killed deader than a door nail. Liam is no different, he's smart enough to keep his out of sight. Luckily, Liam's number isn't in a very conspicuous place: on his chest, just below his left shoulder, riding the line made by his collarbone. While this prevents Liam from wearing V-Necked Shirts, he isn't really that upset about it. The only time he might ever wear one was if he were at work, instead, Liam wears regular graphic tee's and sweatpants at work. You gotta be comfortable if you're gonna cook all day. Liam has several other tattoos as well. On his back is a tribal marking, consisting mostly of swirls. His left arm has a sleeve tattoo. Scars, on the other hand, are an entirely different matter. Liam has a myriad of scars all over his body, though his face is miraculously clear, save for the glaring exception. He sports a scar in the shape of an X over the bridge of his nose. It was given to him by Michael Parkinson, a Candy Crush. Though Liam knows that the fight is what gave him the scar, he doesn't remember exactly how he got it. On his wrists, Liam has a great many lines, they criss-cross and overlap, forming a rough patch. These are self-inflicted, Liam took to cutting during the grief brought on by his best friend's death. Lastly, across his chest, from his left hip to his right shoulder, Liam carries a wicked, thick, ropey scar that forms a perfectly straight line. He received this scar from a fellow gang-mate who attempted to force Liam out of his depression by attacking an innocent bystander. Liam intercepted the blow, earning the scar while saving the intended victim's life.
∞ Physical Description ∞
"I've already told you so much. A guy'd get nervous of someone asked him all these personal queries, eh?"
Liam is built solidly. He's not overly stocky or bulky, nor is he thin or gangly. Instead, Liam is built perfectly for his size and weight. His body is toned and lean, a result of his training. His muscles aren't overly bulky for his size, rather, they appear just right for his weight. Liam can always be seen sporting a well-fitting, pressed, collared shirt with a tie of any shape, size, or color. While he doesn't like hats, Liam does enjoy vests, and usually wears one as well. He also sports well-fitting slacks, a leather belt with a simple, but thick, buckle and shiny black dress shoes. Lastly, when traveling extended distances, or going on stealthy missions, Liam also likes to wear a black, hooded cloak that comes down to his knees. Though he isn't a huge fan of the overly Victorian style of clothing that the Landers tend to wear, he does like to look his best. As such, he dresses to match them, but never in the exact same style, preferring the much more avant garde style of clothing he usually wears.
---
---
❝...Did Gyre and Gimble...❞
---
---
∞ Habits/Quirks ∞
✦Tends to snarl when angered.
✦Is usually silent unless spoken to.
✦Liam is left handed.
✦Liam can't wink with either eye.
✦Liam never lies.
✦Wears a silver bracelet on his right wrist.
∞ Likes ∞
♥ Tea, most of the Landers do, and Liam is no exception.
♥ Sweets. Though he isn't a Candy Crush, Liam's got a huge sweet tooth,
and can be easily bribed with such succulent treats.
♥ Honesty. Liam never lies, and he appreciates people who don't lie either.
♥ His Error. As a Hiatus, Liam is rather proud. He doesn't make frequent
use of his error, but when he does use it, he tends to go a bit overboard.
♥ His hair. It's soft, shiny, and long. He's rather proud of it.
♥ Cooking. It's one of Liam's favorite things to do. Any roommate he's ever had fully appreciates Liam's skill and love of the culinary arts.
∞ Dislikes ∞
✖ Dishonesty. As much as Liam likes people to speak their minds.
He hates people who lie. He's a gang member, but that doesn't mean he's got no honor.
✖ Arrogance. People should always be treated with respect.
✖ Spicy things. As a chef he appreciates spicy flavors.
That being said, he simply can't handle them.
✖ People who disrespect others without cause. Liam is big into respect.
✖ Unnecessary death. While Liam's not above using violence as a tool, he isn't the type to go around killing people for no reason. Life is sacred to Liam, something to be protected and fostered. Most fodder class Hiatus who face him walk away with nothing more than a broken ego and some minor wounds. That being said, Liam is ruthless and won't hesitate to kill someone he deems is too dangerous to live.
∞ Talents ∞
✔ Cooking.
✔ Wielding Lunatic.
✔ Fighting, armed or not.
✔ Painting. The same skills that make Liam an extraordinary chef make him a fantastic artist. He has an excellent sense of spatial awareness, color coordination, and imagination. Further, as a chef, his fine motor skills are very prodigious, lending their usefulness to painting rather well. Lastly, Liam has an innate drive to do better and better with each piece he makes. So far, Liam has never entered anything in any sort of competition or exposé, but his flat is full of pieces he's painted.
∞ Hobbies ∞
✔ Working out.
✔ Painting. It figures, he's good at it.
✔ Training with Lunatic.
✔ His job. He doesn't have a lot of free time, and whatever free time he does get is spent working to pay the bills.
✔ Sparring with other Hiatus. Liam never feels like he gets a good match in with people in his own gang, despite the skill of his opponent, Liam always feels like he can do better. Though he hates fighting to kill, Liam is a big fan of sport matches, and loves to push himself to new limits against members of the other gangs in Minimum.
∞ Fears ∞
✘ Enclosed spaces. Classic claustrophobia.
✘ Coulrophobia. Let's be serious, everyone hates clowns.
✘ The dark that your eyes will never adjust to. Though he could light it up with Faerie Fire, eventually, he will run out of energy and be stuck in the dark.
∞ Flaws ∞
✘ Lunatic has a very particular range. In combat, opponents who keep their distance, or engage too closely can be an issue for Liam, though he is skilled enough to work around it. Regardless, a vastly more skilled opponent who fights with either style can be very dangerous for Liam to engage.
✘ Madness. A combination of his fury and repressed trauma, Liam is prone to fits of madness, in which he will attack anything that moves. If Liam is provoked into extreme fury or fear, he has a possibility of losing control of himself.
✘ Excessive Loyalty. Due to his past, Liam is very afraid of losing the people he holds precious to him. As such, he treats every friend he hads ever made as if they were the only friend he has. Liam would trade a single friend for the entire world in a heartbeat.
∞ Secrets ∞
⌛ Is responsible for the death of Madoka Oshino's brother.
⌛ Has a collection of stuffed animals in his closet. He sleeps with at least one when he goes to bed.
⌛ Harbors a split personality in the form of a PTSD triggered Persona.
---
---
---
---
∞ Weapon ∞
"Lunatic is the rhyme and the reason. It is the cause of my success and the result of careful training and extreme diligence. It is no longer a weapon. It is me, an extension of myself."
Unlike the more subtle members of his gang, Liam wields a wicked, two-edged claymore, which he fondly refers to as, "Lunatic." The blade is composed entirely out of a strange, dense metal, that Liam has, thus far, been entirely unable to break. This isn't for lack of trying, however, as Liam gets into far to many fights for his own good, and the claymore hasn't failed him yet. It's a massive blade. It's full length, including the the two-handed pommel, is just as tall as he is. For a weapon this size, and density, the blade is actually relatively light, weighing in at an even six lbs. The weight and reach of the weapon is used to create wide, powerful swings, capable of massive damage. However, in his youth, Liam thought that was all Lunatic was good for, he knows better now. Though the blade is massive, Liam is strong enough to wield it one-handed and still produce massive power. That being said, he benefits from increased control, strength of blows, and technique when he wields it with both hands, and will wield it in this manner more often than not. Liam is well trained in the use of the claymore, and is capable of performing feats of rapid-speed fencing with the sword. Due to sheer ungodly amount of training he has undergone, as well as using the blade in every battle he has ever fought, Liam has overcome the burden of weight and size. As such, he is capable of handling the blade exceedingly efficiently in any amount of open space, though he will prefer to fight in an open area. While Liam is very proficient with his claymore, the weapon does have quite a few weaknesses. The first being that it's a clunky weapon. The size, shape, and weight of the blade make it difficult to wield in extreme close-quarters fighting. Second, though he is a good fighter, due to the weight of his weapon, Liam will tire much quicker than his opponent. After a while, the blade will become easier to dodge as his strikes become slower, wider, and generally more open. This usually only happens in prolonged battles, as Liam has a fair bit of stamina, and engagements lasting longer than ten minutes tend to go poorly for him. However, a skilled opponent could accelerate this process by forcing Liam into working harder than necessary, and could tire him out much quicker with the use of clever tactics. Lastly, the grip of Liam's blade is very smooth. Though he has attempted to fix it by wrapping the pommel with tape, to create grooves for his hands, as he becomes more and more tired the blade will be much harder to hold onto.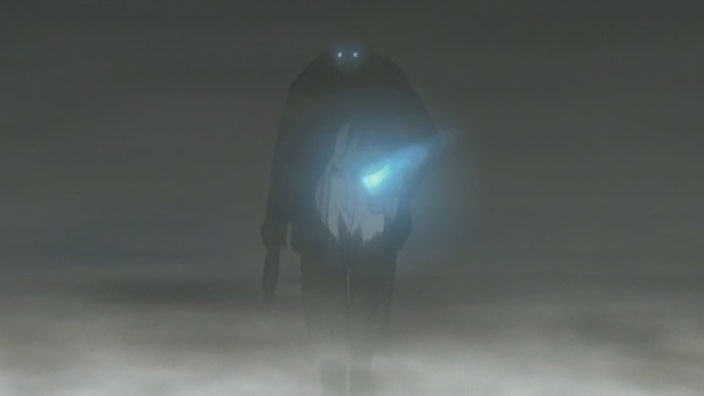 ∞ Error ∞
"These flames, this madness, they are perfect for me. The Diviner is dead, consumed by hatred and darkness. The Savage Nymph is born again from the flames, like a phoenix, eternal."
Will o' the Wisp Manipulation~ With this Error, Liam is capable of generating, manipulating, and absorbing Faerie Fire and Fox Fire. Both types of fire are blue in color, and naturally form into little wisps, creating small balls of fire when separated from the main host of the flames, which similarly form balls of flame. As stated previously, there are two types of fire that Liam can create while using his Error, the Burning Fox-Fire, and the Glamour-Inducing Faerie Fire. While he can use his ability without Lunatic, he isn't very proficient in controlling it, meaning the fire can run rampant, and spread to places he doesn't want it to go. While this isn't as much of an issue with Faerie Fire, the devastation created by the Fox-Fire isn't something he wants running around so freely. Instead, Liam is much more capable of controlling and maintaining the fire he creates when he allows it to cover Lunatic. This purpose is two-fold. When using Faerie Fire, an opponent will have to watch his weapon so as to fight back. When using the Fox-Fire, Liam can allow his sword strikes to act as the conduit for the flames, helping them to spread in the direction he wants them to.

Fox-Fire, the kind which burns, is capable of consuming corporeal objects like true fire does, however, it burns at an incredibly low temperatures, averaging somewhere between 30 and 50 degrees below zero. When this Burning Fox-Fire encounters non-living objects, it consumes them like a fire would, rapidly oxidizing the matter of the object. However, the reaction absorbs heat, and any remains that are created, like ashes or dust, are freezing cold. Interestingly enough, when the Burning Fox-Fire encounters living matter, it first saps all the energy out of the affected individual first. This effects any type of energy: chemical, thermal, electrical, mechanical, etc, draining it from the effected individual at a set rate. Being in the Fox-Fire for a longer period of time does not cause it to effect you more rapidly. Any and all energy that is consumed in this manner is absorbed into the Fox-Fire, making it bigger, and burning much more coldly. If an individual does stay in the Fox-Fire for a long period of time, it will continue absorbing energy at a set rate, but due to the increasing size of the fire, it will effect more of that individual as it continues to grow. After consuming all the energy from a living being, the Fox-Fire then consumes the individual's matter, burning like a normal flame, albeit at sub-zero temperatures, freezing them in place. This fire, unlike the Faerie Fire, is capable of being put out by being smothered. For example, say Liam has managed to set part of someone's shirt on fire. It that person were to immediately stop, drop, and roll, the fire would be extinguished. However, doing so in the middle of combat is likely to get you killed, but swatting at the flames, or using dirt or any other method to smother them, and cut off the flow of oxygen, will still work as normal. However, if you should attempt to douse the flame with water, the incredibly cold temperatures of the Fox-Fire will cause the water to freeze to you on contact, helping the flame to grow by sapping away your thermal energy. However terrifying this ability should seem, rest easily. It requires much more energy for Liam to create a Burning Fox-Fire than it does for him to create the glamour-inducing Faerie Fire. The difference in energy required is a bit more than double, and, as a result, the Burning Fox-Fire is much harder to create. While Liam is capable of creating the Burning Fox-Fire at will, it is much more difficult for him to produce large amounts of it than it is for Faerie Fire. Currently, Liam needs to be influenced by powerful stimulation, motivation, or emotion in order to produce Burning Fox-Fire in any sort of amount that would be overly destructive. For example, Liam is capable of cloaking his claymore with Fox-Fire, but keeping it covered in this manner for any extended period of time is rather difficult. The longest he could do so, while still fighting to the best of his physical ability, would be 7 minutes. However, afterwards he would be completely exhausted and at risk of passing out.

Instead, he is much more comfortable in using the tricky, and manipulative Faerie Fire. The main purpose of Faerie Fire is to confuse, hypnotize, and ensnare the minds of those who view it. The Faerie Fire is also blue, like the Burning Fox-Fire, however, it creates no heat, or even a lack thereof. Instead, the Faerie Fire is simply an illusion, made entirely out of light, and can only effect people who can see it, and sentient beings who can recognize that the fire is in front of them. However, one should still be careful of the glamour of the Faerie Fire. The longer that a person stares into the Faerie Fire, the more it will take root in their mind. The more someone stares at the fire, the more it seems to dance and weave, spreading over the majority of the battlefield and hiding Liam behind it. This makes Liam seem to disappear entirely, and can allow him to take a strategic exit, or move in for the finishing blow. The fire can also seem to bounce and spread, hurting the eyes and causing an effected individual to lose their equilibrium and become very dizzy. Lastly, the fire can seem to flicker and glow causing an effected individual to begin entering a trance-like state in which they appear completely normal. However, depending on the severity of this trance, Liam can give orders to the person whom he has hypnotized, forcing them to do his bidding. Though the Faerie fire is a devious, and sneaky tool, it does have a few weaknesses as well. It doesn't work as well on individuals with strong wills and desires. If someone is bound and determined to continue fighting, the fire will have a harder time taking root, and will not be as effective. This fire has a set time limit when it is outside of Liam's body. Five minutes after a single wisp is created, it will fade from existence, being absorbed back into Liam's body, requiring that Liam make more wisps if he wishes to continue sabotaging his opponent's mind.
∞ Personality ∞
"I hope, even if only a little, that by acting the way I do, I can atone for him sins. Bit by bit, I'll do whatever it takes so I can face him with pride."
At a glance, Liam is very quiet and stoic, not saying much unless pressed to speak. He is also incredibly analytic, always heavily judging the situation before acting. He is very loyal to the people who have helped him, not wanting to be weighed down by the debt he owes them. He can be surprisingly whimsical when he wants to be, though he doesn't show that side of himself often. However, not all is as it seems with Liam. Like most of the Landers, within Liam lurks a darkness. Liam's temper has always been an issue. Ever since he was little his problems with his anger were always getting him into trouble. However, with the addition of his Error, that once little problem has become a huge threat, devolving into the madness of the Landers. "Pan," his particular brand of madness, is almost a second personality of Liam's, pushing him to violently expel the norms of Minimum, and let true destruction take him over. "Pan," is condescending, cruel, and highly sarcastic. He speaks with different vocal inflections, that are much harsher, and more grating on the ears than Liam's normally smooth and soothing vocal tones.

Digging deeper, as his good friends know, Liam is, or at least tries to be, a good guy. He is big into respecting people, giving them the benefit of the doubt, and he will always offer second chances. Liam abides by his own personal code of conduct. It doesn't matter if he's fighting, working, or even just taking it easy. Growing up in a place like Minimum, Liam sought anything, everything that might make him an individual. He wanted to be someone who stood out from the rest. During a particular bout of reading, Liam stumbled across a few history book. While, at first, all Liam wanted to do was look at the maps and the pictures, he eventually stumbled across the concept of a Knight, and the Knightly Orders. Finding these concepts fascinating, Liam looked for examples in the other books, and found out the meaning of Chivalry, and the art of Bushido. Finding these concepts to be incredibly noble, and honorable, Liam sought to emulate them. He formed his own mish-mashed sort of code of honor, taking the best aspects of each, and combining them. This code of conduct influences all aspects of his life, and helps him to make choices no matter what he's doing.

Lastly, though he wouldn't tell you, he's really just a big softie. His heart aches when he sees people in trouble and he has a hard time just letting horrible things happen around him. The main reason he even became a hiatus in the first place was to protect the people who were close to him. Liam is very generous and kind, always going the extra mile for those he loves. Though Liam often speaks very bluntly, he is always polite and well-mannered. Liam is a stalwart defender of good, and his eyes carry no fear in them whatsoever. However, when Liam engages in combat, he is nothing like his normal self. He is brutal, efficient, and coldly detached from the actions he takes while fighting.
---
---
❝All Mimsy were the Borogroves...❞
---
---
∞ Romantic Interest ∞
"I am not worthy of love. I am horrible, vile, and incapable of being loved."
None as of yet, too depressed about Markys and his situation with Madoka to consider dating. That being said, I'm open to applications/suggestions.
∞ Most Precious Person ∞
"She is the only thing I have left. She is the only trace that he ever existed in this world. For her, I will do anything, I will be anything, I will face anyone. For her... For him... For them... I will destroy this wretched place."
Currently, though he cannot bring himself to face her, Liam's most precious person is his childhood friend, Madoka Oshino. She is the twin brother of Liam's deceased best friend, Markys Oshino. Though the two are in opposing gangs, Liam does his best to look out for her from his side of things, often using his relationship with Nia Dionne to check up on her. He would never forgive himself if he lost her too.
∞ History ∞
"A sad story, written against my will. Fear not, little one, in telling you, my resolve is only strengthened. Though my body is weak, my resolve is stronger than ever. I will see it through. For him."
Liam was born into a somewhat odd little family. His father died in an accident when he was very little. His mother, unable to raise the child on her own, moved back in with her parents. Liam, who was too young to remember ever having met his father, never openly missed him. As much as Liam was sad that his father was dead, Liam need truly grieved very deeply about it like his mother or grandparents did. Despite his familial situation, Liam grew up well. His grandparents were kind to him, and played with him often. His mother worked two jobs to help support her parents and child, the former having retired, but she was around enough to be a stable and nurturing prescence in his life. Liam loved his little family, even if they were somewhat odd, they were his, and he theirs.

When Liam turned six, he was admitted into a local kindergarten, where he soon made friends with Markys Oshino, the twin brother of Madoka Oshino. The two were fast friends, and as they grew older, their bond only deepened. By the time they were in the third grade, they were best friends, and both had been to each other's house on multiple occassions. It was in this way that Liam met Madoka, and the little trio spent many summer days getting into trouble, playing games of all sorts, and running around like complete hooligans. For Liam, those days were the best of times, he had his family, he had his two best friends, and he had a wonderful life. It was perfect.

The little trio moved on to middle school, and it was there that Liam's world began to fall apart. Madoka and Markys seemed to become more and more distant from each other. Though Liam tried his hardest to bridge the gap, he couldn't seem to get the twins to reconcile. After a full week of Liam putting up with Markys completely ignoring Madoka, Liam had had enough. He cornered his friendsafter school and forced him to spill the beans. It turned out, Markys was a hiatus. He had joined the gang as a form of protection. His sister was precious to him. She was so precious, beloved by Markys, that, in order to protect her, Markys joined te Wonderland, to gain the power of the Hiatus. Liam railed on him, called him insane, told him to quit while he still had the chance and to reuntie with his sister who was desperate for his attention. Markys only scoffed. He told Liam that he was being stupid, and that the only true way to ensure her safety was his method. Though. Liam engaged Markys, the power of his Error was too strong. Liam was furious with him, but instead of. gloating, like he was known to, Markys offered his hand to. Liam. He offered Liam a way to get stronger, to join the Wondefland. Though he was hesitant, Liam accepted, if only to protect Markys and Madoka from their own foolishness.

Though he had joined on his best friend's whim, life within the gang suited Liam well. He had always been a stellar athlete, but the power of the Error turned him into a true warrior. When Lunatic materialized, Liam took to mastering it. He carried the blade around with him everywhere, wrapped up in bandages and stored in a guitar case. Whenever he had time for it, Liam was always handling the blade, practicing with it, and carving his body into a tool of war. He succeeded in that endeavor. In terms of raw power, Liam quickly surpassed Markys, and shortly after beating him in physical combat, Liam surpassed Markys in the control and mastery of his Error. Markys was no slouch, Liam was just better. Though, Liam hated Markys for abandoning his sister, the two were still best friends. Their teamwork was absolutely flawless, and their abilities complimented each other rather well. They were often paired as a two man cell, going off on reconnaissance missions and snatch and grabs together. In this manner, they were also flawless.

During this time, the pair became well-known amongst the world of the gangs and Hiatus. Liam, the Luna Diviner, and Markys, the Savage Nymph, were a force to be reckoned with. Though Marky's was the two-man cell's self-proclaimed leader, anyone with any battle sense could tell Liam was the true muscle between the two of them. His style was brutal, efficient, and flawless. Liam's physical power was, arguably, the best amongst the Hiatus of his level. He was no Lieutenant, in terms of thinking ability or power control, but in physical combat, Liam easily matched one. Markys, on the other hand, easily made up for Liam's weaknesses with his own strengths. In battle, his mind was like a steel trap, and his ability to freely control his power was phenomenal. As a duo, they were formidable.

However, such a reputation couldn't last. Due to their competence, they were assigned increasingly more difficult missions. Their most difficult mission, would end up being Markys's last. The acquisition of their target had been flawless, they broke into a high security office, dodged most of the security, and incapacitated the ones who found them. Their objective was simple: a briefcase containing an unknown item that was needed by the Wonderland's leader. However, during their escape, Markys was tagged by a Core, the man saw his face when Marky's mask slipped. When the pair engaged on their adversary, they were easily outmatched, and Markys was knocked unconscious. Though Liam had managed to escape, salvaging the mission and saving Markys's life, the victory wasn't a joyous one. Liam's best friend was marked for death. Markys begged with Liam, tried to get him to help out. They could move away from here, go to a place outside of Minimum, Madoka could come too and it would all be perfect. However, Liam had received orders to leave Markys alone. Since he was a dead man anyway, all members of the gang were to remain as far away from him as possible. They were not to jeopardize the location or status of the gang. Liam was torn. His orders had come from the top, the Chesire Cat herself, but Markys was his best friend, how could he just leave him to die?

In keeping his his reputation amongst the gang, at the time, Liam, with great hesitation, obeyed the rules. He gave Markys all the money he had and told him to run. Liam couldn't hide him or protect him any longer. Markys was furious. Though Liam tried to reason with him, to tell him not to involve Madoka and to just get the hell out of Minimum, Markys refused. He called Liam a traitor, he punched him repeatedly, and he cried out loudly, trying to win Liam back over to his side, but it was too late. Hurt, and feeling ultimate sadness, Liam refused. He retorted back to Markys, calling him a fool and breaking the bond between them, saying they were no longer friends- no longer brothers. Both were understandably upset, and the boys clashed, fighting viciously. Markys may have joined before Liam, but Liam had always been stronger than him. Liam thrashed him, but he let Markys live, leaving him with a wicked slash across his face. If Liam had attacked Markys seriously, Lunatic would have crushed his skull instead of leaving him with only a scratch. They had been friends for so long, Liam would not kill the man, Liam couldn't.

After a week of not hearing from him, Liam went looking for Markys, he was desperately penitent. He missed his best friend. Liam planned on apologizing and running away with him. He checked first at his friend's apartment. The man lady told him Markys had moved out last week. Liam followed the signs and clues until he arrived at an unmarked grave. Markys was dead. Liam was devastated.

After that, Liam avoided Madoka. He was depressed beyond what words can describe, taking to cutting to make himself feel better. He was sure Madoka, his last real friend in Minimum, hated him, not only for being a Hiatus, but for the part he played in Markys's death. He tried, for a whole week to find a way to tell her, but he couldn't bring himself to face her. Instead, he slipped a note into her bag when she was at school. He wrote it using his right hand so she wouldn't recognize his scrawl. Ashamed, Liam took a week off of gang work, he barely even showed up at his real job, forcing an inquiry as to his condition. Liam requested some time off. Since, by then, his position at the restaurant was high enough, his boss allowed it, telling Liam to get his head on straight. Thanking him, Liam went on a bit of a quest to find himself. He visited Markys's grave, leaving white lillies, a symbol of undying friendship and affection. He spoke to Markys's grave, as if his friend could hear it. He made a promise, then and there, that he would tear Minimum down with his own two hands. He would destroy the establishment that ended his best friend's life. After swearing that oath, Liam adopted his friend's code name: The Savage Nymph. Liam has yet to find out who the man was that killed Markys, but he's at the top of Liam's list. Liam refused to quit, but the task was gargantuan. There's was no way he could do it blind and alone. He needed answers, and for that, Liam had to get a Candy Crush to talk.

It wasn't easy, finding their headquarters, it would have been way easier if Markys had been with him, but Liam found the Candy Crushers on his own. He snooped around for a bit, unable to find the entrance, when who should he stumble upon but Michael Parkinson, a member of the gang. The obvious interaction proceeds, in which Michael wants to know what Liam is doing there. Liam says he's looking for information and that Michael will either tell him, or Liam will beat him half to death and force him to talk. Michael takes exception to that, and the pair begins to fight. Though Liam had the upper hand, as far as sheer strength and battle experience was concerned, Michael made up the difference with the clever use of his Error and improvisation, forcing the match into a draw. Impressed, Liam congratulated Michael on keeping up, as he'd thought the Candy Crush were weaklings who never took their noses out of their books. Michael returned the compliment, stating that'd he'd often wondered if the rumors concerning Liam were true. Having experienced Liam's power for himself, Michael begrudging admitted that they didn't do the real man justice. At that, the pair struck up an rocky rivalry. Though friendly, and somewhat back-handed, the pair got along well enough, and Liam used Micheal to find out more about the Core while Liam taught Michael some of, but not all, his tricks in combat. After a few meetings, Micahel felt he could trust Liam enough to share what he knew about the Core. Though information on the subject was limited at best, Liam immersed himself in it, trying to earn everything. Having learned all he could about the core, Liam offered to continue sparring with Michael, as the pair were well suited as dueling partners, even though he didn't need any more information about Core. Michael accepted, and the pair exchanged contact information.

During their most recent battle, Michael pressured Liam much more than he had anticipated. In a fantastic combo exchange on the part of Michael, Liam blacked out, but Pan woke up instantly. His eyes were different from Liam's orange and red, not their usual gold. Pan fought bitterly against Michael, outperforming and overwhelming him at every turn, and giving him the massive wound on his back that would eventually become a gruesome scar. Thinking quickly, Michael managed to land two hits on Liam, leaving him with the scars on his face. Distracted, Pan lost track of Michael, who slipped away to heal. It's been a year since they last saw each other.

Shortly after his last battle with Michael, Liam's depression took a turn to the worse. The only friend he'd made in a long time was gone. He was alone again, still unable to meet Madoka. His gang-mates took notice, and tried their hardest to cheer him up. They took him around town, taking him to restaurants, bars, and any number of entertainment facilities. When Liam politely told them he just wanted to go home, one of his gang-mates became infuriated with him. He dragged Liam outside, and ranted and railed against him. Apparently, Liam was the reason he'd joined the Wonderland, and Liam was his hero; a stoic, strong, and dependable Hiatus who always took care of his friends. In a bout of rage, the man attacked a passerby with his Error, encouraging Liam to take up slaughter and destruction once more. Aghast, Liam moved to intercept the blow. He sustained a massive wound across his chest, but he didn't falter, instead, he took out Lunatic and mercilessly thrashed his gang-mate. Liam said that strength with no purpose is just violence. People who don't fight to defend something precious, people who don't value life, are no friends of his.

His doldrums ended, though he was still on his mission to end Minimum, Liam returned to work and Wonderland's activities. He attacked his assignments with renewed gusto. If even one small thing he did could help bring down the Core and Minimum, Liam would to it. He would see this city burn. After one particularly good day at work, Liam ended up encountering Nia Dionne. Landers usually made a point of fighting Sonics, especially one with a reputation like Nia's, on sight. However, Liam ignored Nia. Though he could tell just from the way she carried herself that she was a warrior and a Hiatus, Liam didn't feel the need to pursue her or strike up a conversation, as he didn't know her name. Further, it's quite rude to simply challenge someone to a battle for no reason, especially in the middle of a crowded city square. Nia on the other hand, was intrigued. The Savage Nymph was a man who was relatively well-known in the underworld of Minimum. So, Nia followed him. A man with a face like his, who's guitar case obviously held no such instrument, and a palpable aura of battle-savvy had peaked her interest. Having noticed he was being followed, Liam led Nia to an abandoned lot in-between a few warehouses. Standing in the middle of the area, Liam slung his guitar case off of his shoulders and opened it, revealing the bandaged-up Lunatic. He called out to Nia, saying he knew she'd tailed him, and to come out and fight. Accepting his offer, the two engaged. Blow for blow, the pair were even, almost supernaturally so. Although Nia was much faster and more agile that Liam, he made up the difference with brute strength and extreme skill with his weapon. The pair battled from mid-afternoon to sunset without a clear winner. Raging against each other, they battled viciously, becoming more and more determined to kill each other with each exchanged strike. Exhausted, and foreseeing no end to the conflict, Liam ended the match by using up the last of his energy to flood the area with Faerie Fire. While Nia was briefly incapacitated, and Liam could have killed her in the brief pause in her movement, Liam had no more energy for a follow up attack. Sitting down, he declared the match a draw. Liam complimented her form, saying he'd never seen such a precise and nimble fighter. She wielded her chosen weapon with confidence and matchless technique, and Liam could tell she'd been at it for a long time, just like him. Asking what gang she hailed from, and smiling when he found out she was a Sonic, Liam offered his hand to shake. The two became friendly rivals, and often meet up at that same location to have practice matches. Though their gangs are supposed to hate each other, Liam and Nia respect each other, holding the other warrior in high-esteem.

It's been roughly two years since the death of Markys. Though Liam hates the role he played in his friend's death. He does plan on visiting the grave on the anniversary date, coincidentally, the same day he told Madoka. He's currently just working his job and his position within his gang, trying to get enough money and reputation to get the information and power to take down the Core and burn Minimum to the ground.
---
---
❝...And the Momeraths Outgrabe.❞
---
---