Name
Lochead, Campden
Age
Fifteen
Sex
Female
Physical Appearance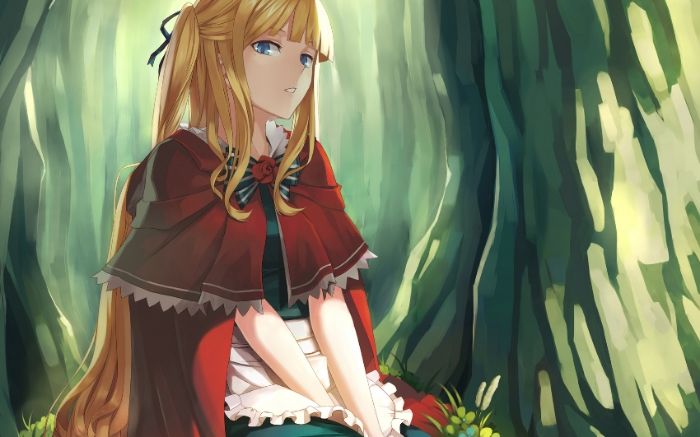 Campden could be described as a rather small and nondescript teenage girl, with a soft-featured but well-formed face and a mess of dead-straight blonde hair that doesn't at all cascade down her back in a golden waterfall of loveliness as she would prefer it to. She's on the smaller end of the spectrum but not terribly so, as she stands at 5'3'' and weighs a healthy 110.5 pounds. Her build is more girlish than grown, with a small waist and almost delicately sloped shoulders hardly suited to any sort of labor. By no means is she athletic; while she is flexible and quick on her feet, she clearly has little to no strength, especially in her upper body. Her skin is light, burning easily, as are her eyes—a washed-out green with a hint of blue.
In terms of dress, Campden leans towards the formal side. She's partial to skirts, dresses, and cardigans, but she has no problem wearing ratty jeans and an old T-shirt if it's what's required of her. She has a taste for Converse and has owned the same pair for a good five years— her feet haven't grown a bit since the fifth grade, and she could easily pass for a girl a couple years younger if she tried. Currently, she sports a long, belted grey tunic over a pair of black leggings and her trademark black All-Stars along with a handful of other necessities: a white, somewhat chunky watch, hair elastics, and a silver charm bracelet.
Campden is never without a black messenger back slung over one shoulder. It contains her notebook, a novel, a handful of pencils, gum, her phone, her wallet— anything she might carry on a normal day. Despite the bag, she carries a pocketknife on her body at all times even though she has never had reason to use it.
Campden's fingers are calloused and she can be often found massaging out her wrists. Both of these are caused by her daily practice regimen for both piano and violin.
In terms of sleepwear, Campden is liable to wear a pair of plaid sleep pants and a loose, short-sleeved white shirt on top. She always braids her hair before she sleeps to avoid tangles in the morning, and she's used to sleeping with her hair wet. At the time of the quarantine, however, she isn't wearing any sleepwear, as her plane was forced to land while flying over what had become a restricted airspace. As such, she looks jet-lagged but is wearing the above-described outfit.
Her expression is one of perpetual boredom, but she manages to spare the occasional smile when she needs to, and she can actually be quite liberal with the grimaces. Despite this, she seems to exude an air of "easily manipulated," perhaps because of her seemingly dainty personality and truthfully weak composure. She doesn't look as though she goes outside much because she doesn't, though she is weak she has some degree of stamina built from her involvement in the school swim team.
Personality
Campden will initially come off as a shy, demure city girl, preferring to sit by herself and write in the place of actively helping others with whatever the problem at hand may be. As such, she can seem a bit like a spoiled princess unused to labor— and, to an extent, she is. Campden's underlying personality, however, is much more intense and volatile.
Raised in an upper-middle-class household of a doctor and his housewife, Campden is well-versed in the art of self-restraint; both her home life and her school life at the secular, all-girls Marienne Marche Academy taught her to fold her hands over crossed legs to make a good first impression. Her manners are impeccable when she wants them to be, but she can eschew them altogether when she wants her opinions to be heard.
For a single-gender academy, Campden's school was surprisingly liberal and taught its students to question. As such, Campden is not only atheistic but a touch nihilistic, as well, after having failed multiple times to find any sort of meaning in her life. She's very opinionated, and even if her opinions don't initially seem to play a major role in her personality they inevitably will show in her decision-making. She's cynical and craves a scientific explanation for anything even if she won't understand the answer itself. With a mind tuned ruthlessly to seek out logic, she makes an expert debater and will accept no less than a perfectly framed argument when vouching for a decision she doesn't agree with. Campden isn't one to last long in debate, however; she doesn't know why, but she has a tendency to start crying every time she gets into an argument regardless of her emotional ties (or lack thereof) to the situation at hand.
By teachers and peers alike, Campden was considered a brilliant student. Years of practice and a good deal of natural talent have lent her the title of a gifted violinist, and she has an expansive vocabulary and considerable— though not outstanding, really— mathematical skill. While she is by no means a walking calculator or encyclopedia, she has a knack for picking out patterns and is, in essence, a very bright young girl. She has a bit of a complex about her age, as she's one of the youngest in her grade and was often teased, left out, or made to play the 'baby' by the other girls for having a late birthday. She doesn't like it when the topic comes up, especially under circumstances in which the validity of one of her precious arguments is being questioned. Even knowing this, she tends to be argumentative and obstinate and can rarely admit that she is in the wrong.
She's also a bit of a feminist and has an almost irrational aversion to taking orders or being told what to do in any way. Campden is easily convinced that others are being condescending toward her for some reason or another, so she believes religiously that respect is never automatic and must be earned. Being sly and often having gotten away with things that she shouldn't have, Campden isn't afraid to break the rules so long as it 1) benefits her and 2) won't get her caught.
History-in-the-Works
Campden attended the Marienne Marche Academy for Girls from grade four upwards, having been educated at a co-educational private school before then. She has won a number of regional awards for her music and has dabbled in composing. She is used to bickering between her parents, having grown up with a religious, traditionalist father and a well-educated, reformed "country girl" of a mother. Her respite has always been her music and her writing, as the two represent the collision between her upper-class, traditionalist upbringing with a modern, questioning standpoint on life. Though she was always the quiet girl reading in the corner during her elementary years, she has since become more outspoken, but it's important to keep in mind that she is still going through her own major stages of development at this point in time. She is well-read, having been an early reader, but she lacks experience in the real world.
Campden lived in a nice part of San Francisco and was put into the quarantine zone after the military forced her flight to land in the restricted airspace. Her tiny, single-function Swiss knife made it through the airport security (really, it's almost useless except for perhaps cutting up apples) and the ride to the quarantine zone. Hers was a small flight from San Franciso, her city of residence, to Albuquerque where she was to have a layover before flying out to New York in the morning. Not seeing her as much of a threat, the soldiers mostly overlooked her in transport to the zone, and she was able to stay with her bag.
Other
Campden is a surprisingly good swimmer, having just come off a handful of years on her school's swim team. She also has a soft spot for cats, some medical knowledge, and a terrible immune system.