Name
: Tbore Rydel
Age:
19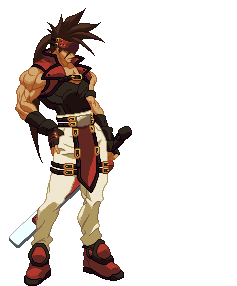 Likes:
+ Weapons
+ Fighting
+ Having fun
+ Women
+ Animals
Dislikes:
- Working
- The cold
- Flying
- Staying still
Hobbies:
~ Getting drunk
~ Making trouble
~ Working odd jobs (Usually bounties or protection details)
~ Bettering his swordplay and marksmanship
Pets:
None officially but always strays wonder around him.
Abilities:
~ Has a natural affinity with animals.
~ Magic linked and sourced with his weapon
~ Extremely gifted with the sword
Weapon:
A self made mechanical broadsword gun-blade that's fused with his limited
magic, allowing him total control over every aspect of the weapon.
Weaknesses:
- Women
- Impatient
- Cocky
- Extreme cold
Strengths:
+ Physical very strong
+ Revered swordsman
+ Confident in everything he dose
+ Incredible endurance
Background:
Born and raised in a slums tavern, he grew up seeing the darker the side of people. Witness to countless drunken arguments and brawls at a young age he quickly became jaded. By the time he was twelve he had seen the worst it could offer and was completely unaffected by death and violence. As soon as he was able to work his parents forced him to work behind the bar, during the following years he became a listening ear to a lot of regular patrons and learned from them to see the humor in all the darkness around them. In all the spare time he had he worked on building up his body, and when he first laid hands on an old relic of a sword his father had, it felt right to him. Swordplay became his new passion and he practiced every chance he got, soon discovering he had a small amount of magic that could be used to help him wield the blade. It was during one of his off days when he was out practicing with the sword that during another drunken brawl the bad had gone up in flames, taking his parents with it. But to his own slight surprise he felt no pain or remorse at the loss of his parents, they were not cruel or unkind, he just simply could not care that they were gone. With the small amount of money he got from the bars remains the selling the land he used it all to buy the materials to build a new sword and with the help of a powerful magician was able to fuse his own magic with it. For the last four years he has been a drifter, traveling from city to city taking any job he could to get buy. Tho he tended to lean towards things that would provide entertainment, bounties or anything that promised action.