Name:
Devlin Íobairt
Nickname:
None
Age:
20
Gender:
Male
Height:
5'6"
Weight:
120 lbs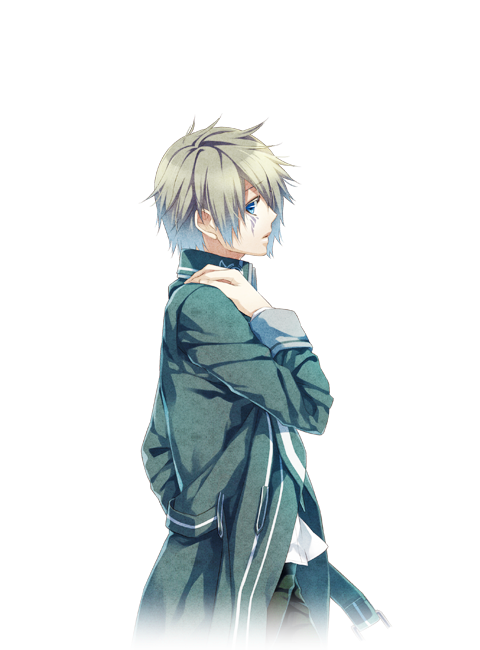 Appearance:
Devlin is not one to command much attention in a room. He is quite small in stature at a measly 5'6" with a rather scrawny frame. With gray-blonde hair that falls over gray eyes, his appearance is not unlike a dreary, cloudy afternoon. He walks without purpose and tends to cross his arms across his body; a subconscious way of protecting himself from others. Curiously, he was born with a mark underneath his right eye; bluish lines set against his pale complexion. It is an odd birthmark that the young man has grown accustomed to.
Personality:
There is but a handful of people on Ter'Ciel who can say they know Devlin Íobairt, and none of them would say that the boy has much of a personality at all. He is quiet and reserved, almost painfully so. From his soft spoken voice to his awkward stance, seemingly every aspect of the boy suggests a deep insecurity. Devlin would much rather apologize for anything than to become involved in any sort of conflict. Indeed, his shyness and uncertainty seem to weigh upon him at all times.
Despite his rather pitiable demeanor, one cannot deny the small flicker of light behind Devlin's gray eyes. It is almost as if he is simply waiting. Biding his time until he can grow into the decisive, confident person he longs to be.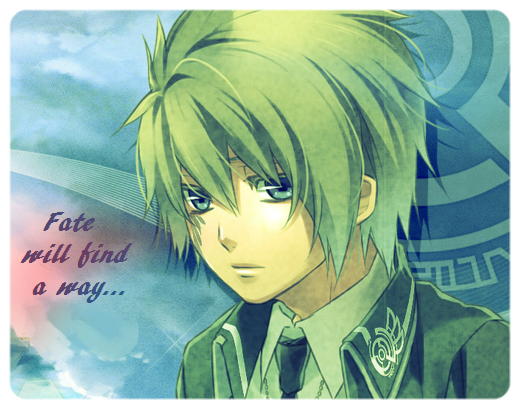 Likes
+ Mythology
+ Cooking
Dislikes
- Confrontation
- Lonliness
Fears
x Abandonment
x Personal Weakness
x Dogs
Talents
o Sewing
o Cleaning
Flaws
= Shy
= Insecure
Background:
At the height of the bloodshed in the heavens above Ter'Ciel, the gods knew failure was imminent. Together, the remaining deities made the solemn decision to sacrifice their immortal lives in an effort to seal away the alien parasite that had gripped their once beautiful world. The seal was not intended to last indefinitely, however. There would eventually come a time when the spiritual bindings would be broken, and the parasite would finish what it had started. It would be then that the gods, having been reborn unto Ter'Ciel, would awaken. They would regain their lost powers and protect all that they held dear. But to do that, a catalyst was needed. A soul, specifically chosen with the destiny of reawakening the gods, returning to them their memories, powers, and immortality. Ancient prophecy passed down by the priests of yore states that the Awakener will serve as the cornerstone to the salvation of Ter'Ciel. But could such a heavy destiny be placed upon the shoulders of a mere human? Have the gods made one final mistake in protecting their world?
It is safe to assume that the young parents of Devlin Íobairt had no idea that they had given birth to the fabled Awakener of the gods. Nor would they ever learn why the bandits who broke into their home one fateful night, would slit both their throats and leave without taking a single gold coin. Orphaned and just having learned to walk, Devlin was taken in by the prestigious House Grayson. Serving on the High Council of Airyglyph for generations, the powerful and influential Graysons had dealings in the weapons industry. Their products were a household name. Devlin did not have the good fortune of being adopted into House Grayson, however. The head of the family, Lord Augustine Grayson, had taken pity on the poor, miserable child and agreed to take him in as a domestic servant. And so, the earliest memories of the child were soon taken over by that of his life of servitude.
From the very start, Devlin did not have an easy time in House Grayson. He was taught the basics on how to serve the family as a butler and errand boy and even found some enjoyment in domestic chores. But before long, too much responsibility was placed upon the shoulders of the young man. Whenever he fell short in his duties, the boy was severely punished. Whipped, beaten, or locked away in his meager chamber without food. The other servants whispered about how the poor boy had somehow found himself on the wrong side of Lord Augustine, as the Lord's demands often seemed designed to see Devlin fail. Before long, they distanced themselves from him, for fear that they themselves might incur the wrath of the head of House Grayson. And so, Devlin grew up alone in a mansion filled with people, surrounded by luxury he could never experience and power he could never have.
One day, near the time of the autumn solstice, Devlin received a request from Lord Augustine. Feeling his heart sink with dread at the impossible task to soon be set before him, the boy resigned himself to his fate. What was requested of him, however, had surprised nearly everyone of House Grayson, most of all Devlin himself. He was to accompany Lord Augustine on a trip to the town of Kirlsa. There was to be a meeting to discuss new weapon plans that was expected to take about a week. Devlin was responsible for personally serving Lord Augustine during the trip. While the other servants glowered enviously at such a fortuitous opportunity the young man was getting, Devlin himself felt anything but fortunate. Something was on the horizon. Something bad. And Devlin had a feeling that, whatever that "something" was, he was going to be at the center of it.