Name:
Hans Amsel
Nickname:
None
Age:
22
Gender:
Male
Height:
6'0"
Weight:
Unknown
Appearance:
Despite appearances, Hans is actually a male. He stands rather tall at an even six feet with a statuesque poise. Locks of golden blonde hair fall in delicate curls about his shoulders and travel down to just above his waistline, framing a delicate, porcelain face. His cheekbones are well defined and his nose is straight with a slight upward curve at the tip. Wide, almond-shaped eyes shine an impossibly bright emerald and are outlined by thick, dark eyelashes. His lips are full and usually pursed in a slight mock pout. Hans' body is lean and toned with slight muscle definition and competent physical strength that belies his delicate appearance. Truly, with such a flawless appearance it may seem that the young man has stepped out from a beautiful painting. Fully aware of his physical perfection, Hans is the object of dreams and desire as much as he is envy and scorn - from men and women alike.
Personality:
Hans knows the true depths of the word "love". He has felt the passion, the fire, the sheer power of this emotion that has both captivated and plagued mankind since the dawn of time. There is but one being on Tar'Ciel whom he feels this love for; himself. Hans believes himself to be the greatest human to ever grace the planet. As such, he is selfish beyond belief and cares only for his own well being. This makes it all but impossible for the young man to create lasting relationships with nearly any other person. What's worse, is that he firmly believes his selfishness to be justified and feels no remorse for his actions. To others, he is cold, abrasive, and difficult. The young man also believes that the importance of true beauty is higher than all else. His only desire is to embody physical perfection and he looks upon others with disdain. Hans also displays occasional lapses in mental stability. He is prone to bouts of extreme anger and pain, often lashing out at others when he is upset. His sociopathic ways make it impossible for him to ever be able to accept blame or find fault when others are hurt by his actions. He is also rather manipulative and sees other people as tools for furthering his own ends.
Despite all this, one cannot completely write off Hans as a bad person. He is a lover of the arts and also has an appreciation for beauty found in places other than a mirror. He is graceful and poetic, sensitive and cultured. Just like any other human on Tar'Ciel, he can laugh, cry, joke, and get along well with others - for a time. He seems to enjoy being social and prefers the company of others, as what good is a perfect work of art without people to gaze upon it?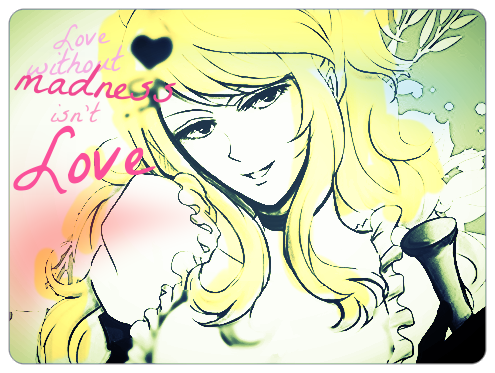 Likes
+ Himself
+ Beauty
+ Sweets
Dislikes
- Ugliness
- Competition
- Bitter foods
Fears
x Aging
x Scars
x Insects
Talents
o Keeping up appearances
o The arts
o Social manipulation
Flaws
= Narrow minded
= Stubborn
= Selfish
Background:
Once upon a time, long before Hans Amsel was born into Ter'Ciel, there lived another being with the same soul. This being was known as Sonheit, the god of love and beauty. Looking down from the heavens on humankind, he bestowed upon them an emotion unlike any other. This emotion brought about pure bliss as often as it did unyielding pain. It caused humans to produce timeless works of art. And it drove them to war. It could make a wolf out of the smallest sheep, and could bring a giant to its knees. This emotion was love.
For eons, Sonheit governed the laws of love and brought beauty to places where there was none. People flocked to his temples, bringing gifts and building monuments to the god, all hoping to be blessed with romance, passion, and companionship. Until one day...
When the parasitic alien being threatened to bring Ter'Ciel to ruin, Sonheit, like the other gods and goddesses, fought against the creature's wrath. At the height of the battle, in the gods' final hour, Sonheit was mortally wounded - poisoned by the alien parasite. With the last of his strength, he and the surviving deities sealed away the parasite, thus releasing the terrible grip it had upon the planet...at the cost of their own lives. Sacrificing their immortality, the gods ceased to exist and the heavens in which they dwelled grew cold and silent. Prophecy foretells that the gods of Ter'Ciel will rise again. They will be born unto man and walk amongst humankind, awaiting the day their destiny will be fulfilled.
Hans Amsel was born to an unnamed (and unwed) mother. Surrendered to an orphanage in the small village of Greenhell, he grew up ignorant of the love and comfort a parent should provide. This abandonment is perhaps what sparked the boy's strong sense of self-preservation. Hans was never short on self esteem or confidence. In fact, he grew to be an increasingly arrogant child. This did not go over well with the other children of the orphanage and soon, he found himself unable to form any lasting friendships. Seemingly unmoved by their rejection, it instead appeared to fuel his superiority complex.
As Hans grew older he became more and more obsessed about his appearance. He was no doubt blessed with handsome features and was meticulous about maintaining his perfect image. Spending countless hours in front of a mirror, the boy's narcissism grew and manifested into full-blown infatuation. He soon grew to view the other orphans as hideously ugly and sought to differentiate himself even further from them. Embracing a fondness for the extravagant and beautiful fashions of noble women, Hans began dressing himself in girl's clothing. His taste for flamboyant dresses complete with ribbons, lace, bows, and frills of varying shapes and sizes drew more than a few uncomfortable glances. Despite his new, conflicting appearance, Hans made no attempt to hide his identity as a male. Instead, he merely explained his odd choice in garments as preferring to dress in what he believed was "cute".
When he became of age, Hans happily left the orphanage and traveled to the trade city of Aquios, one of the largest cities in Ter'Ciel. There, he made an attempt at living life on his own. It soon became apparent that the world had no love for the unwanted. The young man discovered, however, that he could manipulate others into helping him. Using his looks to his advantage, Hans thought little of remorse and enjoyed a lavish lifestyle at the cost of many admirers. None of these symbiotic relationships seemed to last, however, and soon Hans found himself alone once more. Until one day...
Hans was stricken by an ever creeping urge to move. Eventually, it became an almost unbearable longing. Although he had never been before, the seaside town of Kirlsa seemed to be calling to him, beckoning to him. Tempting him. Leaving much of his belongings behind, save for the pretty bronze token an admirer had left him, the young man set off for Kirlsa on a whim he believed to be his own...