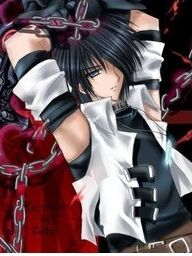 Name:
Kai Seward
Age:
23
Height:
5'10"
Weight:
160 lbs
Appearance:
Adding to his rough demeanor, Kai has a moderately muscular build. His deep blue eyes are often narrowed in frustration when he's around crowds of people, and are often slightly obscured by his long bangs. His black hair reaches almost to his chin, and is cut in choppy layers. Kai wears a black, sleeveless shirt and a white, collared vest. His sword's sheath is secured to his side by a large, dark blue belt. Since he is prone to walking through water, he prefers more tighter-fitting pants to baggy ones.
Personality:
Much like the sea, Kai can be both a vital ally and a dangerous foe. He is not easily trusting at first, and often comes off as rough and unpleasant to be around. Joined with the fact he can be judgmental, most people prefer to leave him alone. To those who have befriended him and gained his trust, however, he is a loyal friend and fiercely protective of those he cares for. He is quick to anger and arguments with him can escalate easily. Heavily influenced by his emotions, Kai often acts before he thinks and prefers to worry about consequences later rather than weighing his options out. He is often the first person to get into trouble.
Likes:
Water and rainy weather
Quiet places
Salty foods and seafood
Dislikes:
Extreme temperatures
Noisy, high-energy people
Spicy foods
Talents/Skills:
Reincarnation of the God of the Sea.
Kai has the ability to manipulate the water around him to use both offensively and defensively. By creating a sort of air bubble around his head, he can stay underwater for as long as he has the energy to sustain it. He can draw water from living things, though only when they offer up little resistance, such as a plant or weak/dying animal.
Weaknesses/Vices:
Dry environments
Is easily baited into a fight or argument
Abilities/Fighting style:
Kai will fight with anything from his fists to a nearby water supply. He can create high-pressured streams of water to damage opponents, though the higher the water pressure, the more energy it takes to create, limiting how powerful they are and how often he can use them. Though they are not typically used for fighting, Kai will draw his sword if necessary. Always on the offensive, he isn't afraid to take a couple of hits if it means creating an opening for himself to land a blow. He will always jump into a fight first to protect somebody close to him.
Soundtrack:
You're Going Down by Sick Puppies
Own Little World by Celldweller
Shall Never Surrender by Jason "Shyboy" Arnold
Biography:
Sailors often tell stories of times past, when the god Haik ruled over the oceans. They speak of when their ancestors would make offerings and pray to the god for a safe journey before setting sail- a tradition that lingers as families often have a large meal and wish their sailor good journey before taking to the seas. Haik's name, however, is now only spoken in jest. No one believes in the gods anymore, and their stories are learned only through mythology textbooks. However, the God of the Sea is not just a myth.
Haik once proudly ruled over the oceans, granting a safe journey to those who sought his blessing. Hypocrites, however, often found themselves in a sudden, rough storm. The worst offenders never made it to land. The waves of the sea, however, are no longer governed by the god.
The alien parasite that threatened the world brought the seas into chaos. Sailor after sailor lost their lives as Haik found himself unable to control his own oceans. It was then that he realized what was happening to the world and stood by his fellow deities to destroy the monstrosity. However, despite being a powerful force, Haik had already lost too much control. Already in a weakened state, he was mortally wounded in the battle, and gave the last of his strength to help seal the creature. His determination to continue the fight, however lives on...
A single child born to a rather quiet household, Kai was never much of a people-person. His parents, while present in his life, weren't entirely fit for their job. They often fought, leaving their young son to act-out in school. Many were put-off by rough personality, and his tendency to get into fights made it hard for him to get close to anybody. As such, he never had many friends. But, his weakness became his strength one day in his early teen years when he stood up for a boy being bullied. The two became fast friends, and the boy was the most important person in Kai's life. He served as Kai's reasoning, often preventing him from getting into unnecessary fights. Their friendship would have lasted long into old age, had tragedy not struck...
Kai never really found out what happened to his friend. Details on the incident were hazy- all he knew was that a sociopath had begun stabbing people one night at a late-night diner. By the time investigators arrived, it looked as if a small earthquake had wrecked the place. Several were dead, Kai's friend among them. Though Kai had been nowhere near the incident, he couldn't help but feel guilt. His friend had never been good at fighting. Perhaps if he had been there, he would have been able to protect him. Perhaps things would have been completely different. The past couldn't be changed, however, and Kai knew that. Dwelling on what could have been would get him nowhere. All he could do was keep going.
Unfortunately, he wasn't entirely sure where he was going. His quick temper had already cost him a couple of jobs, and he was becoming known as the local hothead who nobody wanted to hire. To make matters worse, his town was growing larger and busier, and he couldn't stand the noise. He was growing frustrated with where he was. He had to leave. But to where?
Kirlsa. It was a small town that would help him get away from the crowds. Unfortunately, a small town also meant less job opportunities and word of anything would get around quickly, which could be problematic if he lost another job due to his temper. If he was already growing a reputation here, it wouldn't be long before he had one in Kirlsa too. Well, it wasn't as if he had to go to the first place that popped into his mind. Maybe he would just travel from town-to-town, taking up jobs as he went along until he found a place that suited him best. It wasn't as if he had any reasons to keep him rooted to any one place. And yet, he couldn't stop this nagging feeling that there was something for him in that small town.
Kirlsa.
"Dammit!" He growled, throwing himself out of bed after a particularly restless night. He couldn't stand this feeling anymore. He'd go to Kirlsa, if only to make it stop. After packing up, he grabbed his sword from its place beside his bed. It was unlikely he would need it, but he didn't go anywhere without it. After all, it was the only thing he had left from his friend. At least, the only thing he had left that his friend had given him personally. There was also the bronze coin he had found a few months ago when he had been looking through some of the old records he had once borrowed. He didn't recall ever having seen it before, but he wasn't about to throw it out. There was something about it he liked, though he couldn't place what it was. Regardless, anything he found even slightly comforting was probably for the best. He mindlessly ran his fingers over it as he tried to imagine what traveling to Kirsla would do for him.
With another agitated grunt, Kai slammed his door behind him, hoping something good would come out of this whole thing.