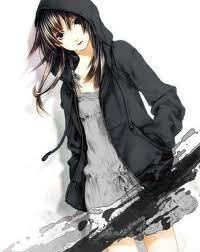 Name:
Laelynn Wyght
Age:
21
Height:
5'3"
Weight:
105 lbs
Appearance:
Not wanting to stand out, Laelynn likes to wear neutral colors, often grays. Her attire is simple, generally wearing jeans, simple shirts and is almost never seen without a hoodie. She has black, layered hair which reaches just past her shoulder blades and bangs that stop just before her dark eyes. She has a naturally small build and is just below average height.
Personality:
Once a very sweet, friendly girl, Laelynn has become more distant as she has gotten older. While she is still polite to anyone who talks to her, she doesn't get very close to anyone. She has an appreciation for all living things, though she has never been particularly good with animals or plants, much to her dismay. Laelynn hates confrontation, and will avoid it at all costs, much preferring to admit fault and diffuse a situation instead of holding her ground and potentially escalating it. Any time she begins to get upset, she will remove herself from the situation.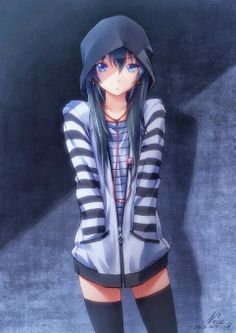 Likes:Dislikes:
Violence
Confrontation
Attention
Disorganization
Talents/Skills:
Reincarnation of the Goddess of Destruction
Laelynn has the power to cause mild destruction to anything she focuses on. She can manipulate the structure of anything she is in contact with, effectively breaking it. This power does not come easily, however- the stronger or larger the object, the more difficult it is to destroy. It can also come at a high cost, causing Laelynn to lose control if consumed by it until she has exhausted herself.
Because of her power, she can easily detect weak points in any structure. She is also good at recognizing the strength of a material or object and can generally figure out how difficult it would be to break apart. This "intuition" has had practical uses and has helped those around her avoid buying cheaply-made things that aren't worth their cost.
Weaknesses/Vices:
Fears her own power
Has low self-esteem
Somewhat of a push-over
Soundtrack:
The Roar Within by Tetsuya Shibata
Fadeaway by Celldweller
Understanding by Evanescence
Monster by Skillet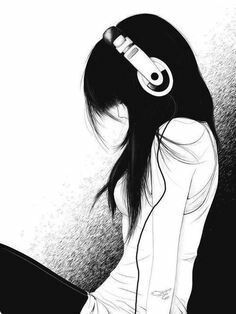 Biography:
For as long as there has been creation, there has been destruction. While nobody wishes for it, it is a necessary part of life. New things cannot spring forth if those already existing never disappear. Nothing can last forever. Enyo, the Goddess of Destruction, was feared by many, understood by some, and worshiped by all. Those who feared her provided ample sacrifices in hopes that she would not destroy the things they loved. Enyo, however, was not so easily placated. Such sacrifices would occasionally insult her, frustrated by humans' desire to hold on to those things which have passed their use and time. This would occasionally lead to events such as earthquakes or sudden fires, Enyo's way of forcing them to let go and recognize her importance in the universe. Those who came to understand her, however, would find it easier to let go of things lost and appreciate more what was still had. After all, balance was the key to the universe, and destruction is part of that balance.
One day, however, that balance was tipped. Things Enyo had never touched were falling apart. People were beginning to make more and more sacrifices to her that she never asked for. Somebody...something else was taking her power from her and gravely misusing it. Angered by this, Enyo swore revenge on the strange force that was throwing the world into chaos. While her anger gave her strength, however, it turned her into a dangerous force to her allies as well as her enemy. She had become so enraged at her loss of authority her fellow gods and goddesses were finding themselves in danger of her. It wasn't until near the end of the battle that Enyo had realized what she had done. Not only had she failed to defeat this alien force, but she had caused harm to those she was supposed to be helping as well. She knew then there was only one decision to make. She sacrificed herself to help seal the enemy, hoping that, when she be reborn, it would be in the heart of a just human so that she may make up for what she had done.
Now, sacrifices are no longer made to the Goddess of Destruction. Nobody believes that they will be punished for not properly serving some deity. There isn't much thought given to the balance of creation and destruction. Humans are often destructive enough themselves, a truth that Laelynn Wyght can't stand.
Laelynn was never very fond of violence. She never understood how her fellow classmates could rush to the scene of a fight and cheer on students who were hurting each other over stupid things that could be solved in other ways. She always avoided fights. In fact, she had learned to avoid almost any sort of confrontation, partly because she felt uncomfortable around it, and partly because she knew she had the ability to harm as well.
When she was a young child, Laelynn's parents would often find her toys broken. They never understood just how their little Lynn was able to break things so easily, but sure enough, whenever she became frustrated, something would break. She would always cry about it after and regret having done it, so her parents knew it wasn't because she was a violent child. Eventually, they provided her with other strategies to manage herself when she became frustrated, and it worked wonders. As she got older, Laelynn came to realize she had the strange ability to destroy anything she was angry at. She always kept it a secret, however, and made sure to never put herself in a situation where she may become too frustrated. This worked for the most part, and she was able to go about life pretending this power didn't exist. She did, however, discover a practical ability- she could always find the weak point of an object or structure before anybody else noticed. This "intuition", as they called it, often saved her parents the trouble of buying cheaply made furniture that was destined to fall apart before they got their money's worth.
It wasn't until Laelynn accidentally harmed a member of her family that the severity of her powers really sunk it. She had gotten into a small argument with a good cousin of hers. When she had tried to walk away from it, however, her cousin grabbed her arm, refusing to let her go, and forced Laelynn to confront her. As the argument escalated, Laelynn found herself getting more and more frustrated, both from the argument and from the fact her cousin was forcing her into this uncomfortable situation. Eventually, Laelynn couldn't contain herself any longer. She shoved her cousin away in attempt to escape the argument. As she did so, a strange wave of energy pulsated from her, sending her cousin flying toward the opposite wall and into a mirror. Her cousin, who had hit her head on the wall, suffered a concussion. Nobody was blamed for the incident, believing her cousin had tripped after being pushed and happened to hit her head just right. They knew Laelynn hadn't intended to hurt her, and her cousin admitted that they shouldn't have fought like that. Laelynn, however, knew it was her fault. It was then she realized she couldn't pretend this power didn't exist. She had to avoid it at all costs, even if that meant withdrawing from most social activities.
Once she became old enough and held a steady job, Lealynn moved out on her own, preferring to live alone. Since then, she hadn't had any more incidents, and was content with her lifestyle. Something, however, started to bother her. There was an increase of crime in her area as of late, and she was beginning to feel uncomfortable in her town. She had been debating on whether or not to move when she almost lost her life in an incident one night while getting dinner. It was then she made up her mind- she had to move. But where to? For a while, she couldn't decide. The more she thought about it, however, the more one particular destination stood out.
Kirlsa. It wasn't too far away, and it was a rather small town. A small town meant it would be easier for her to keep to herself. Sure, she would be more well-known, but she was a friendly person, and she figured it would be much easier for anyone to accept the fact she liked to be alone. Nobody who was looking for a busy social life would move to a place like that.
Laelynn made all the preparations she had to before making the trip. She gave her job a few weeks of notice and told her family about her decision. She even urged them to find another place to move to soon. Not too long after, she was ready. Hoping she was making the right decision, Laelynn packed up the few things she needed- making sure not to forget her crimson-colored bronze token which seemed to have given her a stroke of luck on a particularly dull day- and set out for the town of Kirlsa.