Name:
Maren LeChance
Nickname:
None
Age:
23
Gender:
Male
Height:
5'11"
Weight:
170 lbs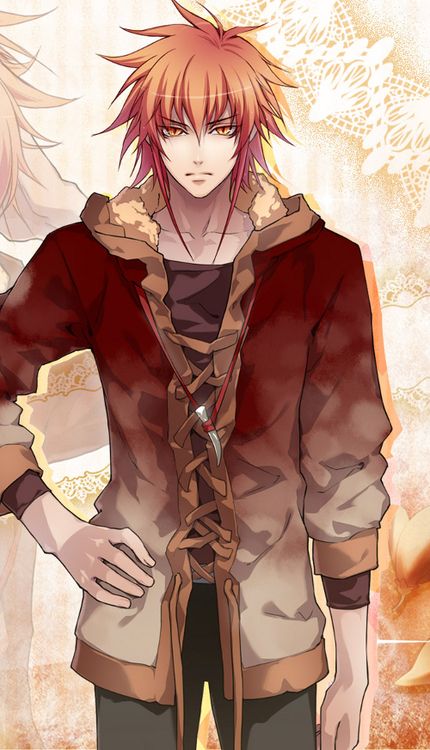 Appearance:
Maren believes himself to be quite average in appearance. He stands at 5'11" though his occasional lazy slouch makes him appear shorter. His eyes are a strikingly vibrant hue not unlike glistening topaz gemstones. They are sharp and catlike, set against healthy-colored skin. Maren's unruly hair falls about his head in jagged, rust-colored locks with a few strands reaching past his chin. With a strong jawline and rugged yet handsome face, the young man is naturally attractive - though not through any extra effort on his part. His body is fit with defined muscles. Many get the impression that he works hard to maintain his impressive physique, but this couldn't be any further from the truth. In actuality, Maren is simply blessed with insatiable metabolism.
Personality:
With hair and eyes reminiscent of a sunset, Maren possesses a warmth and positivity to match. Many are drawn to his natural charisma and easy-going attitude. Indeed, the young man seems to breeze through life casually. Honest and upfront, he sees little point in playing games or beating around the bush when it comes to social interaction. This is not to say that he is apathetic, however. In fact, he has been known to possess a stubbornness that borders on foolish when it comes to something he feels strongly about. Maren values trust and loyalty and does anything in his power to see that those he loves are protected and happy.
The young man seems to be quite lacking in social graces. He does not differentiate between social classes when it comes to his actions and thus, is as equally charming as he is offensive to those around him. He is self-indulgent and oblivious to it, often partaking in temptations such as food, drink, and women to the point of excess. He simply believes that life is too short to spend it being bored. Although Maren is quite sensitive, he feels embarrassed about showing his softer emotions. This makes for delightfully awkward situations when someone catches on.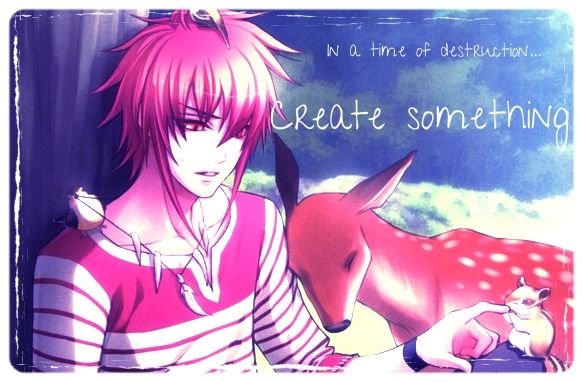 Likes
+ Anything edible
+ Sleeping
+ Females
Dislikes
- Injustice
- Hunger
- Boredom
Fears
x Weakness
x Being alone
x Darkness
Talents
o Eating
o Fixing things
o Physical strength
Flaws
= Overindulgent
= Foolhardy
= Gullible
Background:
When Ter'Ciel was in its infancy, there existed countless gods who governed the laws of the universe. One such deity oversaw all creation on the planet. His name was Creir, although eons later he would be known as Maren LeChance. Creir was a revered god, worshipped by many. Humans would pray to him to ensure good fortune in all their endeavors. He dutifully escorted the souls of those who had yet to be born as they descended to Ter'Ciel. This was a great responsibility for the god and he took humble satisfaction in keeping all life on the planet in balance. A balance that would one day be tipped...
Creir was among the remaining gods and goddesses who stood against the evil alien force that threatened to extinguish all life on Ter'Ciel. When it appeared that their efforts would not be enough to save their beloved planet, the gods were forced to make a drastic yet necessary decision. Sacrificing their immortality, they were able to seal away the parasitic evil, albeit temporarily. Today, as the temples to the gods lie in ruin and prayers are no longer uttered, there are those who claim that somewhere, Creir still exists, awaiting the day he may resume his place as God of Creation.
Maren LeChance does not remember the faces of the parents who birthed him. His earliest memories are enough to recall that they once cared for him, but aside from that, his mind is foggy. For most of his life he was raised by a family who once knew his parents. Growing up with five other children in a household, his early life was never dull. His days were happily spent and, although the boy's true origins were made known to him, the couple and their children loved him and accepted him as one of their own. His hometown was a farming village on the eastern coast of the Thalian continent known as Serf. Farm life is seldom easy and Maren was doing his share of the work since he was old enough to carry a pitchfork. While he detested the physical labor and often found creative ways to evade the responsibility, it did his body good and he soon grew into a very strong young man. The most enjoyable aspect of his time on the farm was spent caring for the various animals the family kept. Maren loved spending time with the cows, sheep, and pigs and often rose earlier than the other members of his family in order to score the task of feeding them. As such, he developed a compassionate manner when dealing with animals.
Before long, Maren began to wonder what existed beyond the fields and pastures of Serf. The family who raised him had sensed his wanderlust and encouraged the young man to follow his own path in life. After much convincing that they would be all right without him, they bid Maren goodbye on his 20th birthday as he set out for unknown adventures.
"Adventure" turned out to be found in the city of Davonshire, an overcrowded, heavily industrialized place in southern Thalia. It was there that Maren decided to stay, if but for a time. He soon found himself working at one of the city's many factories, acting as a sort of handy-man and mechanic whenever one of the machines would malfunction. Work was uneventful at best, but that was not what the young man lived for anyhow. What kept him in Davonshire was the nightlife. Maren found himself living paycheck to paycheck while enjoying the many temptations the city had to offer. Parties were hosted every night and the young man soon became something of a small-time celebrity with his fun-loving attitude and insatiable appetite for great food, strong wine, and pretty girls.
This lifestyle continued for a few years without issue. Then, one day, Maren awoke with a restless longing he couldn't seem to place. Slowly but surely, the life he had made for himself grew dull. No longer satisfied, he began to think of a place that would perhaps prove to be more fulfilling. Kirlsa. He would travel to Kirlsa, the town by the Belen Sea.
"Hah. All the women in Davonshire know me already. I wonder what an Kirlsa girl is like!"
It seemed to be as good a reason as any to him. With his lucky bronze coin in his pocket (can't believe I'd ever misplace that!), Maren set off for Kirlsa, not even casting a final glance back at Davonshire as it was swallowed by the horizon.