---
---
"Don't Tell Me What I Want And Don't Want."
---
---
---
---
Name:
Clarissa Saunders.

Nicknames:
Claire. Rissa. Rissy. Bitch.

Age:
Clarissa is 305 years but appears to be in her mid-twenties.

Ethnicity:
American.

Sexuality:
Pansexual.

Species:
Vampire.

Role:
Matriarch.

Occupation:
Waitress and Bartender.

---
---
---


Height & Weight:
5'6. 123 lbs.

Hair Color & Style:
Blonde. Usually keeps it straightened and it reaches to her mid-back, or she keeps it tied up in a ponytail and bun or keeps it curled.

Eye Color:
Blue.

Body Type:
She has an athletic build.

Skin Color:
Evenly Tanned.

---
---
---


Likes:
Claude| Laughing| Smiling| Cooking| The Coven| Romantic Novels and Movies| Intellectual People| Conversationalists| Sarcastic Remarks| Being a Bitch|

Dislikes:
Humans| Being Quiet| Being Alone| Coffee| Mornings| Other Covens|

Fears:
Dying Dishonorably| Losing Members of the Coven| Losing Claude|

Personality:
Sarcastic. Trustworthy. Bold. Encouraging. Greedy. Seductive.

---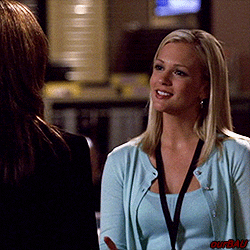 ---
---


Place of Orgin:
Seattle, Washington.

Abilities:
She is very agile, which means that she is able to move very quickly. She can also manipulate others to bend to her will and even has Telepathic abilities but the Telepathy only works towards her Coven members. Of course, she does have the usual vampire abilities as well – Such as, heightened senses.

History:
W.I.P.