when madness takes its promised due,
still I'll search this place for you
widow's peak is a small town in oregon. for years, it was a perpetually dreary town that always seemed years away from fading into nothingness once its residents eventually all passed away of old age. but in recent years, it has been revitalised and given a new lease of life, drawing more families and young people to the town. but even its new residents can't shake the feeling that something is... off about the town.
how barely you elude me still
I'll find you soon, I will, I will.
the few older residents still left in town will say that this town has a connection to the supernatural, that it always has. they blame construction delays on ghosts and demons, and if anything goes wrong, it always has some occult root. but while some of these occurrences are a stretch, it is true to say that the supernatural forces are... stronger in this town. the veil is thin between worlds, but widow's peak is one of those places where it is thinnest. nobody knows if this is why more tragedies seem to occur in widow's peak... or if the tragedies are the cause.
and then i'll raise my lips and say
please my love, please let me stay
two weeks before halloween, seven people wake up. this would be unremarkable, except for the fact that all seven of them died at some point in the past seven years. some died only weeks ago, others years ago. all seven of them died in tragic circumstances, with a life left unfinished. but these are not the only souls that stir. a dark force has arisen and intends to use these seven souls for its nefarious purposes. this dark force grows stronger as time goes on, and gains more power and control over the returned souls. but as is so often the case, there is a way out.
we can be together here
that is the truth i speak
but when ghosts walk to return the earth, people are sure to notice. and these are the people that provide the way out. there are people out there that tie our ghosts to the human world through memory, through love, through anger and a desire for vengeance, and these ties will prove vital in stopping the ghosts from succumbing to darkness. somewhere in town, there is one person that can put an end to the darkness overall. but in order to find them, the group must overcome their own darkness.
forevermore, togethermore
inside the house on widow's peak
first things first, a reminder that god-modding is forbidden. god-modding typically means controlling a character without their player's permission. so when in doubt, ask. communication is key. if i don't hear from you in a while and have made one or more attempts to contact you with no reply, i will assume you have had to leave for whatever reason and will proceed as such. i promise i don't bite, so if you're busy or have bad writer's block or anything like that, please do let me know! romance and violence are pretty much a given for a drama-driven rp like this, but keep it within site rules. most importantly, if things get steamy, either fade to black or bring it off site. there will be adult themes within the rp. if the content veers into uncomfortable or distressing, please PM me and we can work around it or i can ask other players to alter as necessary. please keep the drama to the ic. i want plenty of drama between our characters and as little drama between players! any issues arising among members of the rp should be dealt with over pm. you have 72 hours to submit a WIP. that WIP can be a blank sheet, i just want something in to know you're still on board. you will then have 5 days after submitting your WIP to finish your character. i will grant extensions as long as you pm me. any further questions or issues, please pm me!
please let me know if you have any questions or if you want me to clarify anything! if you're not sure yet, feel free to join our
discord server
, get to know us and our characters a little better, and discuss any potential character ideas!
when it comes to reserving characters, i'm going to try things a little differently. i don't want to give set character briefs as i don't want to limit your creativity, but obviously pre-existing relationships are key. so when reserving your character, i would like:
a 500px wide gif (height doesn't matter)
the character's name, age (or age at death), how long they've been dead if they are a ghost, their sexuality, their face claim, and their dialogue colour. all characters must be 18+ and should have been 16+ at time of death.
and a short paragraph description of their life (and death, if relevant.) more details about this paragraph will be given in the OOC.
x
x
x
x
x
x
x
x
x
x
x
x
x
x
all of the ghosts died somewhere between seven days and seven years ago. all have some degree of amnesia which seems to be related to how long they've been dead for. those that died recently seem to be able to remember everything up until about an hour before they die, while those that died longer ago may not be able to remember anything about their lives. there is some degree of variation, however. the ghosts have some strange abilities, but not every ghost has every ability. most commonly, they have some degree of telekinesis, invisibility, and intangibility. their level of control varies greatly. they do not look exactly as they did when they died; rather, they look as if they were alive and aged as normal. for example, someone who was eighteen when they died seven years ago will now appear to be twenty five.

(i am currently capping the numbers of ghosts at seven with a maximum of one ghost per player; this may change depending on demand and interest.)
soren bowers - deceased at 20 - died 7 years ago - pansexual (male preference) - josh ramsay -
#4d5676
- partially-stars
from day one, the cards were stacked against soren. but that never stopped him from trying. he was the first in his family to finish high school. his music blog was picking up traction fast, and he'd been given the opportunity to interview some big bands. he was on his way home from a party when he was killed. he and
markus vasco
had just had a blazing argument in front of everyone, ones where they'd both said things they didn't mean. soren stormed out and got a ride home. but another drunk driver ran a red light and hit the passenger side of the car. on waking up, though, soren has discovered that he can remember almost nothing about his life before, other than a memory of a name.
Erin Monaghan - deceased at 20 - died 5 years ago - homosexual - lynn gunn -
#8BA3A6
-Wolf's Bane109
For as long as Erin could remember, it always seemed like life was out to get her in every way she looked. Her home life had been a mess, she wasn't exactly the brightest ontop of suffering from severe adhd, depression, and dyslexia, toppled on top of a terrible dating life...Well, it was only a recipe for disaster. She grew up in the small town not having made much of a life for herself except as a bartender, which leads into the tragic night of her death. She was walking home after a late night shift, as well as having a few drinks with her friends and decided to walk home, texting her girlfriend
(human three)
that she was on her way back home. Erin didn't exactly remember what happened next due to the alcohol and how quickly it all happened, but a speeding car came around the bend and everything went black. When Erin woke up, she could barely remember anything, not much more than her name as well as someone else's. She doesn't know why or who this person is, but she's determined to find out.
Elodie "Elle" Aldrich - Died at 18 - Died 6 years ago - Bisexual - Elizabeth Lail -
#D4A9D6
- Sorella
Elodie never had the adventurous life she always sought to have. Her mother was a drunk that never cared what she did, but on the flip of the coin she had an overprotective father that wouldn't let her go out unless she snuck out herself. One day she snuck out with her boyfriend
(human two)
so that they could do something adventurous before college started in the fall. They had decided to go river rafting, but as soon as they were back up by the shuttle bus, Elle checked her phone and called her father. They began to argue which is when Elle began to pace closer and closer to the cliff side. Just as she was being warned, she fell off into the fast moving river and they never did find her alive.
Alexandra "Xan" Cole - Died at 20 - Died 4 1/2 years ago - Pan, femme leaning - Zendaya -
#8c8d9c
- Rosa
Xan had maybe a year of memories of a childhood, she was quickly thrown into the word of IV's and hospital beds. It was hard to long for something else when she didn't know what else there was. She spent the better part of the next two years in a children's hospital. The doctors told them at this rate, they wouldn't be able to keep up with Xan's illness especially given her rare blood type. It was still controversial at the time, but they discussed conceiving a child designed to be genetically compatible with Xan. They had talked about having another kid but that went on hold with Xan was diagnosed. They conceived Nixie in a petri dish, picking and choosing which genes they inherited. It wasn't until a few years that they started the process. All they were told as kids was that Nixie was going to help Xan. They caught on quick, kids weren't dumb. Xan hated subjecting Nixie to the hospital, she was supposed to be the big sister taking care of them not the other way around. She'd try to refuse, but she was still a minor and her parents had the say so. The moment she turned 18 she refused any more donations from Nixie. Her parents begged her to change her mind but she was unwavering in her decision. She skated by a couple years on chance, but after a couple years her kidney was failing and death was approaching. Her parents begged her to take Nixie's kidney, and she said no. Then Nixie begged and Xan almost broke, but she knew that taking Nixie's kidney would cost her a couple years of life best case scenario, let alone life long side effects. A couple days later she died, smiling and surrounded by loved ones.
Cassidy Aisling | Deceased at 23 | Died 1 week ago | Homosexual | Mickey Murphy |
#012244
| Ivisbo
Cassidy Aisling had known death his entire life. Cystic fibrosis was a death sentence, timer given to you when you were too young to know what death was. His family was strong and supportive, but Cass knew they were in struggling. Death is harder on those that keep on living and since day one, he knew he would never experience that pain. So he'd tried his best to make it easier on all of them. Cass developed his own inner sun to make even the gloomiest of hospitals rooms just a little brighter, or derail an uncomfortable conversation with a well-timed joke. He liked people, loved to be near others and got too still when he was alone. Cass has never done much more then wait to die and struggle to breath, so he had next to nothing when it came to wild-growing-up-tales. He listened well and collected stories from every patient, nurse, and doctor- and when he'd met Dr. Blake, he'd been an instant fan. Moody and apathetic, Cass had just smiled brighter at the med students solemn stares. He'd made it a game to weasle his way under that stern surface and was pleasently surpised by the genuine human underneath. Maybe it was because he was one of the sharpest and most beautiful things he'd ever seen, opposite from him in everyway, but Cass was captivated. Until he wasn't anymore. Until breathing had gotten too hard and the inevitable had happened. He rememberd hating that Atlas Blake was on duty when his lungs finally gave out, he rememberd wishing that the young doctor had someone else to confide in- and then he'd woken up and gotten his wish.
ghost six - age at death - died (time) ago - sexuality - face claim - user
ghost seven - age at death - died (time) ago - sexuality - face claim - user
these are the people who have been left behind. these were the people that the ghosts left behind when they died; their loved ones, their family, their enemies. these are the people who must help the ghosts to figure out what and who they are looking for, and also to retain their humanity so they are not lost to the darkness.

(there is currently no limit on the number of human characters we can have, i just have seven slots to start with!)
Markus Vasco - 26 - Bisexual - Andrew Garfield -
#800000
- Wolf's Bane109
For Markus, well, life was a bit different. He had everything going for him. He had good grades, a moderately good family, all while working as a tattoo artist in town. Things were going well for him, as he was saving up money for his own apartment and had planned to finally ask his best friend
(Soren Bowers)
out on a date after they were coming back from a party. But things went horribly wrong between them, things had been said and he's regretted it since. When he got the call the next day of a drunk driver hitting the car Soren had gotten into, and he hadn't made it, Markus fell apart. He didn't go to college like he wanted, his family dynamic started to fall apart as he turned into himself and became more reserved. His job is barely hanging on by a thread as he lives alone in a small apartment. This wasn't what he was wanting from life, and the memories he still has of his best friend hasn't left his mind. Markus wishes he had a second chance to make things right with Soren, but he knows it's impossible..
Leopold "Leo" Mathers – 25 – Demisexual – Jacob Bixenman –
#584b29
– Rosa
The Mathers were a respected family in Widow's Peak, his dads owned and operated Mathers construction, a massive provider of jobs in the area. Leo was their only son, their crowning jewel. He was happy playing the role of their sterling son, well – happy was maybe pushing it but he was compliant. Then came along Elle. She was the sun on his skin, the breeze in his hair. Her home life wasn't that great, all he wanted to do was give her the life she deserved. Then she died. There was a moment loss in his memories between calling out to her and standing at the edge of the cliff where she fell, screaming her name. All he could remember of her last moments was that look of realization as she lost her footing. They never found her, but they knew she was dead. After that college was postponed, eventually indefinitely. His dad's tried being supportive but he just sunk deeper into his grief. He refused to talk about Elle, his fists clenching and eyes narrowing when her name would be mentioned. Even six years later he carried her death with him. Too afraid to let someone else in again, too afraid to watch them fall to their death never to be seen again.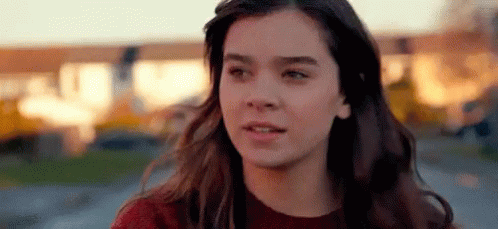 Phoenix "Nixie" Cole - 22 - Homosexual - Hailee Steinfeld-
#de8245
- Sorella
Nixie was the product of her parents needing someone to help with Xan's health, but they also wanted another kid so it all worked out in their minds. Nixie always looked up to Xan, she never saw the sickness that everyone else would pity her for, instead she saw how brave and strong she was to live with her illness in day to day life. Nixie never felt bad for herself having to go through multiple procedures just to help Xan out, it was what sisters were for. She didn't get to be careless about things or get into fights because she needed to stay healthy and well, but despite that fact she snuck out to parties regularly, but made sure not to do anything that would be too risky. Even if that meant she was sober 90 percent of the time, but she liked being at parties because that's where her girlfriend Erin would have been. Nix was incredibly invested in they relationship that they had together, so when Erin died it only made her more cautious about walking anywhere or driving anywhere. It made her stay indoors for days on end, but nothing prepared her enough to lose her sister a year later. Nixie literally begged on her knees crying, trying to get Xan to take her kidney. She didn't want to lose another loved one, but Xan never gave in. It wasn't long after that she lost her too. Ever since Nix hasn't taken a single day for granted.
Preston Atlas Blake | 26 | Homosexual | Sylverster Ulv |
#BF0000
| Char
The first born male in a wealthy, prestigious family, Atlas' first day on Earth (and every day after) was met with high expectations and a pedestal that he was destined to fall from. A perpetual only child, he was spoiled rotten, in fact it's very likely he never heard the word 'no' until medical school ... and even then it was rare because, honestly, Atlas was quite good. Top of his class at Stanford Medical School and accepted into one of the most selective surgical intern programs in Massachusetts, Atlas was going places. Until Cass. Cassidy Aisling, with his bright smiles and vibrant jokes even though he lived in the hospital. Cass, who would grin widely whenever boring, apathetic, crass Atlas would enter his room. Who Atlas had to remind himself to ignore his growing crush over, because he was a professional, and Cass was
sick
. Cass who died while Atlas was on duty, the first patient he'd ever lost, the first time his composure in front of his fellow interns broke, the first time the Chief had to physically pull a doctor away from doing compressions
human five - age - sexuality - face claim - user
human six - age - sexuality - face claim - user
human seven - age - sexuality - face claim - user
Taking place in...
A town linked with tragedy and the supernatural.
Arcs are bundles of posts that you can organize on your own. They're useful for telling a story that might span long periods of time or space.
There are no arcs in this roleplay.
There are no quests in this roleplay.
Here's the current leaderboard.
There are no groups in this roleplay!
Welcome home, Promethean. Here, you can manage your universe.
Arcs are bundles of posts from any location, allowing you to easily capture sub-plots which might be spread out across multiple locations.
You can create Quests with various rewards, encouraging your players to engage with specific plot lines.
Settings are the backdrop for the characters in your universe, giving meaning and context to their existence. By creating a number of well-written locations, you can organize your universe into areas and regions.
Navigation
While not required, locations can be organized onto a map. More information soon!
There are no groups in this roleplay!
By creating Collectibles, you can reward your players with unique items that accentuate their character sheets.
Once an Item has been created, it can be spawned in the IC using /spawn Item Name (case-sensitive, as usual) — this can be followed with /take Item Name to retrieve the item into the current character's inventory.
Give your Universe life by adding a Mob, which are auto-replenishing NPCs your players can interact with. Useful for some quick hack-and-slash fun!
Mobs can be automated spawns, like rats and bats, or full-on NPCs complete with conversation menus. Use them to enhance your player experience!
Current Mobs
No mobs have been created yet.
Locations where Mobs and Items might appear.
You can schedule events for your players to create notifications and schedule times for everyone to plan around.
Add and remove other people from your Universe.
The Forge
Use your INK to craft new artifacts in Evermore. Once created, Items cannot be changed, but they can be bought and sold in the marketplace.
Notable Items
No items have been created yet!
The Market
Buy, sell, and even craft your own items in this universe.
Market Data

Market conditions are unknown. Use caution when trading.

Quick Buy (Items Most Recently Listed for Sale)
A town linked with tragedy and the supernatural.
Discussions
Topics

Replies
Views

Last post
Most recent OOC posts in Evermore
There have been no posts in the OOC topic for this roleplay!