Graveyard | Slipped Away | Next To Me | Revelation | Good To You | One More Light | Pity Party | Carry You | Rescue Me
______________________________
xxxxxxxxxxxxxxxxxxxxx
xxxxxxxxxxxxxxxxxxxxx
xxxxxxxxxxxxxxxxxxxxx
xxxxxxxxxxxxxxxxxxxxx
NAME

XX

Markus Liles Vasco

NICKNAMES

XX

N/A

AGE

XX

Twenty Six (26)

SEXUALITY

XX

Bisexual | Asexual
xxxxxx
GENDER

XX

Cis-Male | He/Him

NATIONALITY

XX

Caucasian, American

ROLE

X

Human

HEX

XX

#800000


x
x
______________________________
M I R R O R

XX

M I R R O R



H E I G H T

X

AND

X

B U I L D:

5' 11" | 180cm | 165lbs 74kg | Slender, average build

Markus has never considered himself to be the most attractive guy out there, at most he even considers himself to be rather average. With his shaggy brown hair, dark brown eyes, and pale complexion. His average height and not very imtimidating stature, he's been one that someone could easily look over and entirely pass by in a crowd without a second look. Which, is exactly what he tries to have happen. He's never been one to stand out and it's just the way he likes it. His friends always got spotted out among crowds, and that was more than enough for him, if he was being honest.

Unlike his two best friends from childhood, Markus never branched out appearence wise. While Soren went with dyed blue hair, piercing, and tattoos, ontop of his overall glamerous choice in clothing, and Erin went with the undercut, dyed blonde hair and piercings, as well as tattoos. Markus stuck to the basics. He never dyed his hair, never got tattoos, or piercings. His clothing was always as basic as it came, and still is to this day. He keeps his hair cut in the same fashion as he always has, stays to hoodies and t-shirts, with jeans and simple shoes like converse, and such. But, ever since graduating high-school, the most drastic change was that he went from glasses to contacts. He ditched the dorky, large rimmed glasses. Other than that, his fashion choice, as as Soren always said, lack there-of, has stayed the same.

But ever since the death of both of his friends, he did branch out with body art. Surpisingly enough, he got a few tattoos in memory of those he lost. For Soren, he got a tattoo along the outer part of his right forearm, and for Erin, he got a simple labeled tombstone tattoo along the outer part of his left elbow. They're simple tattoos, and some have said a bit morbid. But they're daily reminders to him of the people he's lost, and how short life is. Even if he doesn't want to continue on every day, he looks at the tattoos and reminds himself to go on, for them..


______________________________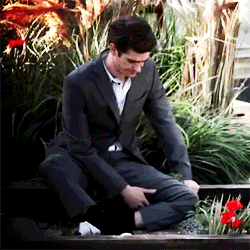 W H O

XX

A M

XX

I?


X


P E R S O N A L I T Y:
Regardless of his rather scruffy looks, he is rather intelligent and inquisitive. Sometimes the most simple things fascinate him and hold his curiosity for long periods of time, even with his otherwise short attention span and a strong case of OCD and ADHD. He is usually always putting things back into their normal spot where he last remembers placing them, and if he cannot remember where he last put a certain item, he will in fact, re-trace his steps until he finds what he's looking for.

While he isn't the smartest person out there, Markus does have the best and safety of others in mind, regardless of his actions and how he goes about helping others isn't the best or safest option. He normally acts in the moment and doesn't always think things before he acts, which normally causes mayhem and chaos in his efforts to do good, which has gotten him into too many sticky situations in his younger years when he and his friends roamed the town's streets. As well as his in the spur of the moment actions, he is rather bull-headed and quick-witted in his actions if he is currently trying to help some out, usually insulting the other person to get them into a blind fury as well as help the person get out of the situation by causing them to forget about the lesser person and focus on someone of their own size. Often putting himself in harms way for the sake of someone else. It was just always the way Markus was, and will always be. Putting the well being of someone else, ahead of his own without question. Just his way.

But since then, he's grown up and had to face the hard realities of life. It was either grow up and do better, or let the world eat him alive. And well, after the day he lost Soren, his world slowly turned to shit. Since that day, he never fully recovered. He's become cynical, angry, reserved, and just all around a rather negative person. He doesn't view the world in the rose colored glasses he used to. But, he still had someone else to keep him grounded, Erin. One of his other lifelong friends. They were both there for each other after the accident that killed Soren. But Markus never anticipated the next phonecall he'd get of Erin too passing away, barely too years later.

With both of his best childhood friends gone, Markus has turned to alcohol, gambling, and even drugs. Nothing more than pot, but it's something to help numb the pain and endless loneliness he feels. He lost both of his best friends before they even reached twenty-five, their supposed golden years. How was he supposed to view life outside of the ugly and dark place it really was? People tell Markus to cheer up, and that it's not so bad. But with two of the people he was best friends with, and one being the person he loved most, well...Markus finds it hard for anything good left in the world to fight for...




Q U I R K S

X

A N D

X

O D D I T I E S:


Markus constantly fidgets with his hands, whether it's cracking his knuckles or constantly rubbing his hands together, especially when stressed. It's a coping mechanism he's developed over the years | Markus has the bad habit of licking his lips when he over-thinks or is stressed, open causing his lips to become incredibly chapped, so he always carries around chap-stick in his coat pocket | He has an odd habit of running his fingers through his hair and tends to leave his hands in his hair for a few extra seconds before taking his hand away, no one knows why that is | Whenever he walks somewhere, he walks on the farthest part of the walkway, away from the street |

F E A R S:
Dying in some horrific way just like his friends did, which is why he is terrified of cars and over all transportation. Preferring to walk short distances, hence why he works so close to his small apartment


______________________________
T H E

XX

P A S T

describe their history here.