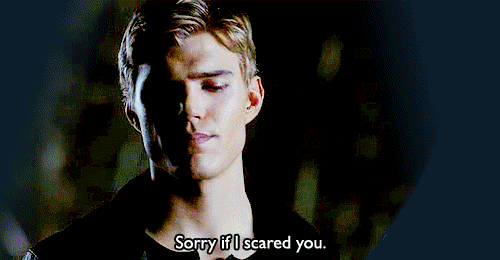 Name: Nathanial Winters
Nickname: Nate
Age: 20
Race: Shadowhunter - Half Angel/Half Human
Powers:: If Human then erase but if they are a mythical creature then what abilities do they possess? Super speed strength, tracking, etc.
Sexuality: Straight

Likes:
Chess
A challenge
Women
Hot weather
Working out
Spicy food
Playing sports
Dislikes:
Being cold
Losing
Being bored
Sweet things
Animals
Children
Mashed Potato
Fears:
Losing the battle against his dark side
Being hated
Losing his mind
Dreams: To be known as the most powerful and feared Shadowhunter ever
Secrets: He has dark impulses that involve dominating women and being powerful

Personality: On the surface Nate comes across as a laid back jovial man who is also a womaniser. He is an attractive man and he knows it and uses his natural charm to get women. Surprisingly his many consorts all leave on good terms rather than resent him for staying with them only a short time, this is due to his likeability and his fun manner. He gets on with pretty much everyone and often plays peacemaker between others when their tempers get the better of them. Yet for all of this he deliberately keeps others at a distance not allowing anyone to get too close, he has no qualms about being intimate with a woman but as soon as she tries to become emotionally close to him he backs off and leaves her. He uses his joking as a defence mechanism and is rarely serious and often this means others believe he doesn't feel things and take his affability for granted.

However there is a darker more negative side to Nate, one which terrifies and tempts him in equal measure. He finds power intoxicating and has to fight to keep this in check when he uses his own abilities. He also has an obsession and finds that he constantly fantasises about exerting that control over others in various ways. This side of him scares him and yet he finds the idea of dominating a woman sexually, controlling someone through fear or power and other ways of controlling someone exciting. This is no doubt due to his history but this has not been confirmed as he has never seen a therapist regarding these impulses as thus far he has mostly managed to control them and ensure others are not aware of them. This is why he keeps others at a distance and deep down he despairs of ever finding someone he can be close to.

Place of Origin: Los Angeles, California, USA

History: Nate was born to wealthy parents and wanted for nothing, his father was a successful surgeon and his mother a housewife, on the surface the family appeared to be a normal and happy one. But in truth his father was a domineering man who controlled his wife with an iron hand manipulating her emotionally and punishing her physically when she did something wrong. At first Nathanial thought this was normal as he was too young to understand that other families did not behave in such a manner but as he grew older he began to realise his father's behaviour was not normal or acceptable. His mother slowly lost her natural vivacity and instead became a timid, cowed woman who lived only to please her husband. Nate hated both his parents but for different reasons, his father for his cruelty and domineering nature as well as because Nate hated that he felt an attraction towards such behaviour. He grew to despise his mother for her weakness seeing her inability to leave her husband as a sign of her weak nature.

When he turned eighteen Nate left home after a particularly violent incident between his parents in which he had had an urge to control his mother as his father did. Frightened of this and his darker nature in general he fled his home and spent the next two years drifting from place to place doing whatever work he could find since his father had cut off his allowance once he left home. He kept to himself except to pick up women in a vain effort to assuage his loneliness. Currently he is in New Orleans working in a bar.