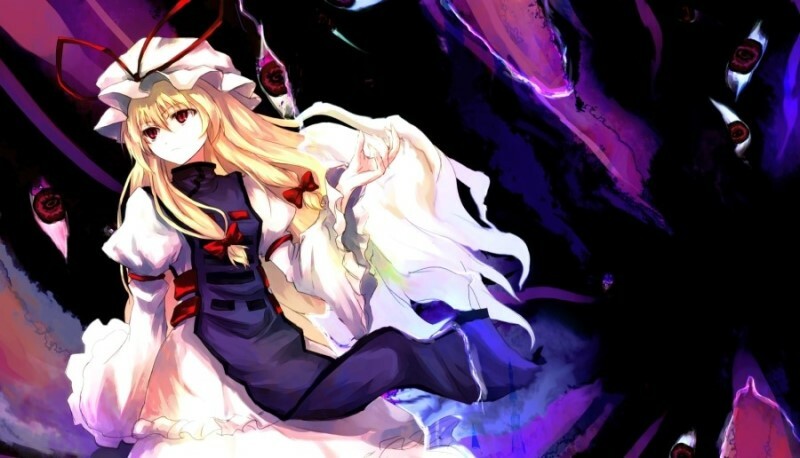 Alias (if any):

The Gap Hag The Border of Phantasm
Franchise from which you originate: Touhou Project


Personality:

Yukari, like many other youkai, is very mischievous and isn't afraid to pull out some sort of prank for unsuspecting, or rather certainly suspecting, humans. While she is shown to be playful during peace time, anyone who truly analyzes her actions can say that she has an innate ability to manipulate many people at a time to further a goal. She, with the wisdom of her unknown age ("Ahem, I'm only 16!"), has become a master strategist and, while usually playful, can and will have a high chance at winning against most opponents, even if she doesn't show it. While Yukari is usually shown to be playful, certain there are certain points to pick at in her personality, such as her age and calling her a "Gap Hag", both of which would evoke some sort of unexpected response... depending on whether or not she feels like showing a certain sort of reaction.



Weapon(s) of choice:

A fan, an umbrella, tombstones, trains, kitsunes, nekos, the 4th wall, you name it~


Powers

: Yukari has the ability to manipulate borders and boundaries, such as the Border Between Truth and Lie, Day and Night, and the horizon that usually try to get on your picture used for a postcard. Thusly, she is able to manipulate reality and existance, but to a certain extent. She did not create the Great Hakurei Border on her own, and getting to Heaven required her to use her power multiple times. Going to the moon also had to have certain conditions met.
Her other powers include being able to open gaps, tears in reality if you will. This will cause two ribbons to spawn and allow a small tear in a space to open, revealing a dimension of blackness and eyes that stare at you without ceasing to stay open. Yukari can use this to transport herself, others, and objects, and even projectiles over distance (which, evidently, can cause her to make starting points for crossover plots in fanfiction). She can also use these gaps as chairs and, as an analogy, holes in the wall you can peek into the girls' bathroom (yes, she does use them like that as well). Another notable power is her ability to use magic and fire mass amounts of danmaku, which are essentially nonlethal bullets usually used in the thousands at a time. Yukari can also use Spell Cards, which are formations of danmaku that are extremely hard to dodge.

Description of Appearance:
Yukari Yakumo is a beautiful girl, seemingly in her teenage years. She wears a white, frilly dress with a purple tabard that has black Trigrams on it over the said dress. Yukari's eyes are of a dark golden color, though very few times her eyes were seen as red. Her hair is long and blonde, though sometimes it's all kept within her white mob cap. She is also seen with a purple fan in her hand, or she may be seen with a purple umbrella.
Short Bio/History:
A mysterious Youkai who helped Yuyuko Saigyougi in the latter's attempt to steal the spring of Gensokyo. However, as it turns out, Yukari is a sort of overseer of Gensokyo, having created the border that lies between it and the Outside World and is now maintaining the said border. Many times during an incident, Yukari is shown to help resolve it with the Hakurei Shrine Maiden and other allies, such as the Imperishable Night Incident.
"Now, however, with multiple realities bending and changing due to something happening, I have to find out what exactly is going on not only with Gensokyo, but in the entire universe! Pity, and I was still asleep for the winter. Ah, how unfortunate..."
Further Reading:
http://en.touhouwiki.net/wiki/Yukari_Yakumo
"See? I TOLD you trains are a viable weapon for me~!"