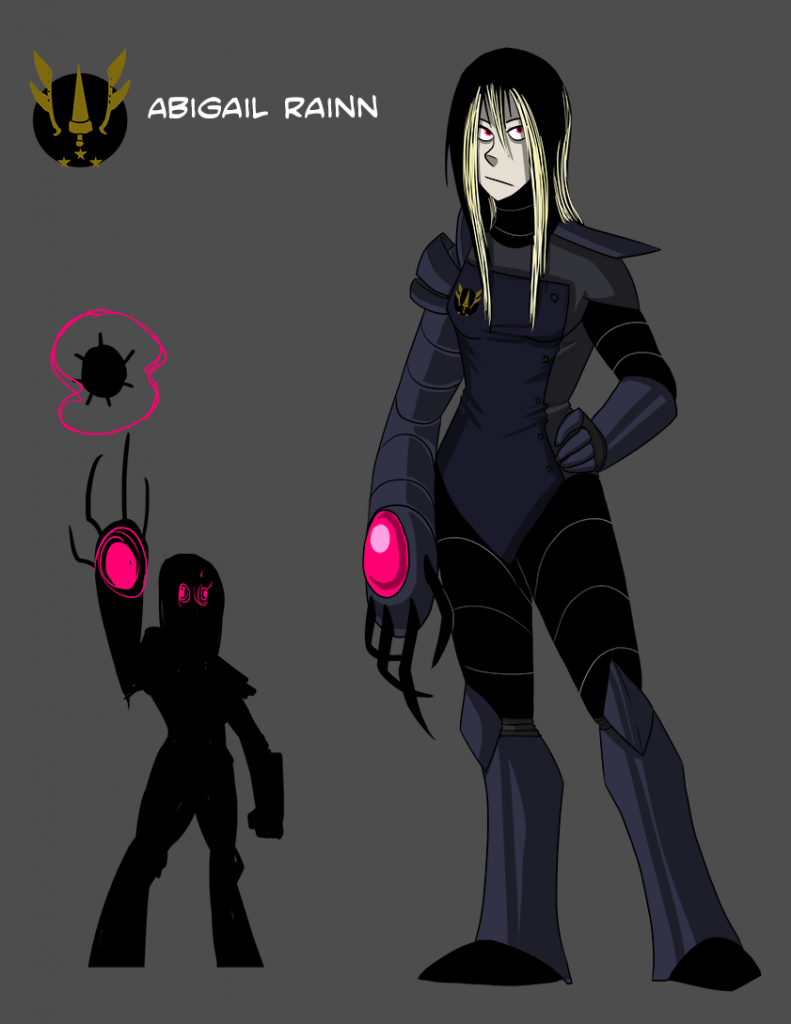 Name: Abigail Rainn
Age: 25
Height: 5'5" (165cm)
Personality
Abigail is a logical thinker and a tactician. She uses her head instead of her fists in most situations. She only gets rough when there is no other option in dealing with a situation. She sees the other people in the crew of the UEGS Marco Polo as allies, and not friends. She is reluctant to open up to anybody but she is genuinely perplexed when people show interest in her, since usually she doesn't reciprocate. Abigail is not someone who you should get on your bad side. Although she doesn't have top-of-the-line fighting skills, she will find out what makes you tick, and destroy you from the inside (figuratively of course).
Weapons/Abilities
Abigail's main ability is telekinesis granted through her robotic arm. She is able to lift objects a few times her own size with it and hurl them at opponents or potential dangers. The tech in the robotic arm also grants Abigail the ability to create energy barriers to keep her, her allies, or objects of interest protected, as long as she's focus. Any break in the focus make the barrier waker or causes it to turn off entirely. Lastly, she has implants in her brain that allow rudimentary translation of foreign languages, making her fluent in many languages. She can read and listen to the languages but cannot read or speak it back unless she learns like everyone else. As a very last resort, she can always throw a good punch with that metal arm of hers.
Backstory
Abigail's family had a reputation in joining the intergalactic exploration/ military units of planet Earth. Her parents followed suit on that path but, unfortunately never returned. Abigail received the 'Missing in Action' letter when she was very young, and that is a letter she receives quite often in her lifetime, as she moves from relative to relative as she grows up. This however did not frighten her but only motivated her further to be a Rainn to return from an intergalactic mission successfully. She devoted all her life to schooling and training for the betterment of humanity. Straight after graduation from the military academy, she was hired to be a diplomat and interrogator. She had several successful missions, until one mission everything went wrong. During an interrogation, the compound they were in was ambushed by the inmate's accomplices and Abigail was caught up in the ensuing explosion, losing her right arm.
This, again, did not deter her from her goal. She was granted the use of a robotic arm with telekinetic functions and after recovery was assigned the intergalactic mission she dreamed her entire life. So now she work as the tactician of the UEGS Marco Polo, determined to find a new world to help humanity to live on.