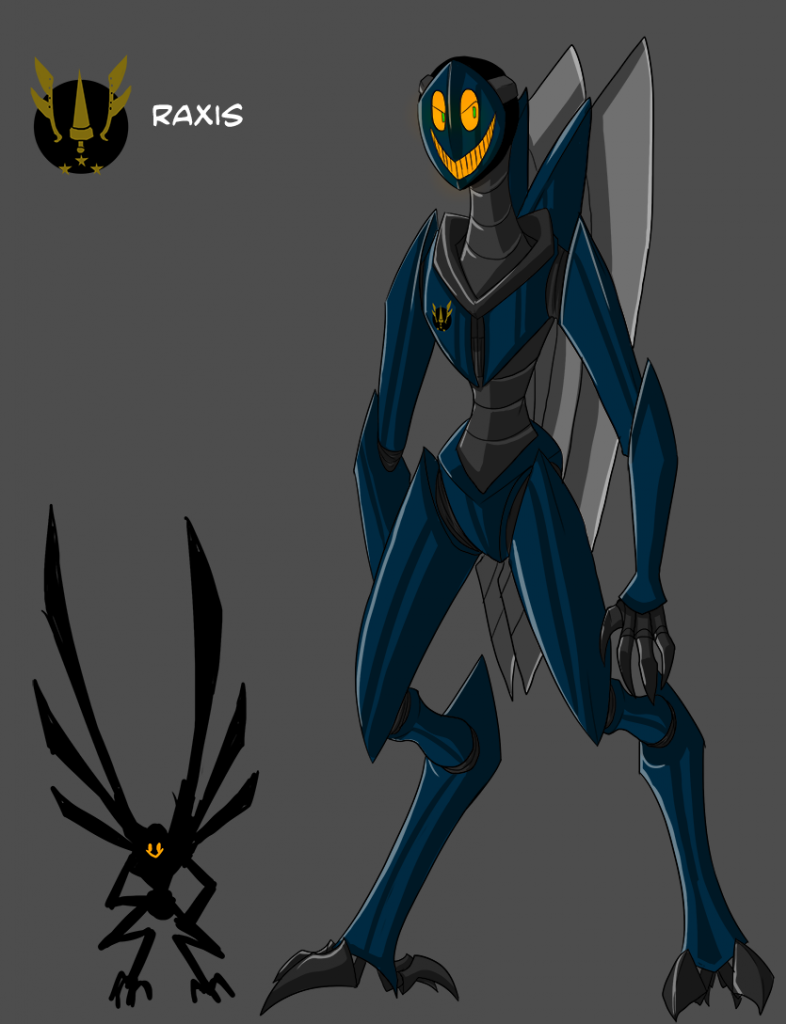 Alias: Raxis
Name: Dago Markov
Age: 32(when human) 35 (currently)
Height: 7' 5" (226cm)
Details: Raxis's face is a screen that projects a face that corresponds with his 'emotion'
Personality
Raxis is a clever, devious, robot who is not hindered by morals to get his job done. However, he is obligated to keep his teammates alive to the best of his abilities. He has tendencies to keep a lot of things to himself which makes him a target of suspicion amongst his crew. Whether he does this for fun or for his own reasons remains to be seen.
Weapons/Abilities
Raxis has massive bladed wings that assist him in flight, but he also uses them as offensive weapons. Within each arm he has laser weapons of medium grade. Made more for sabotage rather than head-on combat. Raxis has also been known to use his talons to cut through hulls of ships. Raxis, being a battlefield and planetary terrain scout, has an advanced HUD system to analyse the area more than just what the normal eye sees. He has thermal, x-ray, as well as a radar/map.
Backstory
Raxis wasn't always a robot. He started out as Dr. Dago Markov, a scientist who was obsessed with machinery, so much so that he believed that artifice was vastly superior to the biological body. He would constantly enhance his body with cybernetics. Dr. Markov's experiments were no secret to the world as people thought them to be an abomination to humanity. Eventually the military sought to use his enhancements to gain a strategic advantage in scouting the battlefield. Dago volunteered himself for the job. The mission started out fine until he was caught up in an ambush and fatally wounded. When his body was retrieved, with his final breaths he demanded his brain be placed in Dago's secret project. Project Raxis.
The military complied with his wishes and placed his brain within the battle droid that was Dr. Markov's magnum opus. It was a success and he reawakens as Raxis. Raxis offered to serve the military, once again as a scout as well as an engineer. As years went by, Raxis's technical prowess and abilities never wained but his mind began to change in personality. He went from a calm, intellectual, and determined man, into a maniacal, cunning, and cold robot lacking of morals. Despite this however, Raxis still serves the military but personnel is warned to be suspicious.