---
---
---
---
~Favorite Song~
I Dreamed a Dream || Les Miserables
~Favorite Candy~
Smarties
~Favorite Movie~
Pitch Black
~Favorite TV Show~
Farscape
~Favorite Animal~
Cats
~Favorite Color~
Red
---
---
---
---
---
---
~Name~
Heather Blakewood
~Nickname~
None
~Age~
17
~Gender~
Female
~Race~
American
~Sexuality~
Bisexual (mainly women)
---
---
---
---
---
---
~Face~
Heather Morris
~Hair Color~
Blonde
~Eye Color~
Blue
~Height~
5'8'
~Tattoos and Piercings~
Only Ears
~Birth Date~
June 6th
---
---
---
---
---
---
~Personality~
Witty ~ Naïve ~ Kind ~Caring
~Likes~
❖ Music
❖ Singing
❖ Dancing
❖ Santa Claus
❖ Elves
~Dislikes~
❖ Lying
❖ Being locked up
❖ Mean People
❖ Bugs
❖ Country music
~Fears~
❖ Death ❖ Bugs (big or small)
❖Claustrophobia (she hates that about herself) ❖Snobby People ❖ Dogs
---
---
---
---
---
---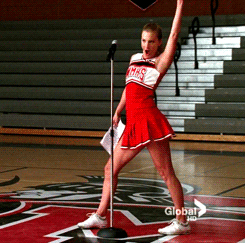 ~History~
Heather was born to the one of the richest people in the world. Her father was the owner of Blakewood Enterprises. She didn't know how important it was until she grew up. Throughout her entire life she was always a bit stupid and witty and naïve. She still believes in Santa Claus and so on.
Her parents disliked walking with a stupid daughter. She would ask stupid questions. They had planned to bring her to the asylum when she was 18 but they just couldn't wait any longer. She continued to fail high school grades and they had to pay for her grade to be erased and put at good levels.
They decided they needed for the family name to get rid of her. Not only was she all that but she was even dating a girl at the time. And their family name could not have "lesbian" in it.
~How I arrived?~
One night she was in her room. When these men in black cloaks came. She thought they were star wars characters but they weren't. They placed a hand over her mouth and dragged her out the door through the living room and out the house. She recalls her mother smiling. She was dragged out into a van. She was then tied to a chair. They didn't knock her out but put electrodes over her body giving her electric shocks every minute.
~What did the experiments do to you?~
They did many harsh experiments. Since she was really stupid and weak they thought she wouldn't last the experiments. They finally realized that she had lived through the entire thing and ended up actually get the superpower they wanted from her.
Death-Force Manipulation
Which she now controls when certain people die.